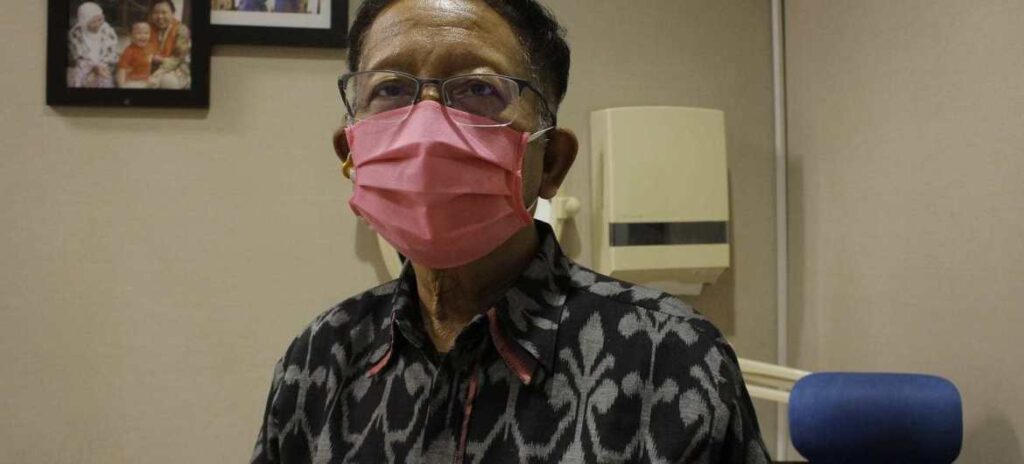 Since the first case of Covid-19 was announced by President Joko Widodo on March 2, the hospital has begun to confuse dealing with patients. As of Sunday, April 5, 2020, the number of patients identified as positive for Covid-19 has reached 2273 people. Of that number, 164 patients were declared cured and 198 died.
So far, President Jokowi has signed Government Regulation Number 21 of 2020 concerning Large-Scale Social Restrictions (PSBB) and Regulation in Lieu of Law Number 1 of 2020 concerning State Financial Policy and Financial System Stability.
Jaring.id interviewed the Head of the Covid-19 Task Force of the Indonesian Doctors Association (IDI), Prof. Zubairi Djoerban regarding policies that have been taken by the government and need to be improved to deal with the pandemic. He believes, the number of cases detected is only the tip of the iceberg.
If the number of cases in Indonesia reaches tens of thousands, the Professor at the Faculty of Medical Sciences, University of Indonesia assesses that the capacity of the country's health system will not be able to do much. Moreover, the central government is perceived to be much slower than the regions. The following is an excerpt of an interview conducted at Kramat Hospital, Pasar Senen, Central Jakarta on Wednesday, April 1.
---
Can you describe the current situation?
What happens is only the surface of the iceberg. If you explore further, there are actually a lot of Covid-19 patients in Indonesia. However, it has not been detected. There have been many calculations by experts that show that the numbers are now high. If you look at the world map, the scale in Indonesia can be similar to South Korea, Italy, Spain and the United States. I estimate that at least 10,000 people, while the maximum can reach 370,000.
Is Indonesia different from other countries? of course not. Regarding contagion, we must resemble one of them. It's a lie if we won't be like other countries. We will feel more patients every day. Don't be surprised if the number goes up to 10,000. Logically, our population is the fourth largest in the world. From that alone it is impossible for a few to be infected.
What happens when you reach 10,000 cases?
Will occur beds The ICU is full. Every now and then we will run out of places in the hospital. Equipment such as a ventilator will also be exhausted. We will be overwhelmed like many other countries. It is very possible that the number could reach 10,000 infected. Therefore, all of us, hospitals, and the government must be ready with such a large number of patients. Health facilities must also be prepared to accommodate 10,000 patients within one week. If possible, the capacity of the health facility is ready for 20,000 patients. We have to plan every week, we have to hurry. Even though it's short, we still have plenty of time. Other countries have reached 10,000 to 100,000. We must take action immediately.
What is the current capacity of the hospital?
Currently, patients who are referred to hospitals for handling Covid-19 cannot (be treated) because they are full. In addition, when there are patients under surveillance (PDP) who are usually taken directly to the referral hospital, this cannot be done at this time. It takes a long path. From this, non-referral hospitals are willing to provide treatment. If it's positive, it needs to be treated, maybe it can still be accommodated. However, if you add PDP who must wait for the results, plus people under surveillance (ODP) can result in a full hospital. The government has indeed provided the Athlete House, but there is only for self-isolation and quarantine. Currently, it takes a lot of beds, as well as adequate equipment.
So what needs to be done?
Currently, they must take advantage of facilities at non-referral hospitals. Referral hospitals, such as the Friendship Hospital (RS), then the Sulianti Saroso Infectious Disease Hospital are full and frequently receive patients. For that, other hospitals must be ready and prepared.
What are the reasons that caused people with ODP and PDP status to die before testing positive? Is it our handling that is still slow?
I myself did the test on Tuesday, March 24th, the completion of Monday, March 30th. So it took one week. Then there are doctors who take nine days, but until now there has been no result. I can say, while waiting for the results whether positive and negative it takes a long process. During that process, there are patients who recover before diagnosis, there are also patients who have already died. Why did so many die? because the results are long. For patients who are waiting for results using the PCR tool takes a long time. So for now it can be done rapid testt in bulk.
The mechanism for handling Covid-19 cases with severe clinical symptoms will be hospitalized and the status becomes PDP. For those with ODP who have no symptoms or have mild symptoms, they should be at home. Not leaving the house for 14 days. After 14 days he could not go out either. Stay at home. If he goes to the hospital, it can get worse.
So far, what role has the Covid-19 IDI Task Force played?
Our members are all doctors. Those in the field will be dealing with patients. We have discussed with regional and branch leaders, as well as specialist doctors to do their best and do their best. Next, we identified the number of personal protective equipment (PPE). A week ago the district complained about the lack of PPE, now it is fulfilled. However, it will run out within one week. So the government has to make weekly plans. For one week it is checked, after which it will be added. We also conduct dialogue and educate the public. We are also on the BNPB Task Force team, there are several doctors who represent us there. Including us, we often have dialogues with the government through government spokesman Fadjroel Rahman.
Why is the mortality ratio in Indonesia high enough?
Until today (1/4) only 1677 have been detected positive. If the death rate reached 157 people, it should have been detected more. If we find 10,000 people, it could be that the death toll will drop.
Isn't it because of inadequate health facilities?
No, because the test equipment is not optimal. A million tests is not maximal. Another problem is the delay in sending test results to the hospital. The government has been open to the rapid test results. However, the problem is when the test uses PCR. As a result, patient data must be sent to Balitbangnas. The lines in the bureaucracy should have been cut so that the management of Covid-19 was fast.
How many hospital facilities are currently handling Covid-19?
I can't answer that. The Ministry of Health knows the exact numbers. What I know at this time is that the hospital is feeling anxious.
How do you think the government's decision to impose large-scale social restrictions (PSBB)?
Yes, the government doesn't want to do it lockdown. In the regulation, schools, places of worship and workplaces should be closed. Except for hospitals, media offices and banks. In fact, there are still workplaces that are still operating. It can be said that the PSBB has not been totally implemented. Then in the PSBB there are also efforts to impose restrictions in public places. In fact, there are still many cars and motorbikes in public places. In addition, there are still one car on the road containing 4-6 people, of course this facilitates transmission. That means there are no restrictions in public places.
If you don't want to lockdown, PSBB must be intensified. Discipline must be good, otherwise the government must step in to supervise it. Physical distancing requires discipline from citizens. Can be supervised by the head of the village and the head of the RT / RW, as well as the police. The point is staying at home. If you don't stay at home, someone has to be on guard if there is any sanction.
How about daily needs? Each person has a different situation today ..
This is the government's obligation, but there is a moral obligation to the local community and neighbors. The socialization of what the community can and should not do PSBB must also be done.
Need to involve the police and the TNI?
Yes, this is very serious. If it does not enforce discipline, it will not protect the Indonesian people. So precisely to protect it, discipline is enforced. In Australia, people who leave their homes are arrested. The fine is millions of Rupiah. It is not arbitrary. Indonesia is a democratic country, but because currently there is a pandemic, leaving the house means that you can be infected or infectious.
How can the authorities not overreact to the community?
In essence, there must be a law that regulates it. Many countries have implemented it. We don't need to think about it ourselves. We just need to find a country that applies social restrictions. It must be disciplined and enforced. He said, yesterday, the Minister of Political, Legal and Security Affairs, Mahfud MD had made regulations for regional quarantine, but it did not happen. In my opinion, the regulations that have been prepared are included in technical regulations. Mahfud's team had already thought carefully about it.
If the PSBB fails?
If the PSBB is implemented well and the rate of cases does not increase rapidly, great. If this fails, you should replace the policy with a regional quarantine, if not lockdown. If necessary, change the policy continuously. This is the management of handling Covid-19, so it must be fast.
How?
There are many ways to break the transmission route of this virus, one of which is lockdown. Second, can do physical distancing. Third, conduct as many mass tests as possible, at least 10,000 a day. Please do this as soon as possible. If we have 150,000 (tests) or 500,000 within 15 days it will run out. Should be ready again with the next test. If possible, a more accurate test kit was made.
Currently there are many good quality test kits. The procurement of these test kits must be provided with a note that when the government imports, the test kits used should have been successful in other countries, such as South Korea and China. Furthermore, the government must be firm in regulating the flow of travel. It is important for us to limit vehicles, airplane travel both domestic and international. Next, recommend isolation and self-quarantine.
Why do you think the government doesn't do it lockdown?
That decision is very expensive economically. I am not an economist, but it is necessary to ask economists. But I think it's very expensive. Nevertheless, lockdown it holds high hopes for reducing spread. Other countries when lockdown successful, as in China which succeeded in reducing the speed of deployment by 30 percent. We know in China not all in lockdown.
Which area to be in lockdown?
Jakarta! This could be if you were president, he he. There is also the Papua Regional Government that has closed aircraft and shipping access. Even in Tegal and Sumatra. I think that's a good, positive policy. Local governments can measure that this virus is harmful to their people, so they vote lockdown. If it is not total, it can be done partially lockdown. Meanwhile, I see that the central government is not firm. All accesses should be closed. (Abdus Somad)