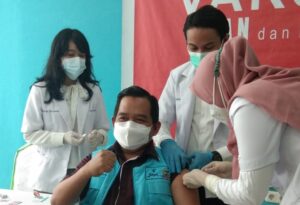 Together with 1620 other people, Ruhaeni (31) became a volunteer for the clinical trial of the Sinovac phase III vaccine made in China on August 11, 2020. The injection process which took place at the Teaching Hospital was carried out by PT Bio Farma (Persero) together with Padjadjaran University (Unpad) Bandung, West Java. Five months passed, Ruhaeni felt no side effects on his body. Even when the second dose was given 14 days later. "Nothing happened," said Ruhaeni when contacted by Jaring.id by telephone, Friday, January 16, 2021.
The Sinovac vaccine clinical trial initially involved 1,620 volunteers, but only 1,603 people participated in the phase 2 injection for various reasons, such as moving places, working, and reasons that they were no longer in Bandung. Of that number, only 810 people aged 18-59 years were vaccinated. While the rest are given a placebo or substances that do not cause side effects on the body.
Head of the Sinovac Vaccine Clinical Trial Team, Faculty of Medicine Unpad, Kusnandi Rusmil, explained that the phase III Sinovac vaccine testing was proven to be effective with an efficacy of 65.3 percent. Efficacy is the level of ability of the vaccine to prevent disease based on the results of clinical trials in a limited population. According to Kusnandi, during the monitoring of volunteers it was known that 7 people who were given the Sinovac vaccine were positive for Covid-19. While 18 other people who contracted Covid-19 were injected with a placebo.
"We met 35 positive people," said Kusnandi Rusmil when delivering the Hearing Meeting (RDP) at Commission IX DPR, Tuesday, January 19, 2021.
The professor of the Faculty of Medicine Unpad also said that his party had tested 540 blood samples to determine antibodies in the body in 3 stages. First done after 14 days, then three months and finally six months.
In the first phase, it is known that the immune system of the person being vaccinated is 8.36-14.55. This figure is not much different from those who were injected with a placebo in the range of 6.36-16.89. In phase 1 testing, after 14 days of injection it was found that the vaccine recipients' immune system increased to 99.26-100, much higher than those who were given only a placebo of 1.47-9.06. According to Kusnandi, testing for stage 2 immunoglobulin levels was also positive, namely 97.76-99.74, while placebo was 6.03-16.30. Meanwhile, the six-month post-injection test has not been carried out. "The antibody levels of this vaccine are quite good compared to placebo," he said.
From the phase III clinical trial, Kusnandi and his team are optimistic that the Sinovac vaccine can be used in Indonesia. Until January 7, 2021, examiners gave an interim report on the Sinovac vaccine to the Food and Drug Supervisory Agency (BPOM). In the report, the examiners confirmed that the Chinese vaccine from Sinovac was safe to use. "Vaccines are safe because the side effects are not too hot, fever is not too high. It will disappear within two days, "said Kusnandi.
***
Four days later, BPOM approved the Emergency Use Authorization (EUA) on Monday, January 11, 2021. This agreement was not without debate. Member of the Technical Advisory on Immunization, Jarir At Thabari, who participated in the meeting told that there had been a tough debate regarding the efficacy percentage of only 65.3 percent and the safety of the Sinovac vaccine. One thing that was highlighted was the difference in efficacy results in other countries, Turkey and Brazil with Indonesia. Clinical trials in Turkey reached 91.25 percent, while in Brazil it was 78 percent before dropping to 50.4 percent.
However, Jarir said, the meeting participants chose to prioritize the results of the phase III clinical trial research in Bandung. "It's not necessarily safe in other countries where we are safe either. Because there are differences in consumption patterns and other needs, "said Jarir.
The BPOM also refers to the efficacy standard set by the World Health Organization (WHO) for the granting of EUO permits, which is a minimum of 50 percent. "We feel grateful, because it is in accordance with WHO limits. We don't hesitate not to give it, "said Jarir, who is also a lecturer at Gajah Mada University (UGM) Yogyakarta.
The head of BPOM, Penny K. Lukito, assured that the Sinovac vaccine is safe to use. Although phase III clinical trials have not been completed, the Sinovac vaccine has proven efficacious based on scientific evidence and quality in phase I and II trials in China. In accordance with WHO provisions, EUA permission can be granted by considering the benefits and safety of the patient based on scientific evidence of clinical trial results that show the drug has efficacy, safety and quality but has limited data. In addition, according to Penny, there are no other alternatives to prevent and treat Covid-19.
The WHO standard was followed up by issuing a Decree of the Head of the Indonesian Food and Drug Administration (BPOM) Number HK.02.02.1.2.1.1.20.1126/2020 concerning Technical Guidelines for Implementing Emergency Approval. The Belied explained that the Emergency Use Permit or EUA was an approval for the use of drugs in a public health emergency. "That is what allows the use of permission to be granted even though the clinical trial itself is still being monitored until full report namely 6 months, "said Penny in the ITB Alumni Association webinar, Friday, January 16, 2021.
Penny denied that his party was under pressure from other parties regarding the issuance of an emergency permit for the Sinovac vaccine. "The independence of BPOM is not negotiable and we have managed to maintain it until we issue the EUA, so there are no more questions regarding the existence of pressures," said Penny.
Meanwhile, UGM Professor of Pharmacy, Zullies Ikawati explained that the efficacy resulting from phase III clinical trials was not absolute. Because the efficacy value can change along with the risks faced by test subjects and vaccine recipients. "If the test subjects are at low risk, let alone obedient to the health program, never leave the house so that not many are infected, the comparison of the incidence of infection between the placebo group and the vaccine group will be lower. The result is that the efficacy rate will be lower, "said Zullies when contacted by Jaring.id, Friday, January 16, 2021.
Therefore, Zullies stated that the actual vaccine testing process was still ongoing while the vaccination program was running. If in this process the efficacy of Sinovac falls below 50 percent, then the mass vaccination program should be stopped. "So, efficacy is not fixed. The clinical trials are still ongoing. Monitoring is still being carried out, "he said.
Director of the Eijkman Institute for Biology and Molecular Affairs, Amin Soebandrio, explained that the success of the mass vaccination program can be seen from the viral reproduction rate (R0) and the reactive reproduction (Rt) which shows a number below 1. If the virus reproduction rate is still above 1, then the pandemic will not be over. "If the reproduction drops below 1 or reaches zero, that is a sign that the pandemic has stopped," said Amin.
According to Amin, currently mass vaccination in Indonesia is only an attempt to prevent infection, then not cause serious illness and prevent death. "Vaccines do not automatically stop the pandemic," Amin told Jaring, Monday, January 18, 2021.
***
The Covid-19 mass vaccination in Indonesia was marked by an injection of President Joko Widodo on Wednesday, January 13, 2021. The vaccination is divided into four stages, first for the January-April 2021 period with a focus on injections for health workers; secondly, the January-April 2021 period with the target of the Indonesian National Army (TNI), the Police, and public service officers such as port / airport / station / terminal officers and banks; third, the period April 2021-March 2022 targeting vulnerable people. Continued to the community and economic actors.
Based on collaborative research by the Ministry of Health, Indonesia Technical Advisory Group on Immunization, WHO and the United Nations Agency for Children (UNICEF) delivered in November 2020, it was stated that West Papua and East Nusa Tenggara had the highest level of enthusiasm. Respectively pocketed the figures of 74 percent and 70 percent. Meanwhile, most of the rejection of vaccination came from Nangroe Aceh Darussalam (46 percent) and West Sumatra (47 percent).
Respondents' rejection of vaccination ranged from the safety of the vaccine (30 percent), uncertainty about the effectiveness of the vaccine (22 percent), distrust of vaccines (13 percent), fear of side effects (12 percent), religious beliefs (8 percent), and other reasons (15 percent).
Chairman of the Indonesian National Nurses Association (PPNI) South Sulawesi, Abdul Rahmat is one of 15 first vaccine recipients in Makassar, South Sulawesi. Vaccination took place on Wednesday, January 14, 2021 at the Dadi Makassar Hospital.
Until the 6th day of national vaccination, according to Rahmat, not all health workers in Makassar have been injected with the Sinovac vaccine. He said, the registration process through the site pedulilindung.id not going smoothly. Nurses have difficulty registering, even though they have received an invitation to the Covid-19 vaccine via short message (SMS). "I am including failing all the time, even though I have tried several times. However, there have been improvements from the government, "he said.
Before the vaccine is injected, Rahmat's body temperature is measured, including blood pressure, so that comorbidities are observed. After vaccination, he was asked to wait for 30 minutes. "I was vaccinated against feeling sleepy," said Rahmat when contacted by telephone, Friday, January 16, 2021.
The sleepiness that Rahmat feels is a post-immunization follow-up event (AEFI) or a medical symptom that is thought to be related to vaccination Reactions can occur due to procedural errors, coincidence, anxiety reactions or undetermined causal relationships.
The procedure for handling AEFI in Indonesia has been regulated in a Decree (SK) of the Directorate General of Disease Prevention and Control, Ministry of Health Number HK.02.02 / 4/1/2021. The regulation instructs that symptoms that appear after vaccination are reported. The chairman of the Indonesian Consumers Foundation (YLKI), Tulus Abdi, asked the government to be serious about KIPI by conducting regular monitoring.
Gajah Mada University Pharmacy Professor, Zullies Ikawati reminded the government to open the widest possible access for post-vaccination reporting. He said, everyone who is vaccinated against Sinovac is obliged to report whatever symptoms they experience. "Whatever the condition, sleepiness, love to eat, or whatever is reported. "Whether there is a vaccine relationship or not will be analyzed," said Zullies Ikawati.
Until Wednesday, January 20, 2021, the National Commission (Komnas) KIPI had received at least 30 reports. Events experienced include itching, soreness, dizziness, nausea, decreased appetite, and weakness. According to the Head of Komnas KIPI, Hindra Irawan Satari, until now the reported incidents are minor or do not require intensive care, such as disability and death. "So all show symptoms that most of them do not need treatment. Some were given drugs, some were observed. However Thank God they all end with happy ending, so be healthy, "said Hindra in a virtual discussion at the West Merdeka Forum 9 on the YouTube channel, Wednesday, January 20, 2021.
Hindra assured that Komnas KIPI would seriously supervise mass vaccinations. People who experience symptoms after being injected with the Covid vaccine.19 can report to the Puskesmas. In serious cases, the District / City Health Office will make observations. The public can also use the security site vaksin.kemenkes.go.id. However to this day, the site in question cannot be accessed. "We strengthen supervision," concluded Hindra. (Abdus Somad)