Starting from Jaya Wijaya Park, then moving to Monjari Park, a dozen members of Pemuda Penggerak (Youth Initiator Movement) in the city of Solo, Central Java, collected nearly 10,000 cigarette butts in the parks.
That large amount of cigarette butts were found there despite the fact that the two parks have been designated as nonsmoking areas since 2019, following the enactment of the city's Bylaw Number 9 of 2019.
Leader of the Youth Movement, Cikal Ardinasari, said that the thousands of cigarette waste scattered in the parks were collected for about 40 minutes.
"The omnipresence of cigarette butts proves that there are smokers at the places that are supposed to be no-smoking areas," Cikal told Jaring.id by telephone on Friday, October 8, 2021.
Therefore, Cikal chose to hand over the cigarette trash to the city's government office instead of throwing it directly into a garbage dump. She wanted to show the local government about rampant violation of the bylaw due to low supervision of the nonsmoking areas.
"We will continue to do that as a form of advocacy to the government," she said.
The movement to pick up cigarette butts has been carried out since 2017 by Cikal and her  friends. "But when the Covid-19 pandemic began to emerge, we had to halt this activity," she said.
Later, only in January 2021, they were able to actively continue their activity of freeing public spaces from cigarette butts. Everytime they carry out the activity, they never forget to wear gloves, masks and bring garbage bags to collect the cigarette butts in order to protect themselves and keep the environment clean. "…because cigarette butts are waste," she said.
Similar to Cikal, Rama Tantra, a member of the Youth Tobacco Control Movement, also initiated a movement to pick up cigarette butt trash. "We're trying to do a campaign, which sort of makes people aware that 'one cigarette butt brings many problems'. We do this through policy advocacy," Rama said to Jaring.id by telephone on Sunday, October 10, 2021.
Initiated by 20 young people from all over Indonesia in 2019, this movement aims to reduce the prevalence rate of smokers.
The Basic Health Research published by the Ministry of Health in 2018 highlighted an increase in the prevalence of smokers in children aged 10 years. In 2013, the prevalence rate was 28.8 percent, then it increased to 29.3 percent within the following five years (2018). Meanwhile, the prevalence of smokers aged 10-18 years rose by 2 percent from 7.2 percent in 2013 to 9.8 percent in 2018.
Before the Covid-19 pandemic happened, in December 2019 to be exact, Rama and his fellow activists conducted an activity to clean up the area of the National Monument (Monas) from cigarette butt trash. Surprisingly, they managed to collect more than 2000 cigarette butts within an hour.
Discarded cigarette butt is the one of the most-polluting waste for the environment. Thousands of cigarette waste are easily found in public spaces, such as parks and bus stops, including in areas that are supposed to be nonsmoking areas. "We want to make people aware that cigarettes are not only a health and economic problem, but also an environmental problem," said Rama.
According to Rama, the large quantity of cigarette butt trash that can be found in every corner of the city indicates that cigarettes can be easily accessed by the public.
A research from the Center for Social Security Studies at the University of Indonesia (PKJS UI) in 2020 showed that there were eight retail cigarette stalls around every school in Jakarta. Some of them are even located less than 100 meters from the school.
Conducted using Google Maps and Google Street View application, this research found at least 8,371 retail cigarette stalls in Jakarta. Thousands of these retail cigarette stalls are found mostly in densely populated areas.
The largest number of cigarette stalls were spread across East Jakarta with 3,085; followed by West Jakarta with 2,136; Central Jakarta with 1,457; South Jakarta with 1,293 and North Jakarta with 397 kiosks. "Cigarettes shouldn't be sold per stick. The price should be more expensive to make it less affordable for the public," Rama hoped.
Even so, not everyone appreciates what Rama and his fellow activists have done. Not infrequently, they are considered doing it just for the sake of being a spotlight in social media content.
"The people who sneer at us don't understand the dangers of cigarette butts," said Rama.
The large amount of cigarette waste in public spaces is not surprising for Tubagus Haryo, the Deputy Chairperson of the Jakarta Citizens' Forum (FAKTA). According to him, this happens because the government has not paid attention to how to process cigarette butts. In fact, cigarette waste is toxic since it is suspected to contain harmful substances.
"The treatment for cigarette waste should be the same as for the waste management for B3 (toxic and hazardous) materials. We have regulations on the processing of B3, but does the Ministry of Environment and Forestry give special attention to these cigarette butt problems?," Tubagus questioned.
He criticized that the Ministry of Environment and Forestry should be able to encourage cigarette companies to be more responsible for handling cigarette waste. This is in accordance with Law Number 32 of 2009 concerning the Environment, which stipulates that producers who cause pollutants must recycle the waste they produce.
"Companies must be responsible for the waste of the packaging and the leftovers of the consumed products," he said. According to him, cigarette companies can use corporate social responsibility (CSR) funds to process the waste. "They can create a program on how to prevent cigarette butts waste from entering the water and soil," continued Haryo.
The results of research published in the Journal of Hazardous Materials explained that scattered cigarette butts is a hazardous waste. A comprehensive systematic review published by the Department of Environmental Health Engineering, School of Public Health, Iran University of Medical Sciences, Tehran, Iran, estimated that around 5, 5 trillion cigarettes are produced every year in the world. Meanwhile, the waste of cigarette butts will reach 1.2 million tons and increase by 50 percent until 2025.
Researcher Javad Torkashvand revealed that there are thousands of harmful chemicals inside a cigarette butt, such as arsenine, benzene, hydrogen cyanide, PAHs, pyridines, and heavy metals. "Each cigarette butt can contaminate 1000 liters of water," wrote Javad Torkashvand in his journal.
Another study on the impact of cigarette butts was also reviewed by the Persian Gulf Marine Biotechnology Research Center, Bushehr University of Medical Sciences, Iran, published in the British Medical Journal (BMJ)—a journal that focuses on health in 2017.
Researcher Sina Dabaradaran conducted an examination on the substances contained in a cigarette butt in 9 regions along the Persian Gulf during 10 days in 2015. The results found that cadmium (Cd), iron (Fe) acetone (As), zinc (Zn), manganese (Mn), and nickel (Ni) were detected with varied amounts from 0.16 g/g to 123.1 μg/g in each substances contained in the cigarette butt. "It shows that large amounts of metal substances can enter the ocean every year from cigarette butts," said Sina.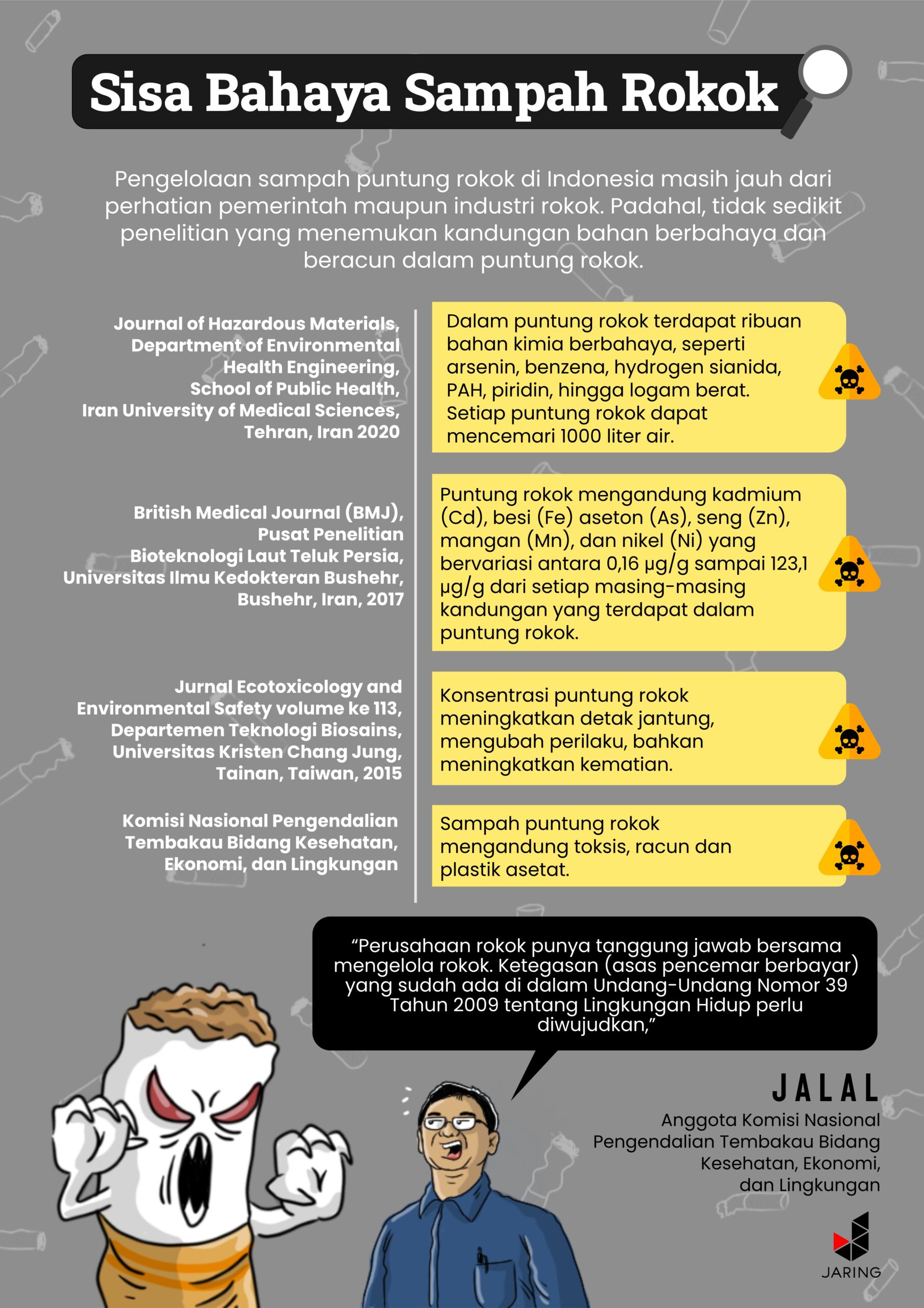 Meanwhile, research on the toxicity of cigarette butts published in the Journal of Ecotoxicology and Environmental Safety, Volume 113 in March 2015 revealed the adverse effects of cigarette butts on medaka fish (Oryzias Latipes). Research conducted by Wenjau Lee and Chih Chun Lee from the Department of Bioscience Technology, Chang Jung Christian University, Tainan, Taiwan revealed that the concentration of cigarette butts can increase heart rate, change behavior, and even increase death. "This study shows that cigarette butts influence fish development and provides toxicological evidence of the ecological impact resulting from cigarette butts," said Lee.
Member of the National Tobacco Control Commission for Health, Economics and Environment, Jalal, warned that cigarette butts contain harmful substances, among others are toxic and plastic acetate. With this content, cigarette butts should be categorized as toxic and hazardous substances. "Because plastic can take a long time to decompose in nature," said Jalal to Jaring.id when contacted by telephone on Saturday, October 23, 2021.
According to him, it takes about 10 years to decompose cigarette waste. The decomposition will be faster, if the cigarette waste is not buried in the ground or exposed to direct sunlight. "Therefore, due to its nature, we should decide on a more serious processing of cigarette butts and separate the processing of other wastes," he said.
In Government Regulation Number 101 of 2014 concerning Management of Hazardous and Toxic Waste, it is explained that every person or company that produces B3 waste is obliged to store B3 waste. Other rules related to waste treatment are also contained in Article 123 of the Regulation of the Minister of Environment and Forestry Number 6 of 2021 concerning Procedures and Requirements for Processing of Hazardous and Toxic Waste. This rule regulates in detail B3 processing, from thermal start, stabilization, and solidification. Other ways according to technological developments, such as bioremediation, electrocoagulation and washing.
Even so, said Jalal, the cigarette industry has not carried out its responsibilities towards cigarette waste. "Tobacco companies have a shared responsibility to manage cigarettes. The firmness that is already in the law needs to be realized," said Jalal.
Based on an observation conducted by Jaring.id at one of the final waste disposal sites (TPA) in Rawajati, South Jakarta, there is no visible separation process between cigarette waste and other household waste. The cigarette butt is mixed with other waste during the waste management process.
The Director General of Management of Trash, Waste, Toxic and Hazardous Materials (B3) Management of the Ministry of Environment and Forestry, Rosa Vivien Rahmawati, denied that cigarette butts were categorized as B3 waste. Therefore, no special treatment is needed for cigarette butts. "There are no cigarette butts containing toxic and hazardous waste," said Rosa Vivien Rahmawati via Whatsapp message, on Thursday, October 21, 2021. However, Rosa said, the ministry had never examined the B3 content in cigarette butts. "Nothing yet," she continued without explaining further.
Meanwhile, the Deputy for Health Improvement Coordination of the Coordinating Ministry for Human Development and Culture, Agus Suprapto explained that the government did not include tobacco waste treatment in the revised draft of Government Regulation (PP) 109 of 2012 concerning the Safeguarding of Materials Containing Addictive Substances in the Form of Tobacco Products for Health. "Revision has not been set yet. It has not included cigarette butts either. If you have the data, please show it to us, and we will examine it later and decide what needs to be considered so as not to throw cigarette butts carelessly," said Agus to Jaring.id on Tuesday, October 19, 2021.
Agus said he would bring up the issue of managing cigarette butts in a cross-ministerial meeting. "I will first coordinate about these cigarette butt issues. I will discuss with the Coordinating Ministry for Human Development and Cultural Affairs about the magnitude of the problems so that it can be considered an evidence base," he said.
Before this article was published, Jaring.id had tried to contact a number of cigarette companies, such as Wismilak, PT Gudang Garam Tbk and PT HM Sampoerna Tbk. Of the three companies, only PT HM Sampoerna responded.
Director of PT HM Sampoerna Tbk, Elvira Lianita, said the company has taken a comprehensive approach, which included climate change mitigation, water management, waste management and prevention of deforestation. "It's a form of pattern to reduce the environmental footprint," said Elvira Lianita via Whatsapp message on Wednesday, October 27, 2021.
As a company affiliated with Philip Morris International, Elvira explained, Sampoerna is committed to reducing plastic waste and cigarette butts by 50% in 2025. "Cigarette butts have smoke residue, ash, have an unpleasant smell and will decompose in a long time," she said.
Up to the present time, PT Sampoerna has just done two things related to waste management of cigarette butts, namely researching alternative lower carbon materials in cigarette filters and secondly increasing public awareness to dispose of cigarette butts in their place. "This research has been carried out by Philip Morris International for the last 10 years and we continue to look for alternatives that are fully biodegradable," said Elvira.
In 2020, PT Sampoerna stated that it had launched a research pilot program for recycling cigarette butts in collaboration with Waste4change. This program is carried out to overcome the impact of cigarette butt waste.
However, Elvira admitted that the company had not found an economical and environmentally friendly recycling scheme on a large scale. "Environmental issues and plastic waste management are complex issues, and are not limited to cigarette butts. Sampoerna is committed to taking an active role and collaborating with competent parties in overcoming environmental problems," concluded Elvira.