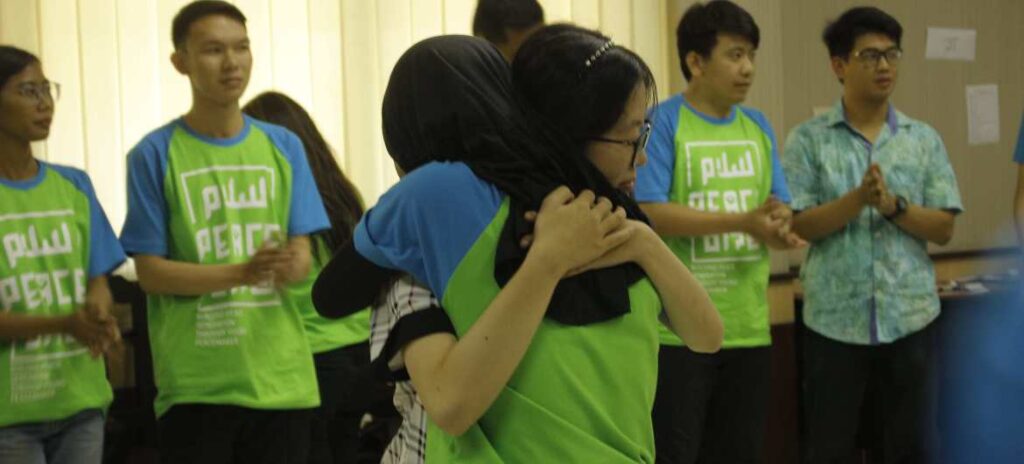 At first it was curiosity that prompted Asifa Khoirunnisa (22) to join the youth interfaith camp (YIC) three years ago. Spending three days with around 30 other young people, he admitted to getting a new perspective in seeing diversity. 
Born in Cigadung, Bandung City, Sifa grew up in a large family with a strong Islamic boarding school background. He completed primary and secondary education at the madrasa. As a teenager, Sifa lived in a relatively uniform world. His desire to study at the Department of Comparative Religion, now Studies of Religions, at the State Islamic University (UIN) Sunan Gunung Djati, Bandung, shocked everyone.  
"Parents wonder why I went to such a major. They worried that there would be no suitable job for me. It took a struggle to convince them and thank God I succeeded, "said Sifa when met in Bandung at the end of October 2019.  
On campus in the Cibiru area, because of an invitation from a friend, Sifa became acquainted with unusual cross-faith activities. He joined a group of young people visiting the church. Another time, he came to the monastery. For Sifa, it was the first time in her life. 
The climax, in mid-2016, Sifa attended the interfaith youth camp organized by the Jakatarub (Inter-Religious Cooperation Network) in Lembang, West Bandung Regency. It was a three day eye-opening experience 
"The camp gave me a new perspective on seeing diversity. By having direct dialogue with my friends of different religions, even some who are not religious, I can gradually understand them. It is no longer prejudice that comes first, "said Sifa. 
Returning from camp, Sifa and several friends founded Salim (Sahabat Lintasiman). Most of the members are students at the UIN SGD campus and other young people who live in the eastern area of Bandung. Various activities that have been carried out by Salim include visits to churches and Islamic boarding schools. There are also book review events and cheap markets. 
Salim was also noted to have held visits and discussions with Ahmadiyah followers in the Cikutra area, Bandung City. Ahmadiyah is a minority group that is prone to become victims of persecution. In early 2019, for example, dozens of people broke up their event. The West Java Provincial Government in 2011 even issued a Governor Regulation that prohibits the activities of spreading teachings. 
"By hearing their stories firsthand, we have sufficient understanding to be fair. I believe dialogue is the key to tolerance, "said Sifa.
Dialogue room
Dialogue to build tolerance is also reflected in the interfaith camp organized by the Young Interfaith Peacemaker Community (YIPC). This year, YIPC will be holding it in seven cities, Surabaya is the opening act.
"The important thing is not material (camping) but dialogue. There they (participants) found that prejudices about Christianity and Islam were not always (true) like that. Not all (prejudices) they thought were the same, "said Faiz Miftahul Huda, Chair of the East Java YIPC.
Communicating prejudice was the starting point for YIPC's cross-faith camp. Participants were asked to write down their prejudices about other religions to be discussed in activities designed to run on 18-20 October 2019.
However, dialogue is not aimed at presenting a consensus on religious doctrine. In session scriptural reading for example, instead of providing space for debate about religious truth, the participants were invited to get to know good news that is present in the verses of the Bible and the Koran. They take turns reading and listening to the recitation of holy books.
"There are several things that are prohibited (in the session). First to interpret, participants only read the meaning. Then in a prophetic context, peace value in the verse is there or not. Lastly, they take concrete steps by caring, helping others, and helping friends, "he explained.
Promotion of good values was also carried out at Sahabat Sophie, which held a cross-faith meeting in mid-September 2019. 
"We, the Sacred Heart Sisters, see that we don't share the values of spirituality that we have. The value is actually very simple. Be humble, be simple, and bring joy to others,"Said Lulud from Sophie's best friend.
In her first interfaith camp, Friends of Sophie inserted material on critical attitudes. This is considered important in the midst of the many false rumors about other religions circulating in the community in recent years.
Upward Trend
For Rifqi Taofiq Sidqi (29), the cross-faith youth camp is an affirmation. He was a member of the PMII (Indonesian Islamic Student Movement) at the University of Siliwangi (Unsil) Tasikmalaya when he joined dozens of other young people in Lembang for three days in 2012. Returning from camp, he made up his mind to become a diversity activist. 
Together with four camp alumni friends, Rifqi initiated the formation of Kompasiman (Lintasiman Component) in Tasikmalaya. Their activities are not only visiting places of worship and having discussions, but consistently providing assistance and advocacy for minority victims of intolerance. 
There have been many cases of intolerance in Tasikmalaya in recent years, such as the sealing and closing of places of worship for Christian and Ahmadiyah congregations and the issuance of discriminatory regional regulations against women. The proposal to establish a Christian UKM (Student Activity Unit) in a tertiary institution has not yet been completed. Kompasiman himself swallowed a bitter pill in 2016 when a group of people broke up a discussion about diversity.
"Joining Jakatarub and attending interfaith youth camps not only enriches perspectives, but also expands networks. For advocacy purposes in Tasikmalaya, which is far from Bandung and Jakarta, extensive networking is very important, "said Rifki.   
The case of intolerance in Tasikmalaya is a reflection of the problems facing West Java. In various researches and surveys on intolerance, this most populous province in Indonesia is always at the top. The Setara Institute reported 29 incidents of violations of freedom of religion / belief in West Java, the highest in Indonesia, throughout 2017. The previous year, the number of violations reached 41 cases. 
The National Commission on Human Rights (Komnas HAM), throughout 2016, recorded 21 complaints related to freedom of religion and belief in West Java. This number is the largest compared to other provinces in Indonesia. Some of the cases that were in the spotlight at that time were the GKI Yasmin problem in Bogor, the sealing of several churches in Cianjur, blocking church permits in Bandung, as well as the ex-Gafatar and Ahmadiyah problems. 
Role of the State
At the national level, the conditions are not much different. Research by the Wahid Foundation found 278 acts of violence in the name of religion in 2018, up from 265 in 2017.
According to the Wahid Foundation, the state has become the largest actor in committing violations. A total of 138 were carried out by government institutions, while non-state there were only 104 groups and 44 individuals. This figure is up from 2017 where violence by the state was only 95 cases. 
From the perspective of victims, when compared to 2017, violations experienced by the community have increased, in 2017 there were 27 victims while in 2018 there were 31 victims. 
The Executive Director of the Wahid Foundation, Mujtaba Hamdi, stated that the practice was based on intersecting identities. According to him, the polarization is getting more open. 
"When people feel their identity and religious sentiments are disturbed, they will turn into intolerance," he said.
Mujtaba also highlighted the making of discriminatory regulations as one of the contributors to the increasing trend of intolerance. He explained that there were 22 regulations made by the legislative and executive towards discrimination. These rules include the obligation to dress or religious attributes, the obligation to read the Koran and the obligation to carry out congregational prayers. 
The forms include circular letters, unwritten regional policies, policies of school principals to regional regulations. 
"There are things that have not been resolved that make intolerance seem lasting," he said.
Long-term
In the midst of the trend of intolerance, Mujtaba views the cross-faith camp as a solution. According to him, the various efforts made by the peace community in each region can be a positive step to ward off intolerant practices. Condition, done in earnest.
He emphasized that the implementation of interfaith camping activities should not stop at temporary activities. According to him, organizers need to follow up interfaith camping activities down to the community level so that people can think more critically about diversity.
"If it only stops at the ceremony and front stage, while the back stage is not fixed, it will not have a long impact," said Mujtaba. 
The Coordinator of the Jakarta Presidum, Wawan Gunawan, stated that the cross-faith youth camp organized by the community provides a variety of practical skills aimed at maintaining sustainability. Participants are taught to be media literate, produce short films that promote tolerance, and do advocacy.
"We want the cross-sectional youth camp not to stop being a three-day activity. Instead, the exams started after the camp was over and they returned to their respective wards. Practical skills are important to sustain their mission of spreading the values of respect for diversity, "he said. 
Salim in Bandung and Kompasiman in Tasikmalaya are the two communities created by the cross-faith youth camp that are active to this day. There are at least seven other communities in seven districts / cities in West Java, namely Gradasi (Youth Inclusion Movement) in Cimahi, Koin (Interfaith Community) in Jatinangor, Pelita (Interfaith Youth) in Cirebon, KPL (Interfaith Youth Community) in Indramayu , Fopulis (Interfaith Youth Forum) in Sukabumi, Rolek Newspaper in Bekasi, and Healer in Bogor. 
"Not all communities are as active as Salim and Kompasiman. That is one of the challenges we face due to limited resources. (Community) Those in the areas are difficult to care for, "said Wawan. *
*This coverage is the result of collaborative reporting involving Pikiran Rakyat journalists Tri Joko Her Riadi, Abdus Somad and Kholikul Alim from JARING (Indonesian Network for Investigative Journalism), and Ivany Atina Arbi from the Jakarta Post.