Guaranteeing the right to vote while preventing the transmission of the corona virus are two key things for a number of countries that decide to hold elections during a pandemic.
The polling station (TPS) in Pangyo, Seongnam City, South Korea in April 2020 looked different from the previous general election (election). Voters no longer congregate at the polling location. Chaterine Kim, one of the voters shared her experience of participating in a democratic party under the shadow of the corona in an article entitled "I voted in South Korea's elections. This is what democracy can look like in a pandemic" on April 17, 2020. In the article published on vox.com, Kim stated that all residents must follow various health procedures, including a distance between people not less than 1 meter, wearing a mask, and checking body temperature.
South Korea is one of the countries that successfully held legislative elections, even though at that time the additional positive cases of Covid-19 reached 900 cases per day. In order for the TPS to not become a barn of new infections, according to Kim, voters who pass the body temperature check will be given hand sanitizer and plastic gloves that are only used while at the TPS. Meanwhile, the mask can only be removed when the committee matches the face with the identity card.
The organizers also implemented an early election system (early voting). This method plays a major role in breaking down the density of voters on the main voting day. At least 11 million or 40 percent of voting rights users in South Korea, take advantage of early elections which were opened for two consecutive days, April 10 and 11, 2020. Of the 3508 polling stations, 8 of them are dedicated to positive Covid-19 patients and medical personnel at the center. -health center. At the TPS, voting officers wear complete protection, including Hazmat clothes. According to Kim, the entire procedure for voting this time was completed in no less than 10 minutes per person.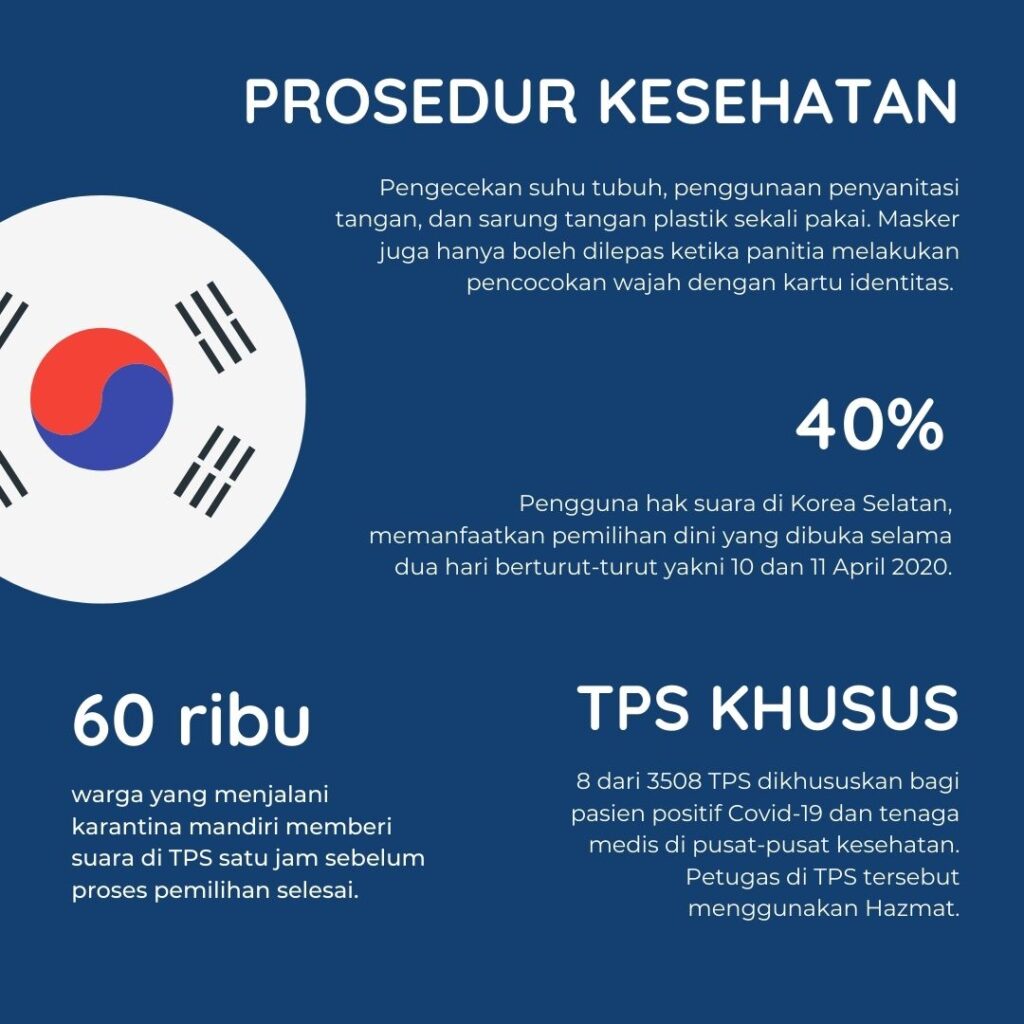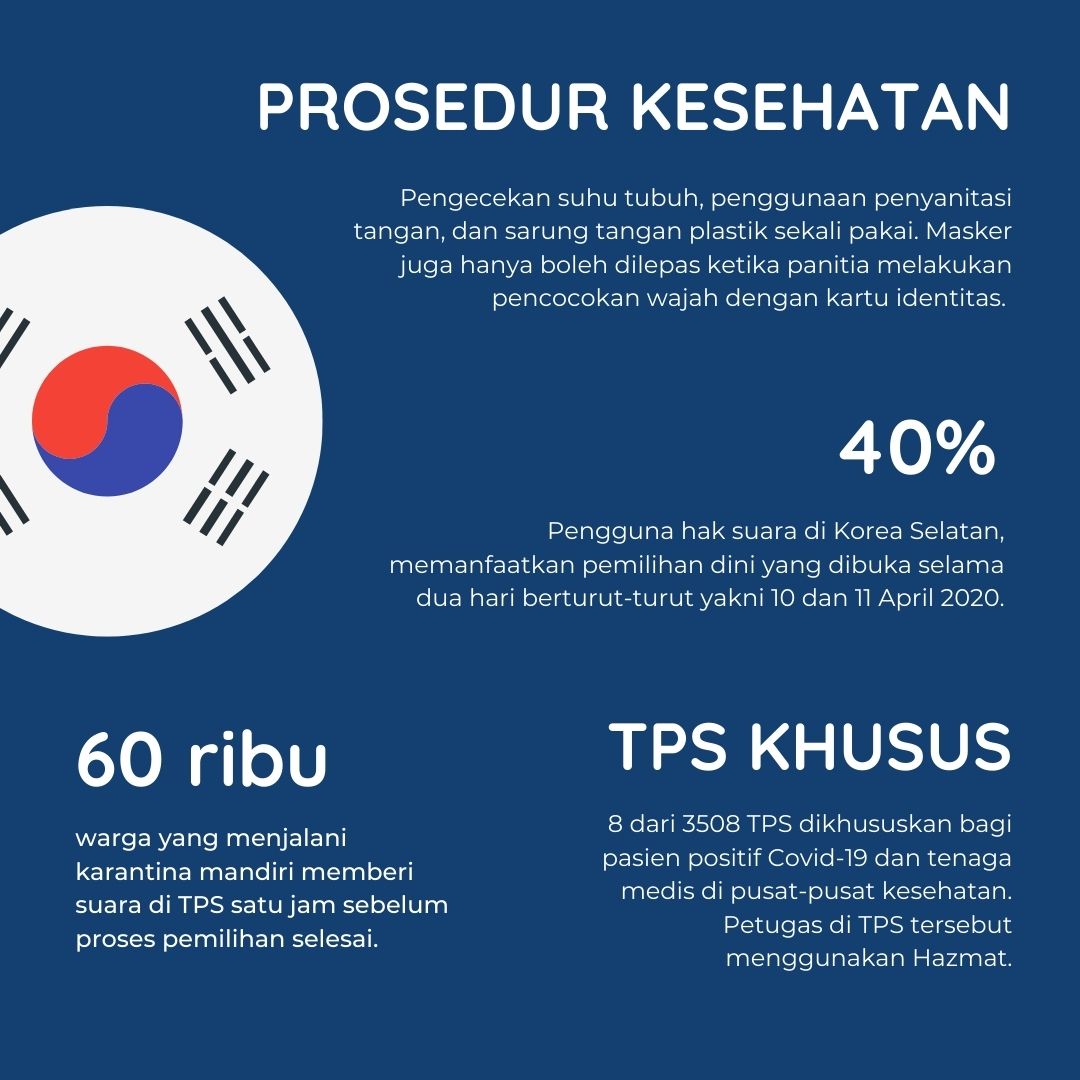 Deputy Director of Training for the Association of World Election Management Bodies (AWEB) based in South Korea, Jinju Jo, said that the voting on April 15, 2020 was held in accordance with the Technical Guidelines for Preventing Covid-19 Transmission in the Election drafted by the National Election Commission (NEC) of South Korea. These guidelines were recently adopted by countries that will hold elections during a pandemic, such as Singapore, Sri Lanka and Indonesia. According to him, election organizers in South Korea do not want people to lose their votes during a pandemic.
"Two fundamental principles of South Korea in preparing for elections are ensuring a safe electoral environment, protecting the rights of voters affected by Covid-19 and those who are under quarantine," said Jinju Jo in the discussion.Implementing Election During Pandemic"On June 12, 2020.
Even the 60 thousand residents who are currently undergoing self-quarantine are still given space to channel their votes. They are allowed to vote at each polling station one hour before the election process is over.
"Patients and medical personnel are given different time to choose," added Jo.
In contrast to South Korea, Singapore was forced to remove the voting rights of patients positive for Covid-19 and residents who received a "Quarantine Order" letter. The Singapore Elections Department (ELD) banned them from voting in the 2020 Singapore General Elections on July 10, 2020.
"To minimize their contact with community members and reduce the risk of community transmission," said a press release issued by the Singapore Prime Minister's office in charge of ELD, on Wednesday, July 1, 2020.
The high number of infections in Singapore has made the government only facilitate voters who get letters Stay Home Notice. For information, the letter is a 14-day self-quarantine order for all travelers who have permission to enter the Lion Country. This step was taken to minimize imported cases of Covid-19. ELD has designated two hotels, namely Marina Bay Sands and JW Marriott Singapore South Beach, as special polling stations for eligible voters Stay Home Notice.
Based on the Special Election regulations to Protect Health and Safety in the 2020 Singapore elections, polling station officers will actively pick up votes. Those who feel unwell or whose body temperature exceeds 37.5 degrees Celsius are not allowed to come to the TPS. In this case, ELD prepares the last two hours of elections to serve these voters at home and at the polling stations.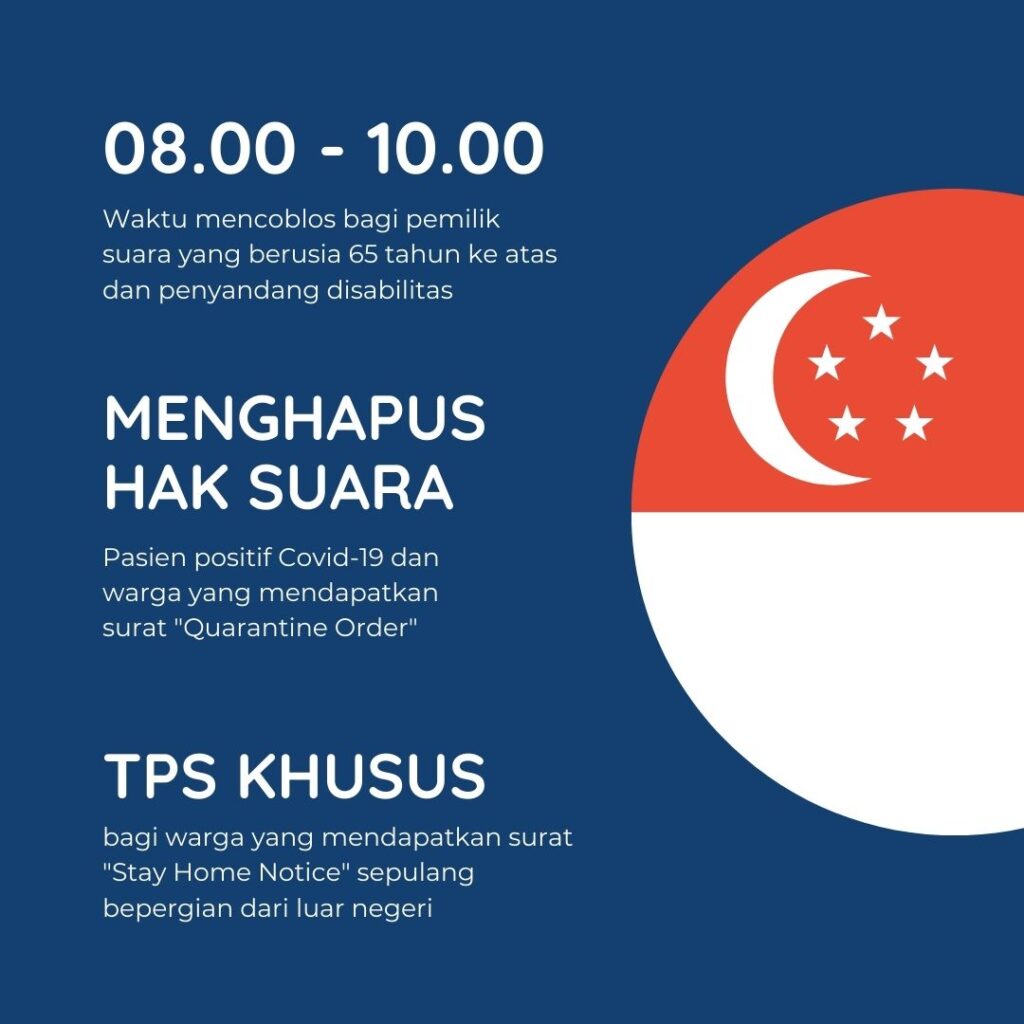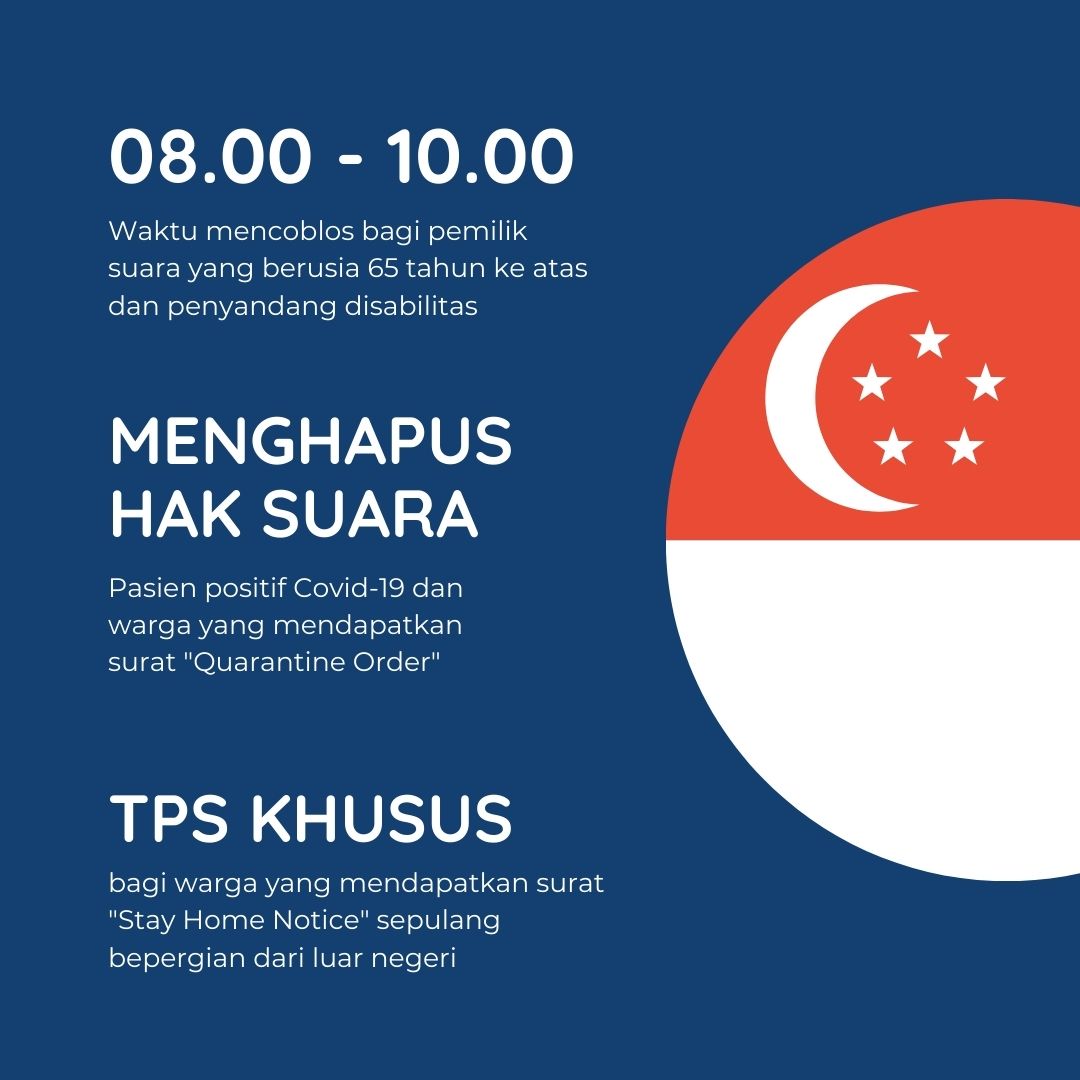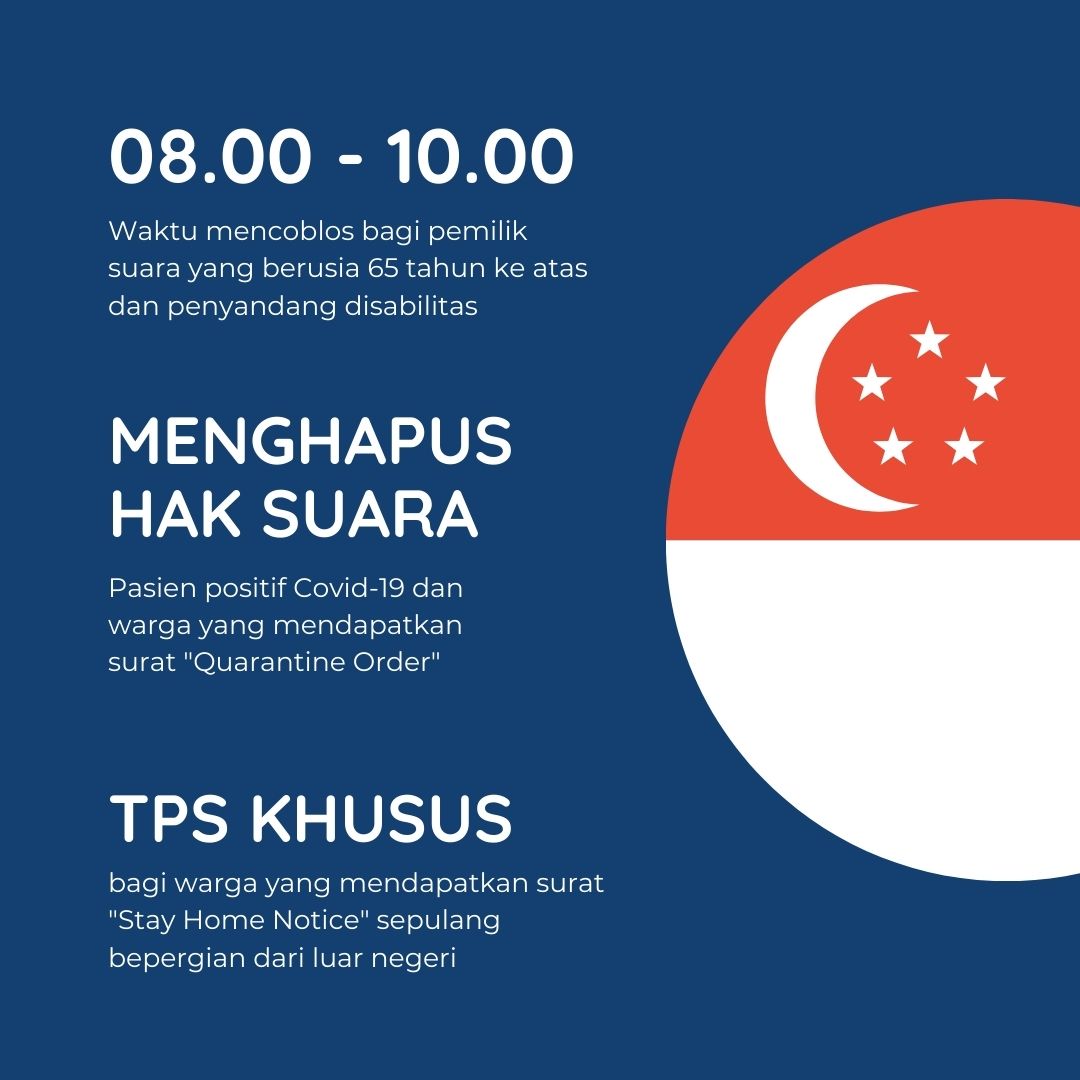 To unravel the buildup on polling day, voters are divided into several schedules. Voters aged 65 years and over and voters with disabilities, for example, can vote at 08.00 - 10.00. The scheduling is stated in the notification letter received by voters one day before voting.
The founder of Maruah — a civil organization for humanitarian issues in Singapore, Braema Mathi, believes that the Singapore government's health regulations cannot be said to be bad. However, the government's recommendation to maintain distance has not been able to reduce the number of infections.
"We have the risk of a second wave occurring, people hope the election can be postponed to a safer period," he said in a webinar entitled "Whats going on in Singapore?" which is held on Sunday, June 5, 2020.
In the 14 days since the election, Singapore's average Covid-19 infection rate has increased to 300 new cases per day. Meanwhile, Braema Mathi's concern about the low participation rate is not proven. On July 15, ELD announced that Singapore's voter turnout rate reached 95.81 percent, an increase of two percent compared to the 2015 Singapore General Election.
***
Meanwhile, Chairman of the General Elections Commission (EMB) of Sri Lanka, Mahinda Deshapriya, only targets 75 percent participation in the legislative elections on August 5. This figure is lower than the average participation in the previous election, namely 80-82 percent.
"We make sure to the public that TPS is safer than other public places. Please come to the TPS and choose, "he appealed through a discussion entitled 2020 Sri Lankan Parliementary Election, A Situation Update on June 27, 2020.
To ensure the safety of the TPS, Mahinda said officers and voters must wear masks, sanitize their hands when interacting and receive documents, and maintain a minimum distance of one meter when voting. TPS will be installed with protective screens that block direct interaction between voters and officers.
One medical personnel is also provided at each TPS. In Mahinda's calculation, they need an additional 40 thousand medical personnel and sanitation officers at 14 thousand polling stations. Later the sanitation officers will clean the TPS periodically. The increase in the number of officers forced Mahinda to submit an additional budget of up to USS$ 37 million or the equivalent of Rp. 518 billion.
"Money is not a problem. The problem is how to save democracy, "he said.
Mahinda had proposed an early election for voters in quarantine on July 31, 2020. Unfortunately, the proposal could not be implemented because Sri Lanka's election regulations could not accommodate the proposal. Therefore, the election organizers decided to extend the voting time.
"We do not add polling stations, but increase the time for elections," he explained.
***
Another condition is that Indonesia plans to add up to 50 thousand TPS locations. This count emerged because the capacity, which was originally 800 people per TPS, was reduced to 500 people per TPS to reduce the density of voters in the simultaneous Regional Head Elections (Pilkada) on 9 December 2020.
According to the Chairman of the Indonesian KPU, Arief Budiman, the regional election budget has swelled to Rp. 4.7 trillion due to the first month. Apart from being allocated for additional polling stations, the jumbo budget is used to provide protective equipment for health at 304 thousand polling stations throughout Indonesia.
After the first phase was disbursed at the end of last June, Arief hoped that the disbursement of the second stage election funds could be realized in August. Meanwhile, stage three can be disbursed two months later, namely October 2020.
"The first phase budget is not fully disbursed, I hope it can be disbursed in phase two. If the day is not disbursed, I don't want to take any risks, "said Arief on July 10, 2020.
Data from the Indonesian Ministry of Health as of August 17, 2020, shows that positive cases of Covid-19 infection have infected 141,370 people with 6,207 deaths. According to Arief, the KPU guarantees that all citizens can vote at the end of the year. Voters who are currently hospitalized, because they are positively infected, will be visited by polling station officers around the hospital.
He said the election organizers in each region would cooperate with the hospital and the Covid-19 Handling Task Force (Satgas) to record voters who would use their voting rights in the hospital. Data on voters in independent isolation will also be submitted to polling station officers so that they can be visited on polling day. Hospital and independent isolation patients were recorded a maximum of one day before voting day.
"Voting committees can serve their voting rights by visiting voters with the approval of witnesses and supervisors and prioritizing voter confidentiality," he said.
Asian Democratic Network Program Manager Soon Yoon Suh suggested that countries that will hold elections during the pandemic should imitate the steps of South Korea. Apart from preparing health protocols, South Korea provided technological devices and internet networks during the campaign period. Even this country in eastern Asia does not hesitate to provide more funds to employ more field workers.
"South Korea also has the ability to employ people at polling stations and provide protective equipment for voters," said Soon when contacted on June 26, 2020.
Soon considered that South Korea was a country that successfully held elections during a pandemic. Because there are no new cases of transmission related to the democratic party there. To achieve this, election administrators, government and health institutions need to jointly formulate concrete matters for the implementation of elections in accordance with the conditions of their respective countries.
"The elections in South Korea are taking place because the health institutions are able to handle the pandemic well. If the health institutions are not able to handle the pandemic, they will also not be able to allow elections, "he concluded. [Deborah Blandina Sinambela]
---
This article is the last part of a series on election papers in the midst of a pandemic.