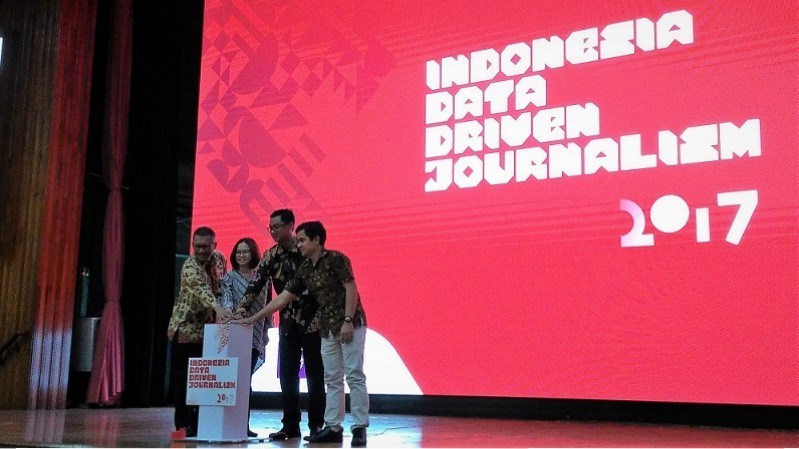 JAKARTA, JARING.id - A national competition for data-based journalistic works was held again. Named activity Indonesia Data Driven Journalism (IDDJ) 2017 It takes the theme "Utilization of Open Data for the Advancement of National Energy and Improvement of the Quality of Life of the Community".
This competition was deliberately held to encourage journalists to take advantage of the open data provided by the government. That way, journalistic work is increasingly innovative and even becomes a guide for policy makers.
The executive editor of Tempo Magazine, Wahyu Dhyatmika, said that there would be more interesting stories that could be presented by journalists if they used data. It can even produce interesting visualizations with data.
"Not only with education and health data, with sports data that are recorded and always available can produce interesting works," said Wahyu in IDDJ National Workshop 2017 on April 21, 2017 at the Pertamina Auditorium, Central Jakarta.
Wahyu explained, to produce interesting works, journalists can do at least four things with data. First, to test the hypothesis as to whether there is a relationship between poverty and crime rates. Second, looking at trends by comparing data from year to year. For example, trends in development and trends in regional revenue and expenditure budgets.
Third, looking at odd data, such as seeing the expenditure of board members. Fourth, see invisible connection like dynastic structures in parties and government.
Community, NGO and media contributions will also be maximized if the government opens data with the principle of open data. Opened data must be complete and can be processed again.
"Data in data journalism is a structured collection of data and information that can be analyzed, usually in the form of a spreadsheet," said Wahyu.
How to search and visualize data was conveyed by Ramda Yanurza from the Data Scientist Research Triangle Institute. Even though the government is promoting open data, the fact is that people often have difficulty getting data. Or it could be that the data is there but not in an open data format, making it difficult to process.
The first thing you can do when looking for data is by visiting the official website of the organization or institution. It could also be through a portal that provides free data.
Data sources that are easy to extract automatically feature open data, tables or text that can be extracted.select, the map when zooming is not broken, the map coordinates are #2, and there is an option to download.
"When looking for data, we have to understand the details of the data that are disseminated so that it makes searching easier. The more detailed the data we find, the more helpful and rich the story will be, "said Ramda.
Currently, the government is trying to improve the quality of government data and its ease of sharing. This was conveyed by Deputy I of the Presidential Chief of Staff Darmawan Prasodjo. Through the Satu Data Indonesia initiative, it is hoped that government data will be centralized and integrated with one another.
"Through the One Data Indonesia Portal, data.go.id, the data collected from Ministries, Institutions and Local Governments can then encourage public participation and improve services to the community," he said.
IDDJ 2017 is the second activity after a similar competition was held in the previous year with a different theme. IDDJ is expected to become a routine event every year. This event was divided into three series, starting with the Data Journalism Workshop as the initial series of IDDJ 2017. The workshops were held in seven cities, namely: Banda Aceh, Medan, Bandung, Bojonegoro, Pontianak, Manado, Ternate.
The 2017 IDDJ competition has officially opened since 21 April 2017 and will be closed on 31 May 2017. Participants from the general press (print, electronic and online) and the student press may submit data-based journalistic works with the theme of energy, health and education. Entries that are included in the competition must have been published in the respective media between January 1, 2017 - May 31, 2017.
This activity is a collaboration between the Independent Journalists Alliance, the Indonesian Network for Investigative Journalism-the Nusantara Media Developers Association, the Presidential Staff Office, and PT Pertamina (Persero). [Deborah Blandina Sinambela]