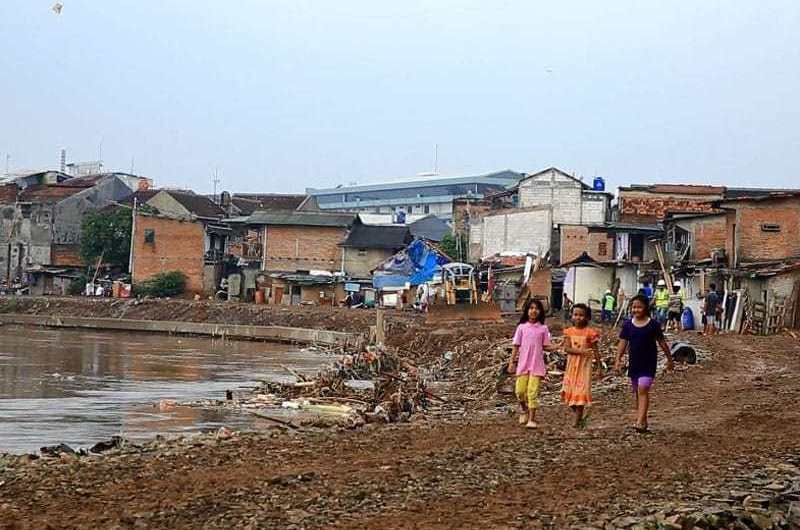 "I work good, I have to push the cart. Returning to the flat house, I had to climb the stairs. My waist is not strong anymore, "said Saodah while massaging her legs. He shared that he lives in a rental apartment (Rusunawa) Rawa Bebek, East Jakarta. This 52-year-old woman recently resided there. He is one of the residents evicted from Pasar Ikan Village, Penjaringan, East Jakarta, April 2016.
Occupying a 4 × 6 meter space in a flat, Saodah feels that her life is not as comfortable as in her old house. Apart from economic reasons, his daily activities are limited. When he lived in Pasar Ikan Village, he was free to enjoy his neighborly life.
He can greet and chat with neighbors and other residents without having to go up and down stairs. When he and his family ran out of rice or side dishes, he could easily share them with those living next door.
In Rawa Bebek, the story is different. Once upon a time he didn't have any money at all. He was really confused because he didn't know whom to borrow from. He did not feel close to his fellow residents. In the past, when he was still in Kampung Pasar Ikan, when he didn't have any money at all, he could still make money by busking.
Now he doesn't know how to find a side job to increase his income. Fortunately, some of the neighbors have recently been willing to lend a hand. Of course he could not possibly rely on them forever.
In her growing age, Saodah was worried about her. If anything happens when you go and come home from scavenging, what do you think? That was the question that always stuck in his mind. He had to climb stairs when going out and going to his house, while his legs were getting even more fragile.
Currently he lives with his son who is still in elementary school. He hopes the Jakarta Regional Government can provide decent housing according to his current body condition.
Muklis, a resident of Bukit Duri, doesn't want to experience the same experience as Saodah's. He had witnessed the situation of his brother who lived in the Rawa Bebek flat. Their living space is narrow.
"My brother lives in the Rawa Bebek flat on the 3rd floor. If you want to buy anything, you have to go up and down first. Well, if you want to go anywhere, it's easy. The shop is close, the children's school is also close. "
That is one of the factors that made him reluctant to join his two children who are still in school. Not to mention access to everywhere that is not easy in a flat. He chose to live with his eldest son in a rented house not far from his former house which had been evicted.
In fact, the main reason that he did not want to move to the flat was none other than his job as a freelance wallpaper installer. According to his calculations, he would not be able to find a job in the area around the Rawa Bebek flat. So far, he has mostly received job calls in the South Jakarta area.
Closed
Like those who live in apartments, those who move to apartments will definitely change their lifestyle. Activist from Rujak Center for Urban Studies (RCUS) Andesha Hermintomo observes this.
"Rujak does not conduct research on the flat but there are several activities that we do with the residents who live there. We, for example, socialize spatial regulations to them. Including the rights and obligations of citizens in the spatial planning process. In this process they also talk about their daily problems or difficulties, "said Andesha.
Lower-class people who are used to living communally generally experience problems when they have to live in vertical housing. Their space for movement is becoming increasingly limited. That, among others, complained about residents in a number of meetings with Rujak. Before moving to the flat, they used to open the door of their house from morning to night.
The men can easily hang out in huts under trees or at neighborhood security posts. Mothers just like to hang out in front of the house when buying vegetables from the traveling vendors. As they moved to the flat they gradually became more closed.
No more doors are open all day. Buying and selling places, playgrounds, medical services and gathering rooms are concentrated on the ground floor. Not many mothers or fathers chat there except for certain moments such as Eid.
Another habit that changes is when receiving guests or visiting. In the past, when they lived in a horizontal area, they were not limited by regulations when they wanted to receive visitors at their residence. The guests just come, no need to report to the security guard.
Now it's a different story. Outsiders who come are obliged to report to the security officer prepared by the flat manager. Being all formal, that is. As a result, only when necessary did people come to visit.
Residents who change occupations will definitely undergo adaptation. It would be better if they had an idea in advance what kind of adjustment they need to make; so it's not all "how about later". According to Andesha, before moving residents who are accustomed to living in horizontal areas to vertical housing, the government should first explain to residents the character of the residences later. In addition, the authorities also need to provide opportunities for residents to convey shelter solutions that suit their wishes.
"We recommend that all solutions be presented. What are the flats like, what are the designs like, how are they built, how are they presented? But residents also have the right to present their thoughts. For example, if he lives in a 4-floor residence, what difficulties will it be? The solution must be found first before the apartment is built. " (Hospita Yulina S.)