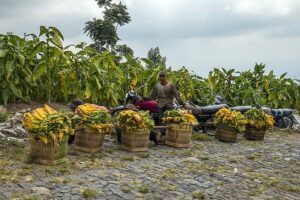 It has been five years Jopi Hendrayani (48) has not made a profit from selling dry tobacco. The yield of 4 quintals of the 50 acre land that is cultivated by farmers in Beleka Village, East Praya, Central Lombok is only valued at IDR 13 million. Even though the planting cost that he has to pay is Rp. 16 million.
"Almost every year we go out of business. Just for the return on investment, we are grateful, "said Jopi to Jaring.id by telephone, Monday, December 7, 2020.
Jopi is not the only independent farmer who relies on tobacco. There are at least 4000 farmers in Central Lombok who have the same fate. In the 2018-2020 Tobacco book released by the Directorate General of Plantation, Ministry of Agriculture, West Nusa Tenggara is indeed listed as one of the pockets of tobacco production in Indonesia. Last year, production reached 46,077 tons, or an increase of 11,259 tons compared to 2018.
The increase in production in the area is not in line with the industrial absorption in 2019 which is only 26 thousand tons, or the equivalent of 26 billion sticks. The gloomy condition of tobacco farmers is agreed by the Director of Seasonal Crops and Spices at the Ministry of Agriculture, Hendratmojo Bagus. According to him, farmers often complain about the selling price of tobacco.
"The price (of tobacco) is still homework. Is it because the quality does not match the needs of the industry or are there indications related to the marketing chain? " Hendratmojo said when contacted by Jaring.id on Thursday, December 17, 2020.
***
Prayanto, one of PT Djarum's partner farmers in Wanungan Gunung Village, Temanggung, East Java, said that the price of tobacco absorbed by the industry is highly dependent on the company's assessment. Kemloko tobacco produced by Yanto, for example, can be priced up to IDR 150 thousand per kilogram if it is included in grade F. However, if the quality is not too good, then the price can drop to IDR 30 thousand per kilogram for grade A.
The grade determination, continued Yanto, was carried out by graders in charge of assessing the quality of tobacco. They also determine whether the farmers' tobacco will be absorbed or not by the company.
"Graders it's usually a longtime worker in the company. It's been a hereditary relationship. They also set prices, "he said when contacted by Jaring.id on Tuesday, December 15, 2020.
There are several standards that are assessed to assess the quality of tobacco, namely the aroma and color of tobacco, and not mixed with other types of tobacco. Even though they are listed as partner farmers, the tobacco that does not pass the assessment will not be absorbed by the company. In fact, there are various requirements set by the company so that tobacco farmers can be registered as partner farmers, such as owning a minimum of 0.3 hectares of land, land with ownership rights, committing to not mix tobacco plants under the control of the company with local plants, and following all coaching carried out by the parties. industry.
"Until the tobacco is harvested, the color of the tobacco must match the company's wishes," he said.
Last year, the tobacco planted by Yanto was considered not of prime quality. As a result, the increase in production is not in line with income growth. In addition, he also said that the price of cigarettes is often used as an excuse to determine the purchase price of tobacco by companies. However, based on his experience, the price of tobacco has not moved up even though the price of cigarettes has continued to soar.
Jopi Hendrayani from Central Lombok also experienced the weak bargaining position of tobacco farmers. Since he started farming tobacco in 2009, he has not even been able to sell his crops directly to the company.
"We have to go through middlemen," he said.
According to Jopi, the price of the first leaf virginia tobacco was only Rp. 800 thousand per kilogram by the middlemen, whereas the warehouse estimated it at Rp. 1.8 million per kilogram.
"The middlemen have a special card to enter the warehouse. Middlemen can get double the profit, "he said.
This condition is exacerbated by restrictions on tobacco quotas that can be absorbed by companies. To date, he and thousands of other farmers do not know exactly what the quota is based on. Jopi said, only middlemen and partner farmers knew about the tobacco quota for each warehouse.
"The reason warehouses are always classic, they say the quota is full," he said.
The partner farmers referred to by Jopi are farmers fostered by the cigarette industry so that they can produce tobacco according to industrial needs. In Central Lombok, according to him, there are 50 partner farmers of Djarum and Gudang Garam.
***
Research conducted by the Center for Social Security Studies (PKJS) at the University of Indonesia in 2020 states that tobacco farmers are still trapped in an oligopsonistic trade system or a market consisting of only a handful of buyers. Based on research conducted in Central Lombok, Pamekasan, and Kendal, it was found that farmers did not have bargaining power to determine the quality and price of tobacco produced.
"Farmers are less empowered in the tobacco trade system, tend to surrender to the price set by the warehouse / middleman because they are worried that their tobacco will not be absorbed," said PKJS UI researcher Suci Puspita Ratih to Jaring.id, Tuesday, December 15, 2020.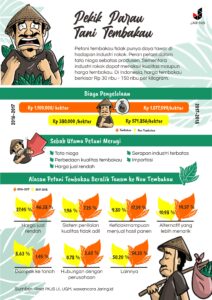 Apart from that, according to Suci, the tobacco factory uptake of partner farmers is uncertain. Companies often set smaller quotas than farmers' production. He said that switching to other commodities could be a solution to excess production.
"The tobacco commodity is not the most profitable for farmers because of its very high production costs and weather factors," Suci said.
Another factor he highlighted was that the tobacco excise revenue sharing (DBH CHT) was not optimal. According to Suci, the CHT DBH scheme which is based on the increase in excise has not been able to help the welfare of farmers.
"Most of the DBHC is shifted to health. This is still a debate, "he said.
Related to this, the government recently released the Minister of Finance Regulation Number 198 / PMK.010 / 2020. This regulation regulates the increase in excise tax on tobacco products on February 1, 2021 by 12.5 percent.
Machine white cigarette (SPM) class I will increase by 18.4 percent, SPM group II A (16.5 percent), SPM IIB (18.5 percent). Then for machine-made kretek cigarettes (SKM) class I will increase to 16.9 percent, SKM IIA (13.8 percent) and SKM IIB (15.4 percent).
"For the hand-rolled kretek (SKT) cigarette industry, the excise tariff does not change," said Sri Mulyani during a press statement, Thursday, December 10, 2020.
Although the tax increase scheme has not yet touched the retail selling price (HJE), Sri Mulyani hopes that this decision can reduce the prevalence of smokers. This is in accordance with the 2020-2024 National Medium-Term Development Plan (RPJMN).
"The increase in excise on tobacco products will make cigarettes more expensive or affordability The index rose to 12.2%, from 13.7% to 14%, so that it could not be bought, "he added.
Sri said the government would also focus on using 50 percent of the CHT DBH to improve the welfare of farmers and workers in the tobacco products industry. One way is to improve the quality of raw materials and diversify crops for tobacco farmers
***
Regarding the increase in excise tax and the welfare of farmers, Jopi has his own experience. The excise tax increases repeatedly, tobacco farmers are often pressured to reduce the selling price. When the excise tax rose 10.04 percent in 2018, for example, the price of the tobacco he sold was no more than IDR 60 thousand.
"It (the increase in excise) is used as a tool to suppress tobacco farmers," he said.
In addition, he said that tobacco imports were often the culprit for the drop in tobacco prices.
"The problem is imports, so the warehouse is full," said Jopi.
Director of the Beverage Industry, Tobacco Products and Refreshments at the Ministry of Industry (Kemenperin) Edy Sutopo stated that the quality of domestic tobacco production has not been able to meet industrial needs. In 2017, tobacco imports were recorded at 119,545 tonnes, while 2018 increased to 121,390 tonnes, while 2019 fell 110,923 tonnes. According to Edy, the average annual import requirement is 100-130 thousand tons.
"There are imported ones that can be produced domestically, such as virginia. Perhaps this is what is being thought, if it can be produced domestically, then imports need to adjust, "he said when interviewed on December 17, 2020.
"The producer always loses and it becomes the desire of the manufacturers' interests, which determines the factory price, not because of balance supply and demand, "Said Viva Yoya Mauladi when contacted by Jaring.id Thursday, December 17, 2020.
Director of Human Resources at the University of Indonesia (UI) Abdillah Ahsan said the government needed to strictly control tobacco imports. One of them is by increasing import duty rates by up to 15 percent. That way it is expected to maximize the results of local tobacco production.
"It is better if it is doubled so that import prices will increase. If import prices rise, companies will buy from tobacco farmers, "he said in an interview on Thursday, October 17, 2020.
Meanwhile, Chairman of the Association of Indonesian White Cigarette Producers (Gaprindo) Muhaimin Moefthi did not agree with a quota or increase in excise rates. Because until now local tobacco production has not been able to meet industrial needs.
"In general, the demand for tobacco from manufacturers is 300 thousand tons a year, while production is at most 200 thousand tons. Like it or not, import it, "he said when contacted Friday, December 18, 2020.
To ensure tobacco uptake of farmers, Moefthi suggested that restrictions be directed by non-tariff regulations. For example, when a cigarette company imports 1 tonne of tobacco, they are obliged to absorb 2 tonnes from the farmers. This scheme, he said, was being discussed between entrepreneurs and the government. "Traditionally selling is through middlemen, so the government will encourage farmers to partner with industry to cut the sales chain to industry," he said. (Abdus Somad & Debora B. Sinambela)