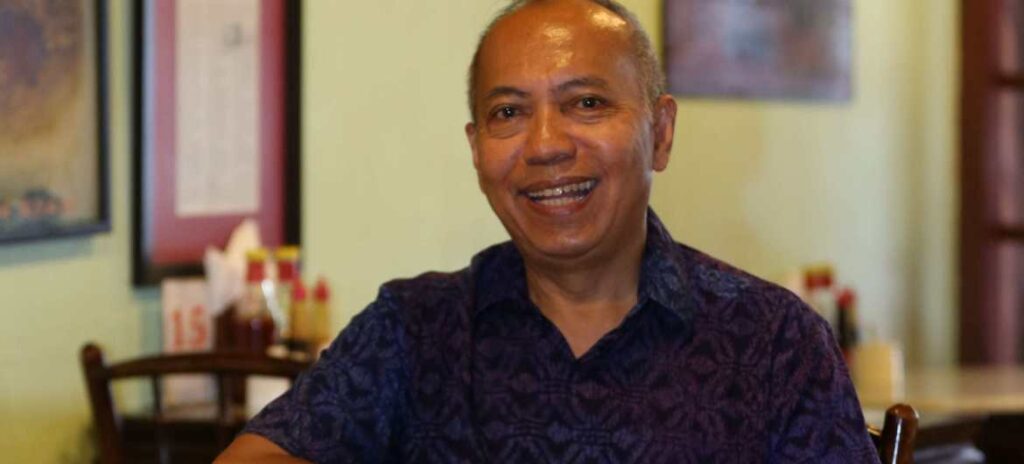 Jakarta, JARING.id - In the early 80s, when the New Order government was very strict in monitoring the media, a tabloid named Pearl. Aritides Katoppo, one of the founders, said that journalists there began to be trained in writing comprehensive news. Not only conducting interviews, but also research and observations.
Tabloids Pearl then met him with the figure of Bondan Winarno, who at that time came still as a photo reporter. However, Tides, as Aristides Katoppo is usually called, saw the diligence and thoroughness in Bondan so that he appointed him as Managing Editor.
"He's also careful. Much more careful than me, "said Tides to JARING when contacted by phone Wednesday (29/11).
For Tides, Bondan's meticulousness and thoroughness enabled him to reveal the manipulations carried out by Canadian mineral company Bre-X mining gold in Busang, West Kalimantan.
Bondan is trained to think skeptically by continuously questioning the facts. Test it out, look at the gold samples down to their storage location and look for motives.
"He's got a talent all his own," said Tides.
Bondan produced one of the best investigative works entitled Bre-X: A Block of Gold at the Foot of the Rainbow. Starting when a geologist from the Netherlands, John Felderhof, revealed the potential reserves of up to one million ounces of gold in Busang. Felderhof then invited Canadian share promoter David Walsh to seek funding. Capitalized by newspaper clippings, the stock value of Bre-X was successfully boosted from CAD10 cents to CAD201 dollars.
Apparently the existence of gold is just a figment. When Bre-X exploration manager Michael Antonio Tuason de Guzman was about to comply with Freeport's call to indicate where the gold was found, suddenly he reportedly died from falling from a helicopter.
Bondan found many irregularities in this incident. The first is the legacy that suggests that he committed suicide because of the hepatitis B he suffered. There is no reason for the person who is known to be a connoisseur of life to commit suicide, especially not a single medical record shows that he has hepatitis B.
Second, the discovery of the corpse was carried out in a short time in the middle of the jungle of Borneo which is known to be dense. In addition, the trauma that the corpse exhibited was more of a person falling from a coconut tree, not from an 800-foot height.
Bondan even went to the Philippines to meet de Guzman's sibling. He paid all the expenses himself, as he told when he was interviewed by journalist Oryza Ardiansyah. What's interesting about this meeting, brother de Guzman refused the interview even though Bondan, who is far from Jakarta, was already at his house. Bondan did not insist and left. An hour later he was using a payphone to call back and got a few opportunities to interview from afar.
"What is impressive is that an investigative report is conducted in a polite manner. He did not force the source, "said Metta Dharmasaputra, author of the investigative report Key Witness when contacted Thursday (30/11).
The attitude of not compelling the source is a contradictory image when compared to investigative journalists today. From Bondan, Metta learned that investigations are not always carried out with excitement and frenzy.
Memories of Bondan are not only his investigative work, but Metta has become an avid reader of the column Tips which Bondan had filled in a magazine Tempo. Bondan is able to observe phenomena that are not seen by people and explain them into something meaningful.
"He has foresight, both have accuracy. The thoroughness that always guides him to the heart of the matter. That's actually his strength when writing many things and writing investigations, "said Metta.
December 2014, Bondan called Metta to ask him to meet, as well as being their last meeting. Bondan told how he used to face demands without support alone, his coverage was quiet but received demands. At that time, he was also busy questioning Bondan's decision to run as a legislative candidate from the Gerinda Party.
It turns out that Bondan wants to move forward because he has a vision of improving national nutrition, especially for children. And only Gerindra accepted the proposal. For Metta, this reason is far from political. Metta found that the figure he met for the first time 18 years ago and the last time 3 years ago is still the same person.
"An interesting person for an investigator, really humble, low profile, thorough and polite, "said Metta.
At the age of 67, this figure breathed his last Wednesday, November 29, 2017 due to a heart disease. Bondan left many lessons from his colorful life. [Deborah Blandina Sinambela]