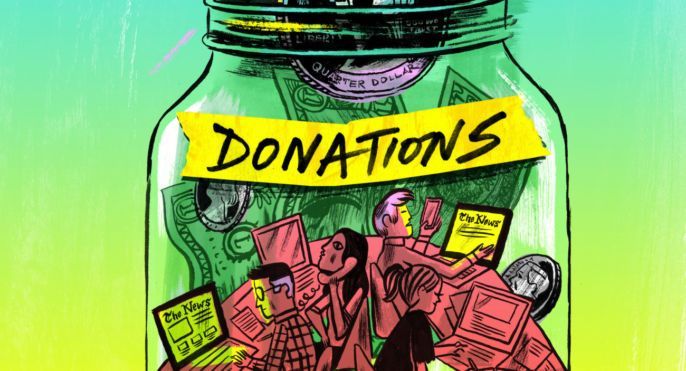 Investigative coverage is labeled a costly practice with no clear payoff. No wonder the mass media tends to avoid it. However, awareness of its important role in overseeing the public interest remains and continues to be disseminated. One of them is through a non-profit investigative organization.
"We only have used electric typewriters, a DOS-based computer, and several diskette boxes," said Sheila Coronel, Senior Journalist of the Philippines, when conveying keynote speech at the event Uncovering Asia: The First Asian Investigative Journalism Conference in Manila four years ago.
Together with eight other journalists, Sheila founded Philippine Center for Investigative Journalism (PCIJ) in 1989. Sheila and eight other Filipino journalists made their move in 1989. Their greatest capital was the awareness of the importance of mass media beyond routine daily reporting.
"There is a lot of uncertainty, the work we are doing is very risky, there is no model (organization) in the third world (which can be emulated), we are also young immature journalists," he explained in a statement. interview with The Asia Foundation.
Efforts to promote investigative journalism for the public interest have not diminished amidst its limitations. PCIJ has conducted 120 trainings during the period 1990-2012. Not only in the Philippines, but also Thailand, Myanmar, Cambodia, Vietnam, Japan and Indonesia.
Setting up non-profit media does sound reckless. The mass media, industry, and the public have formed a solid business triangle model. News is sold to audiences, audiences are sold to advertisers, and advertising revenue becomes a source of funds for producing news. In such a model, profit is the lower bound (bottom line).
This model leaves a niche for the PCIJ to develop itself.
As written on its official website, "PCIJ does not intend to replace the work of newspapers, television or radio, but is solely trying to encourage the development of investigative journalism and shape this culture in the Philippine press environment."
Building a nonprofit that focuses on investigative practices is a new trend that has emerged after the success of the duo of journalists The Washington Post Bob Woodward and Carl Bernstein released their investigative report in 1972. Starting with the raid on the Democratic Party's Headquarters at the Watergate Complex, Washington DC, they followed the events to their head into a political scandal involving US President Richard Nixon. The report led to Nixon's resignation.
Five years later, in 1977 to be precise, an investigative journalist Rolling Stones namely Lowell Bergman, David Weir and his partner Dan Noyes, founded the first non-profit investigative agency called Center for Investigative Reporting (CIR) headquartered in California.
CIR's first investigative coverage of a criminal gang transforming into the Black Panther Party appeared in a magazine New Times and Mother Jones. Titled The Party's Over, the coverage drew editorial acclaim The Wall Street Journal.
A step in line was taken by CBS journalist Charles Lewis. Steady ended his career as a producer News 60 Minutes on network radio, he founded Center for Public Integrity in 1989. Together with two fellow American journalists, they raised funds from small foundations, trade unions, companies and became network TV consultants. In the first year of establishment, they managed to collect US$ 200 thousand, or around Rp. 2.9 billion. An amount that is more than sufficient to be used as initial capital to produce investigative coverage.
The production of investigative reports by non-profit media cannot be separated from the emergence of donor agencies that fund them. The philanthropist Philip M. Stern, for example, forms Fund for Investigative Journalism in 1969. He started small, giving US$ 2,250 to Seymour Hersh to cover the massacre carried out by US soldiers in My Lai, a village in Vietnam.
The value of the funds, according to Stern, lies not in the amount but in its impact which, "contributed greatly to changing the way Americans view the war in Vietnam."
FIJ still exists today. On their official website they claim, "Has distributed grants with a value of more than US$ 1.5 million to reporters, authors and small publishers. Enabling them to publish more than 700 stories and broadcasts, as well as more than 50 books, "over the past three decades.
Several similar institutions also emerged in the United States in the 1960s. Investigative Fund at The Nation Institute and Investigative Reporters and Editors take part in supporting investigative coverage with media assistance, assisting collaboration between journalists, and funding investigative coverage.
Long developing in America, the Blue Continent has just tasted the presence of non-profit investigative organizations in the 21st century. Its development was initiated in post-communism Eastern European countries. Stefan Candea, Sorin Ozon, and Paul Radu founded Romanian Center for Investigative Journalism in 2001.
According to Radu, the presence of a non-profit organization that supports investigative journalism is necessary to uncover corruption and relations with government officials, criminal groups and crimes by intelligence officers that have occurred in Romania. This role is carried out by publishing coverage on the arms trade, ownership of offshore companies and international criminal organizations.
The emergence of non-profit organizations that focus on Investigative Journalism has reached its peak in the last two decades. Spread to the African continent, as far as Asia. Center for Media Assistance noted that there were 39 non-profit investigative organizations spread across 29 countries in 2007.
These institutions build international alliances below Global Investigative Journalism Network (GIJN). Currently there are 173 organizations from 75 countries that are members of the GIJN. In Indonesia, two organizations are registered as members, namely the Alliance of Independent Journalists (AJI) and the Indonesian Network for Investigative Journalism (Jaring).
Why Nonprofit?
The declining revenue of commercial media is the reason Charles Lewis resigned from CBS and founded a non-profit organization in 1989. The boom in the television business since 1970 reduced print media revenue from advertising. Long and costly coverage such as investigations is often the main target of budget tightening. Nearly two decades on, this reason is still relevant.
"With the complexity of the problems that are happening in society today, independent, original and reliable information is needed. Moreover, the technology supports to deliver picture, voice and text messages globally, "Lewis wrote in the article The Nonprofit Road: It's paved not with gold, but with good journalism, Last October 2017.
Economics professor Julia Cage has an extreme view. In his book Saving the Media, he argues that the media must shift towards a non-profit structure in order to survive with quality news. He claims commercial media depletes their monetization potential, turning into desperation for whoever is willing to pay.
"If the future media have to rely on wealthy investors for their financing, many dangers lie ahead," he said.
However, that does not mean that the non-profit model does not leave problems. Independence remains a challenge. Lewis advised non-profit organizations to open up their funding sources by publishing their annual financial reports so that they can be accessed by the public. Organizational funding must also not rely on a single donor.
Another problem arose. How can nonprofits focused on investigative journalism, especially donor-dependent organizations, survive?
Richard J. Rouan of the University of Ohio's EWS School of Journalism, analyzes nonprofit investigative organizations according to their funding sources. First, an organization run at full expense from donors such as Pro Publica. Second, commercial media that have a nonprofit investigative section such as the Huffingthon Post it works with Atlantic Philanthropies to provide funding for investigative coverage to freelance journalists. Third, a community-dependent non-profit organization such as Spot.us.
According to Rouan, funding for investigations by Spot.us is the best example of relying on funds from the public to cover local issues.
"Strengthened the report State of the Media News 2009"The researchers agree that the future of non-profit media is not in large-scale business with general issues, but in specific niches with local issues that rely on the web," he wrote in The Non-Profit Model of Investigative Reporting: Can it Save Public Service Journalism?
It is possible that there will be community-based or university-funded community-based online investigative newspapers. Or build media on a larger scale that relies on a subscription model. Lewis thinks it is very possible with a combination of the right people, resources, and time.
At present, long-term philanthropic support to non-profit investigative organizations can at least increase the quantity and quality of investigative reports. The lower bound is impact, not a cost-benefit calculation. (Deborah Blandina Sinambela)