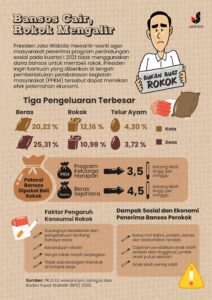 Since the first Covid-19 case was announced by President Joko Widodo in early March 2020, Ponimin (65) has no longer worked. This resident of Tegalharjo, Jebres, Surakarta has to make ends meet by working odd jobs as a courier for vegetables, electronic goods, to motorized vehicles. Every month he gets a maximum wage of Rp. 2 million. This amount is less than his previous income as a truck driver across Jakarta-Central Java.
Three months later Ponimin felt lucky that his name was included in the list of recipients of direct cash assistance (BLT) and groceries in May 2020. He received social funds amounting to Rp. 600 thousand within three months. While the basic needs in the form of rice, eggs, sardines, sugar, tea, cooking oil, instant noodles and sugar are obtained once. "I was asked to pick up at the sub-district office," he said when contacted by Jaring.id on Wednesday, January 6, 2021.
Of the aid money, Ponimin set aside a little for cigarettes. One pack of kretek cigarettes for Rp 11 thousand usually expires in 2-3 days. "The money for assistance is not all for cigarettes. One pack of mine does not always run out one day, "said Ponimin, who has been smoking since he was in the 4th grade of elementary school.
No different from Ponimin, Ahmad Rizani (46) admits that it is difficult to give up smoking. Every time he gets help, Ahmad always asks his wife for cigarettes. In fact, a resident of Ciluar, Bogor, West Java, he has dependents of 4 school-age children.
"Rp. 300 thousand mah finished for eating, "said Riza to Jaring.id when contacted by telephone, Wednesday, January 6, 2021.
Meanwhile, Teguh Susanto (63), a resident of RT 05, Tegalharjo, Jebres, Solo chose to use all the cash assistance amounting to Rp. 600 thousand to meet his daily needs. That amount of money is considered sufficient to cover his income so far. As a vegetable trader at Pasar Gede Solo, Teguh is only able to get a gross income of Rp 100-200 thousand per day.
"Even though I got help, I didn't buy cigarettes or electronic devices. Enough for daily needs. I don't smoke, "Teguh told Jaring.id when contacted by phone, Wednesday, January 6, 2021.
***
Ponimin, Ahmad, and Teguh are a few of the people who received social protection assistance during the COVID-19 period. The assistance with a cost of more than Rp. 400 trillion is divided into 3 types of programs, such as the Family Hope Program (PKH) amounting to Rp 28.71 trillion, Non-Cash Food Assistance (BPNT) Rp 45.12 trillion and Cash Social Assistance (BST) of Rp 12 trillion. . In addition, the government also distributed assistance through pre-employment cards (IDR 10 trillion) and Village Fund Direct Cash Assistance (IDR 14.4 trillion). The government is targeting 10 million recipients of PKH assistance, 18.8 million recipients of BPNT and 20 million for the BST program.
Citizens who are entitled to receive direct cash assistance (BLT) include those who lost their livelihoods during the Covid-19 pandemic or who are not registered as recipients of other social assistance from the central government. Based on data from the Central Statistics Agency (BPS), the number of poor people increased by 1.63 million people in March 2020. Thus the number of poor people is currently 26.42 million people. Therefore, President Joko Widodo warned that social assistance funds should be used properly and not misused.
"Take advantage of this assistance appropriately. Don't use it to buy cigarettes. Buy groceries so that they can reduce the burden on families during this pandemic, "Jokowi said in front of dozens of regional heads, Monday, January 4, 2021.
On the same occasion, the Minister of Social Affairs, Tri Rismahariani also prohibited cash assistance from buying cigarettes and liquor. He asked the community and assistants to supervise and at the same time warn aid recipients not to use social assistance funds carelessly.
"We also convey the prohibition of all aid to buy cigarettes and alcohol," said Risma when delivering a report on the distribution of cash assistance for 2021 at the State Palace which was broadcast via the Presidential Secretariat YouTube, Monday, January 4, 2020.
Risma explained that PKH assistance will be distributed once every three months for four stages through a bank owned by State-Owned Enterprises (BUMN). According to Risma, the BPNT program will start from January to December 2021 with details of IDR 200 thousand per recipient. Meanwhile, social cash assistance of Rp. 300 thousand will be distributed over four months from January to April 2021 through PT Pos Indonesia.
"Use the assistance provided wisely and efficiently," said Risma.
President Jokowi and Risma's appeal is not without reason. The 2020 population census report shows that cigarettes are still the most consumed commodity after rice. The cigarette consumption rate in cities can reach 12.2 percent, while in villages it is 10.9 percent. This figure is almost half of the percentage of rice consumption in urban areas which reached 20.2 percent and in villages 25.3 percent.
The BPS report is in line with the national smoking prevalence rate of 29 percent recorded by the World Health Organization (WHO). That way, Indonesia is entrenched in third place in the world after China and India. Meanwhile, based on the 2018 Basic Health Research (Riskedas) report, the prevalence rate of smokers aged 15 years and over was 33.8 percent. The research also explained that there was a 1.9 percent increase in consumption of smokers aged 10-18 years over the five years.
Research results published by the Center for Social Security Studies (PKJS), University of Indonesia in 2020 show that recipients of social assistance have a higher tendency to smoke than non-recipients. PKJS UI researcher Teguh Danarto said PKH recipients had an 11 percent higher chance of smoking than non-PKH recipients. Meanwhile, recipients of the Smart Indonesia Program (PIP) had a 9 percentage point higher chance of smoking than non-PIP recipients.
"It can show that households receiving social assistance receive higher amounts of money than those who do not receive them," Teguh said when contacted by telephone, Wednesday, January 6, 2020.
In the research, it was also explained that recipients of the Family Hope Program (PKH) assistance had more than 3.5 cigarettes per week. Meanwhile, rice prosperous recipients (Rastra) are known to have smoked 4.5 more cigarettes. "PKH recipients have an expenditure on cigarettes of Rp3,660 per capita per week compared to non-PKH recipients," he said.
That is because, according to him, cigarette consumption is significantly related to poverty. Every 1 percent increase in cigarette spending increases the opportunities for poverty by 6 percent in households. This will indirectly affect children's growth and development and intelligence. "Smokers will reduce the noble purpose of social assistance. Much is expected from social assistance that is not optimal, "said Teguh.
Teguh suggested that the government should act concretely rather than just appeal. He said, the appeal would not be effective in changing people's smoking habits. PKJS encourages the government to impose sanctions in the form of stopping social assistance for recipients who are smokers, then education about the impact of smoking on family welfare, and the need to optimize the role of PKH facilitators to educate and supervise recipients of aid. "In the future, it must be tougher," concluded Teguh. (Abdus Somad)