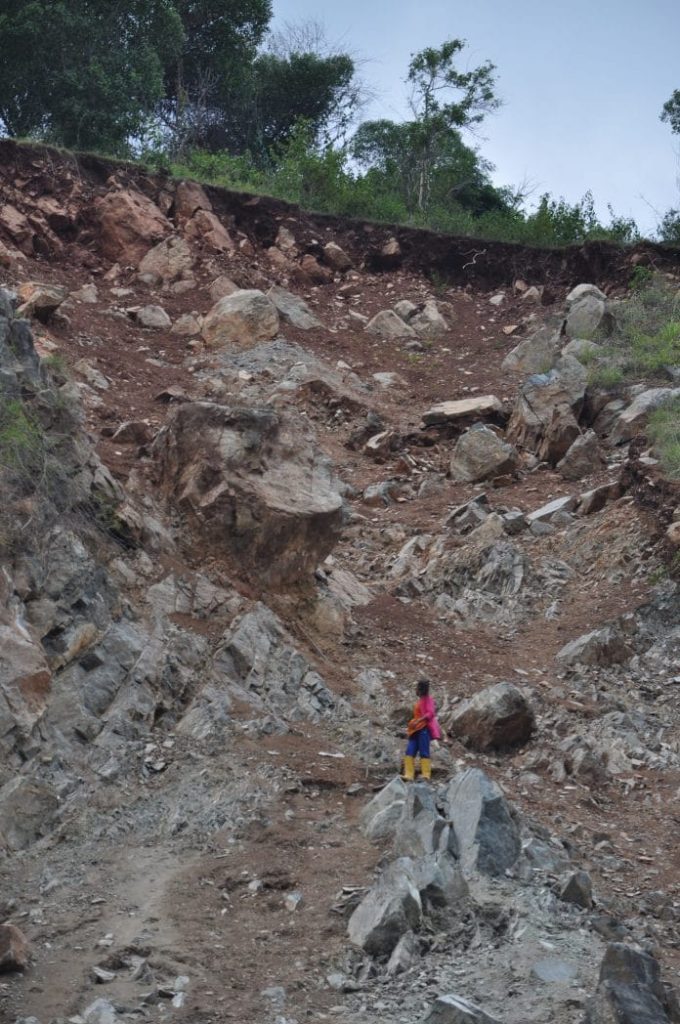 PALU, MERCUSUAR - One morning in 2003, the police and Babinsa guard the Loli Oge Village Hall, Banawa District. There, a village meeting took place to discuss the existence of the mining company C. Donggala District officials, village officials, the police, and company representatives attended the meeting. The villagers were invited to listen to the company socialization.
The company continues to speak up about the benefits of mining in its area. No residents protested. It seems that before the meeting started, village officials threatened the residents not to oppose the mine.
"Villagers were asked to speak in moderation, he said if he spoke a lot, get ready a police car would come to our house," Talo, 45 years old, told of the atmosphere of the village meeting at that time.
In fact, in the eyes of the villagers, mining is not profitable because it destroys gardens, the sea, and even the traditional mines that are their livelihood.
Talo, who daily works as a traditional stone breaker and farmer, is forced to bear the loss. The pea, corn, tomato and pepper plants that were behind his house withered from the dust. He also left his traditional mining job because the distance between the mine and his house was getting farther and more damaged. Likewise, access to forests for timber has been destroyed due to company activities.
Because of this injustice, the villagers began to collect votes. The climax was when the house of Talo's relative, Sumarni, was hit by dust as a result of the excavation of a rock located behind his house. Worried about his family's health, Sumarni then went to Talo to find a solution to the problem his family was experiencing.
The meeting at that time ended up being a big conspiracy. Talo, who at that time was still confused about solving the problem, together with Sumarni went to the non-governmental organization Yayasan Pendidikan Rakyat (YPR) to get direction on the problems they were experiencing. And through this NGO, Talo learned to gather the masses and express opinions.
"We gathered the masses and visited the company. We demand that they leave our place because it only harms us all, "he said.
Because of the insistent pressure, the enterprise finally stopped working. However, the community struggle did not stop immediately, because it turned out that the flow of companies entering the area never stopped.
Various intrigues and strategies are carried out by mining companies to secure their position to exploit as many natural resources as possible. Starting from working with village officials, local residents, to making sweet promises.
Finally, in 2009, the company just entered again. Talo did not remain silent, he again gathered the villagers to ask for clarity until a meeting between companies was held at the village office.
Talo, a resident of Loli Oge Village, Banawa Subdistrict, Donggala Regency, became a central figure in his village against the entry of the Galian C mine, which eliminates many sources of income for residents who live by gardening and as traditional miners.
Ostracized
Even though he is often a pioneer in demonstrations, Talo's steps to bring people back to life are not easy. He must be willing to receive bad treatment from his neighbors. He is often excluded from his environment, limited in his space so that he is considered a provocateur and is berated.
"But I am patient, God knows best. We are little people. Who has nothing. Those who sold their land to the company turned out to be not long in age because they had sold their own dignity, "he said.
Talo believes that mountains are the same as land, if humans destroy land, it means that they are destroying their own dignity. Likewise when selling land, if it only torments many people, it is the same as that person has sold his pride.
Don't ask for government assistance such as school fees and basic necessities in the village. Talo's name is often not entered as a recipient. According to Talo, his name was often crossed out by residents who were not happy with him. He also often receives tantrums from residents because he is considered to be acting up.
Zero Help
Talo is not alone, the women behind the resistance of mining companies in excavation C have been around for a long time. One of them is Bidaya, a resident of Buluri Village, Ulujadi District, Palu City. Since 2000, he has opposed the entry of quarry C mining in his area.
"They are destroying our river so we lack water. The company exploits the land irresponsibly. We are the ones affected, "said Talo.
He has made various efforts with residents who agree with him to claim their rights as affected residents, but to no avail.
That afternoon when the lighthouse came to Bidaya, part of the mountains that were included in the Buluri area caught fire. According to him, this is a sign that the mountain has been sold by residents and will soon become the next mining area.
"I hope that the government will pay attention to us here, we know that the C-dugout provides a large income for the regions, but it will provide a little income to ensure our continuity here because we are the ones who immediately receive the impact," said Bidaya.
Of the five companies in the area, only two still care about the fate of local residents. Once a year before Eid, the two companies distribute 12 kilos of rice.
Now, local residents have lost a lot of land and gardens, some are confused about what inheritance they gave to their children due to the massive sale of land. However, there are still residents who choose to stay with their gardens. The opposition was made by a woman from Loli Oge Village named Muria.
"In my garden, which is one kilometer from here, residents have started pegging them. Now the community standard is approaching in my garden. Here they determine people's land at will, "said Muria.
He explained that since the entry of mining companies, land sales without certificates have increased. Muria land itself is not registered in his name. The garden he manages is land without certificates. His concern is not only for the company but also for the residents who might be pegging their gardens without his knowledge.
"I will defend our garden, I will not give it to anyone, let alone the company, even though it is paid handsomely. The garden has provided life for us, even though it is small, but it lasts a long time, while the company only gives us Rp.50 thousand per year, "said Muria.
Injustice
Head of the Division of Women's Sovereignty over Land, Women's Solidarity (SP) Palu, Maya Safira, assessed that there are several forms of injustice that women accept. Women's access to politics is limited, as well as access to activities in public spaces. Not to mention the double burden, namely taking care of the household and taking care of the public, negativity, male domination, being vulnerable to violence both physically, psychologically, sexually and economically.
Loli Oge Village, according to Maya, has been the only center for the institution's development since 2007 because they see that the orientation of women in that place is still consistent with the rejection of the C mining mine.
"There is a condition of women in the village who, if given money, also follows. We don't want something like that. We want something consistent and sustainable like Loli Oge Village, "said Maya.
From the results of the research, Loli Oge Village is a complex village with problems because in addition to C-mining, there is also a Pertamina company and coastal reclamation. This has resulted in many women who used to work as traditional miners and gardeners, to become daily laborers and domestic helpers in Palu City.
In that village, his party also established the Sintuvu Besi School, which is inhabited by women who are traditional miners, wood seekers and farmers, especially poor, marginalized women. The school curriculum, is not just reading and writing, but contains character education that encourages women to advocate and solve problems in the village.
Now, in Maya's eyes, like Talo, these women have been able to become leaders for themselves. Most importantly, being able to be a place for other women to complain. (Arif's Diamond)
This paper has been published on Mercusuarnews.com, 7 October 2016, and edited to be published again in Jaring.id.