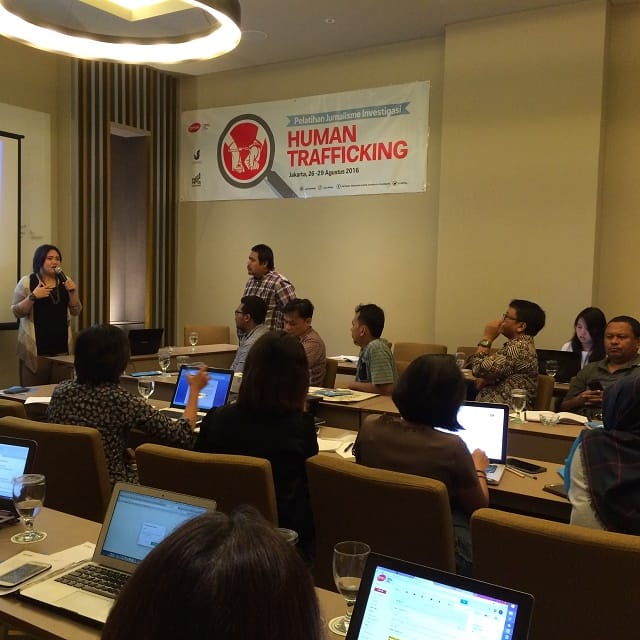 JAKARTA, JARING.id - In 2015, a case of human slavery emerged from Benjina, Maluku. An in-depth report by the investigation team AP uncover the intricacies of trafficking of people from Myanmar. About 2000 people were enslaved in a seafood business. As a result, the article that exposed the Southeast Asian crimes against humanity syndicate was rewarded with a pulitzer.
Indonesia ranks first in the case human trafficking, according to data from the International Organization for Migration (IOM) in 2014. Of the total cases human trafficking with 7,193 victims indicated, 92.46 percent were victims from Indonesia.
"Looking at the various reports and data available, human trafficking has become a persistent problem even though various efforts have been made by a number of parties in civil society, government and law enforcement," said Eni Mulia, Executive Director of PPMN, in front of 12 selected participants. Fellowship for Journalists: Human Trafficking Investigation Report, Saturday (27/8) in Jakarta.
According to Shafira Ayunindya (Project Assistant Counter Trafficking and Labor Migration Unit, IOM), many factors contribute to human trafficking. Large population, geographically wide country, economic growth, lack of access to education, poverty, lack of employment opportunities and so on. Indonesia is a sending country.
"The labor trade is like an export-import business. And more than 20 million migrant workers in Asia work in '3D jobs' (dirty, dangerous, demeaning), "Said Shafira. These migrant workers will not be imported if they get the same salary, benefit from the protection of human rights like local workers. Due to low wages and lack of human rights protection, these workers are employed. Trade takes advantage of the vulnerable, poor and marginalized.
"Trafficking issues very hard to reveal. Therefore, we need help from fellow journalists to uncover this issue, "said Shafira.
What AP has done with the Benjina case shows that investigative coverage of the mass media can have a big impact. "This is what makes us always want to hold investigative fellowships for journalists. Because not all media provide opportunities for journalists to carry out investigations, "said Eni.
PPMN and Jaring have held fellowships several times for investigative coverage. "This is the first in Indonesia, there is a special agency to assist investigative journalism, although it is almost 30 years late from the Philippines," said Eni.
According to Eni, journalistic media can be a driving force, a catalyst for societal change. "I am happy that the full training continues, there are old faces, which means that they do not give up. For the new ones, maybe there will be pressures, not only from us, but I expect pressure from my friends to produce the best. As long as they get guidance facilities from mentors and funding, "said Eni.
Twelve journalists were selected in the Human Trafficking Investigation Report Fellowship. The 12 journalists are Agus Setiyanto (SatellitePost / Satelitnews.co, Purwokerto), Buniamin Azmah (Global FM Radio, Lombok), Davi Abdullah (Compass TV, Aceh), Hartatik (Suara Merdeka, Semarang), Ludgeorus Kristoforus Ngay (Trans7), Mercy Tirayoh (Compass TV), Muhammad Irfan Batubara (Daily Analysis, Medan), Novaeny Wulandari (Jawapos TV), Shinta Maharani (Tempo, Yogyakarta and Central Java Correspondent), Siprianus Seko (SKH Pos, Kupang), Tantra Nur Andi (Kapuas Daily Post), Taufik Hidayat (RRI Sintang). The two mentors who will guide the participants are Sunu Dyantoro (Tempo) and Irvan Imamsyah (CNN Indonesia TV). (Ida Rosdalina)