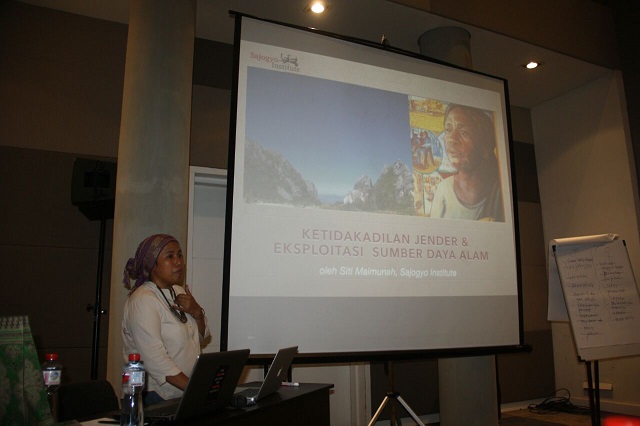 JAKARTA, NETWORK - The river in Buket Linteung village, Langkahan, Aceh Utara, has long since died. In fact, this river used to be so alive, water flows smoothly from its source. Women use this river for various household purposes.
However, since the last few years, the river has stopped flowing. The water that is there can go everywhere, it's just stagnant. "The river was alive. The dam construction makes this river disconnected from its origin, "said Siti Maimunah from the Sajogyo Institute in front of participants in the Investigation Fellowship for Journalists: Investigative Journalism for Deforestation Reduction, held by JARING in Jakarta, Monday (1/8).
Not only is it cut off with the area of origin, waste from the surrounding mining companies also enters the river, forming sedimentation there. As a result, when it rains heavily, the flood will last for days.
The problem, said Maimunah, is that only women use the river. "Men can use water sources on their way from home to work," he said.
What happened then, women experience itching in their vagina. "This condition doesn't seem like a problem. They used to use balm or eucalyptus oil to relieve the itching, "said Maimunah.
The description above is the impact of the exploitation of Natural Resources (SDA) on women. Women suffer the most. However, the media are rarely interested in raising the perspective of women when writing about the exploitation of natural resources.
There are many examples of exploitation of natural resources that ignore women's rights. Maimunah talked about Perigi Village in South Sumatra. This village has a large area of peat swamp land. In this land, purun (pandan) grows. By Perigi women, these puruns are woven into handicrafts. Now, in the village 1000 ha of rice fields will be printed. "Imagine what would happen if the printing of rice fields was carried out with the green revolution," said Maimunah.
Another story about Aleta Baun, a woman from Timor Island. He organized two villages to refuse a marble mine. Why? Because she has worked as an NGO worker and often provides insights into reproductive health, she finds that the women in her village are constantly sick. It turns out that marble mining waste is the cause.
Not So Reference
Unfortunately, stories about women's experiences and their perspectives are rarely written in the mass media. "Never even become a reference. So it is as if we are talking about women, but in fact they have never really been placed as important sources for writing, "he said.
Answering a question from a participant about what if these women are involved in illegal mining activities, Maimunah said the media must be more critical in seeing the illegal and legal aspects. "Illegal is usually related to the issue of a permit," he said.
Women in the context of illegal mining actually face multiple conditions. "It is important to put in place when we see these women working in illegal spaces, where everyone actually benefits," she said.
At the same time, it is women who are most affected by problems, said Maimunah. Many people's gold mines still use mercury. While working, they are exposed to toxic mercury. "His body is reproductively exposed to poison when burning mercury to separate gold ores. In the air, mercury toxins can more easily enter the body, especially the body of pregnant women, "said Maimunah.
He said the media should actually help to see how real women are in the illegal system. "This is important for our writing because we tell how the problem is not only in the illegal context, but also how the risks are to women and their families," he said. (Ida Rosdalina)