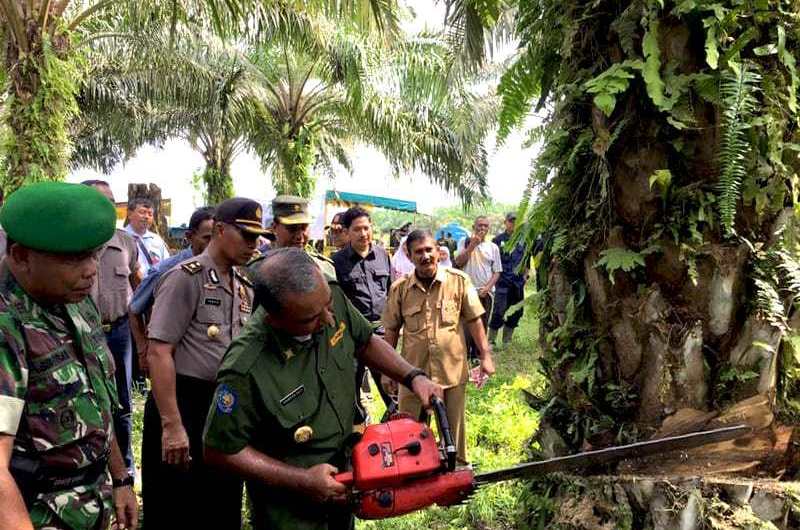 Last month, Serambi Indonesia journalist Said Kamaruzzaman conducted an investigation into the wilderness of protected forest in Aceh Tamiang. Together with GeRAK Aceh, Serambi Indonesia photographed the existence of HGU for oil palm plantations that did not provide benefits to residents in Tamiang Regency. On the other hand, the protected forest restoration program, a policy to restore the function of forests in Aceh Tamiang District which has been planted with illegal oil palm, has been successful. An area of 1,123 hectares of forest has been successfully restored with the involvement of local residents. There are successes, there are also challenges in this restoration program. Here are some notes from the search results, which were derived using the Solution Journalism approach.
Even though Aceh Tamiang District now has around 100 HGUs for private-managed oil palm plantations, there is no single penny income from the Regional Original Income (PAD) for the local government. Even if there is, through Land and Building Tax, the amount is not much every year.
Head of the Aceh Tamiang DPKAD, Abdullah SE, said there was no income contribution to local revenue from HGU oil palm plantations. "The existence of tens of thousands of HGU plantations in Aceh Tamiang does not provide local revenue (PAD)," he said to Serambi, last week.
However, Abdullah said, there was still significant income when the HGU ran out. For new permits, billions of rupiah can go to the regional treasury. However, of course it will take time to wait up to 25 years for the new permit to be extended. In addition, there is also income through the Urban and Rural PBB which the Tamiang Regency Government collects every year. "It is targeted that more than 2 billion rupiah per year will be collected by the Tamiang Regency Government," he said.
According to Serambi's investigation, several years ago the Tamiang Regency Government had planned to obtain PAD from the private plantation sector. So a qanun was designed, which contained a retribution quote of Rp. 5 per kg of fresh fruit bunches produced by the plantation company. "However, after submitting it to Jakarta, the central government then canceled the qanun, because it was considered not 'friendly' to investment," said former DPRK chairman Tamiang Rusman, in a conversation with Serambi, last week.
Meanwhile, the number of workers recruited is limited. The majority of them actually come from outside Aceh. Meanwhile, the Tamiang Regency Government has to spend billions of rupiah every year to repair various road and bridge infrastructure, some of which are damaged due to the traffic of oil palm trucks.
"Special Autonomy funds are used up to repair roads. Almost all or approximately 85 percent of the plantation owners are people outside Aceh. Almost all of them are in Medan, North Sumatra, "said the Director of Lembahtari NGO Sayed Zainal SH. Now, even if there are significant direct benefits for farmers, it is only through the restoration program launched by the government four years ago.
Sayed Zainal said, although the number of HGUs was recorded at no less than 50, no one knows for sure how many areas are controlled by dozens of private companies. Sayed suspects that some companies have annexed areas outside the HGU. Several companies have even reported it to the police, because they are considered to have annexed areas outside the HGU. "We once reported PT Semadam to the Regional Police in 2014, because it had annexed areas outside the HGU," he said.
Then, what's the solution? According to Sayed Zainal, with regard to PAD, regulations that allow levies must be re-created, of course with the approval of the central government. Likewise with the workforce, must give priority to local workers. Meanwhile, with regard to areas controlled by the company, Sayid Zainal asked to be re-measured. He estimated that around 20 percent of the illegal area outside the HGU was used by the company. Even stranger, said Said Zainal, is that currently tens of thousands of hectares of plantations have changed ownership and become foreign property.
"The solution is re-measured, pegged the problem. So that we know this garden is outside the HGU. This is what the government has not done so far. To re-measure, of course, must involve an independent team, which represents various elements, "said this man.
His name is Wak Ino. Her age is over her head six. However, this well-built man is a role model for many in Tenggulun, especially regarding his success in farming. Understandably, just by planting eggplant, cucumber, genjer, kale, mustard greens, chilies, sweet potatoes and long beans, this man's income can reach 3-4 million per month.
Like the 49 other farmers who are members of the Tukul Lestari farmer group, Wak Ino is allocated one hectare of restoration land. Now, some of the land has been planted with tree crops. There are durian, mahogany, jackfruit, and bananas. However, in between these crops, Wak Ino planted seasonal crops. "The durian trees are already big, but it will take a few more years to bear fruit. For daily needs, I plant seasonal crops, "said Wak Ino to Serambi to start the conversation, one early June morning while watering the chilli plants that have grown an inch.
By using a motorcycle, Wak Ino has been selling his garden products to the villages. Some of the housewives have become regular customers. Every time he leaves, Wak Ino admits that he brings 30 kg of cucumber and genjer each, 50 bunches of water spinach, 40 bunches of sweet potato leaves, 3-4 kg chilies, and several kilograms of eggplant. Usually, mothers have bought up their luggage since the morning.
"I take him on a motorcycle every other day. Yes, thank God I can bring home 250,000-300,000, "he said.
Within a month, the average Wak Ino can earn around Rp. 4 million. When asked about his tips on becoming a successful farmer, Wak Ino just laughed out loud. He said, what was important was only the willingness to work hard. "Others are lazy. In my group, only a few people are diligent, "he added.
Currently he feels overwhelmed by the fairly high demand for vegetables and fruit. Almost never the merchandise is brought home. Even if there is more stock, Wak Ino brings it to the nearest market. "If it doesn't run out, we will take it to the weekend (market, red). It's at Simpang Kiri, Tenggulun, Simpang Tiga Pucuk. But, I rarely take it there, because in the village there are still shortages, "he said.
Regarding vegetable seeds, all are purchased at the market. The price is not too expensive. Meanwhile, the fertilizers used are homemade organic types. Likewise, chemical fertilizers are still used, albeit in limited quantities. "Organic fertilizers are mixed with chemicals. However, chemical fertilizers are in small portions, "he said.
However, like any job, there are always challenges faced, namely the attack of pig pests. A month earlier, Wak Ino's cassava was turned into a wild boar. This pest is a hassle for farmers, especially when the surrounding area of the garden is still empty, so it is practically the main target.
Now, in line with its success in farming on restoration land, the Forest Management Unit (KPH) Region III of the Aceh Forestry Service and the Leuser Conservation Forum (FKL) as institutions that assist farmers, have agreed to increase land allotments for Wak Ino.
"We have added 0.5 hectares of land for Wak Ino, bringing it to 1.5 hectares," said FKL staff, Armiadi, last week. Its tenacity as well as its success is a consideration for additional land allotments. Moreover, said Armiadi, some farmers are not productive even though the land has been given and some cultivation skills and techniques have been taught by his party. This is because the land is not optimally utilized, ranging from a lack of capital, the land is far from where they live, to the low level of soil fertility.
"There are also farmers who work in plantation companies, so they are not maximally working on the given land," said Armiadi.
In 2007, the Leuser Ecosystem Management Agency (BPKEL) conducted monitoring of illegal oil palm plantations in Aceh Tamiang. At that time, several BPKEL staff conducted aerial monitoring of the forest with the Aceh Tamiang police resort. The results of the monitoring showed that a number of oil palm plantations were located in protected forests.
After the forest monitoring was carried out, BPKEL mapped all the illegal oil palm plantations. The results of BPKEL mapping show that at least 3,000 hectares of protected forest have been converted into oil palm plantations over the years. BPKEL then conveyed these findings to the Tamiang Regency Government to take strategic steps.
After taking a long approach, BPKEL succeeded in convincing the Tamiang Regency Government to take a firm step towards the conversion of protected forest functions that occurred in Aceh Tamiang. All parties at that time agreed to carry out restoration of the protected forest that has changed its function.
In 2009, BPKEL conducted the first logging of illegal oil palm plantations in Rongoh Village, Tamiang Hulu District. The area of illegal oil palm plantation cut down by BPKEL at that time was 425 ha. The illegal oil palm plantation was controlled by an Aceh Tamiang businessman. With police support, BPKEL continues to identify other illegal plantations.
These restoration activities stopped in 2012. At that time, the new Governor of Aceh, Zaini Abdullah, dissolved the BPKEL institution that was formed by the previous governor. After this government agency disbanded, no more illegal palm oil was cut down.
Protected forest restoration activities in Aceh Tamiang stopped almost 2 years after the dissolution of BPKEL. Not a single institution continued its protection forest restoration work in Tamiang at that time. However, FKL was established at the end of 2012 with a mission to continue protecting KEL, one of which is the restoration of protected forests in Aceh Tamiang.
At the beginning of the year FKL was founded, limited negotiations continued to garner support from the Tamiang government and the community so that protected forest restoration activities could resume. Attempts to convince many of these officials and communities have met with many obstacles from people who want to protect illegal oil palm plantations from being cut down.
At the end of 2014, the then Aceh Regent Tamiang Hamdan Sati agreed to resume restoring protected forests in Aceh Tamiang. Hamdan issued a decree to restore an illegal oil palm area of 1,071 ha in Tenggulun District.
FKL together with the Aceh Tamiang Forestry and Plantation Service (Dishutbun) at that time conducted an inventory of forest area boundaries that had changed function. This inventory is conducted to determine the area of protected forest that will be restored. After this activity was completed, FKL and Dishutbun Aceh Tamiang determined that the first logging would be carried out in September 2014.
In a period of 2 years, as many as 60,000 palm trees or an area of 500 ha were cut down. It was recorded that there were 11 illegal plantation owners in the Tenggulun protected forest who finally agreed that their palm oil was cleared and restored. In the course of this restoration activity, there are so many bureaucratic dynamics that have occurred in Indonesia, including one of which is the revocation of the authority of the district Forestry Service to the Technical Implementation Unit of the Aceh Province Forest Management Unit (UPTD KPH) as mandated by Law 23/2013.
By the Aceh Provincial Forestry Service, some of this illegal oil palm land is cooperated with the plantation owner. The Government of Aceh made a policy to manage oil palm that was "already" planted under a partnership scheme.
This partnership pattern has drawn protests from NGOs in Aceh, who consider this policy to be legally flawed because it is not based on the mandate of the law. The NGOs concluded that the partnership scheme for illegal oil palm management is against the applicable law. However, the Aceh DLHK had their own reasons.
In 2015, the Aceh Forestry Service granted protection forest management rights to three farmer groups. The total area managed by farmer groups is 250 hectares. The protected forest restoration pattern developed by the three groups is agroforestry. This restoration model is considered in accordance with the wishes of community groups who want additional income from managing protected forests.
The composition of restoration plants in these three areas was divided into 60% perennials and 40% fruit trees. Also interspersed with seasonal crops as an alternative to get additional short-term income. As of December 2017, FKL together with the community have produced 30,000 plant seeds, and around 10,000 of these have been planted.
Currently, the restoration of the protected forest in Tamiang is going very well. Young forests have started to grow in several restoration areas. Many community plants also produce. Of course, all these successes are not easy.
This article was published on Serambi Indonesia and re-edited to be loaded on Jaring.id