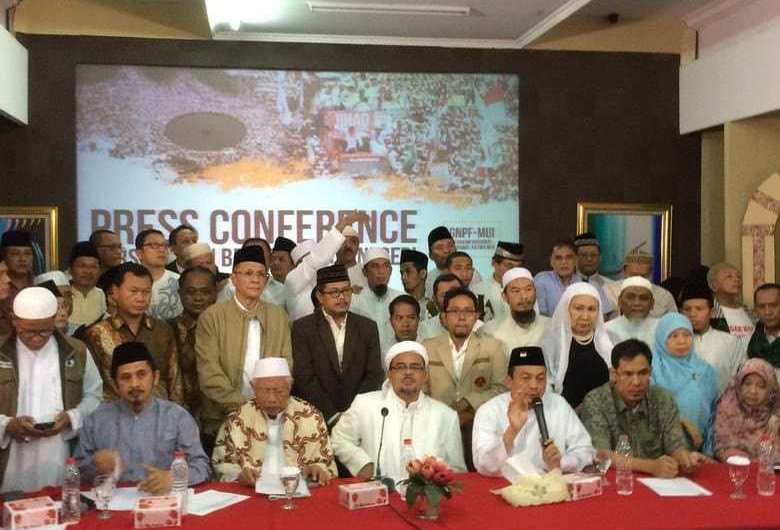 The name Joko Widodo (Jokowi) is attached to Ahok, Basuki Tjahaja Purnama's nickname, since both of them nominated themselves as Governor and Vice Governor of DKI Jakarta 2012- 2017. Chosen as a Governor, Jokowi chose to continue his political career by running for the 2014 Presidential Election.
The position of DKI Jakarta Governor is filled by Ahok along with Jokowi's victory in the 2014 Presidential Election. As an incumbent, he again ran for Governor Election 2017, but the road was not smooth.
Ahok was considered insulting the Koran and ullemas when citing Al-Maidah 51, a verse in Al-Quran which mentions the criteria of a leader. The label of religious detractors emerged when he competed with Anies Baswedan in the governor election.
Prabowo Subianto, General Chairman of the Gerakan Indonesia Raya (Gerindra) Party who took part in winning Jokowi-Ahok in DKI governor election 2012, transferred support to Anies. Ahok was shocked and sentenced to two years in prison in the case of religious blasphemy, while Anies walked to the city hall.
***
The 2012 DKI Governor election underlies the use of Identity Politics in the 2019 Presidential Election. As an incumbent who ran for re-election, the infidel label plagued Jokowi's figure because he had collaborated with Ahok. In an Indonesian vocabulary, infidel is interpreted as a disbeliever of Allah Swt and His messenger.
As for Prabowo Subianto, he began to get ullemas support, which was part of the Ullemas Fatwa Guards National Movement. The movement which was originally called the National Fatwa Guards Council of the Indonesian Ullemas Council (GNPF-MUI) emerged after the MUI's fatwa which said that Ahok had tarnished the Qur'an and insulted ullemas.
GNPF Ullemas recommended several names ullemas to accompany Prabowo as the candidate Vice President in the 2019 Presidential Election. However, Prabowo's choice fell to Sandiaga Uno, DKI Jakarta Vice Governor 2017-2022 who was long known as a businessman.
Meanwhile, Jokowi cooperates with K.H. Ma'ruf Amin, Chairman of the Indonesian Ullemas Council who signed a fatwa on religious blashphemy by Ahok. Ma'ruf also was listed as Rais Aam (General Chairman) Syuriah 2015-2020 Nadhlatul Ullemas Executive Board, the biggest religious organization in Indonesia.
The step to nominate the candidate vice president from the ullemas circles did not necessarily make Jokowi's image fully improved. Kyai Haji Taufik Hasyim, Steering Chairman of the Nadhlatul Ullemas (NU) Branch Pamekasan mentioned several accusations that still persisted.
"Jokowi is considered heretical, infidel, and liberal," he said to Jaring.id, Sunday, 5 May 2019.
***
The accusation, he continued, was inseparable from the blasphemy case that Ahok and the demonstration 212 had accompanied. Narration was built by way of forgiving Jokowi's supporters.
Another label that re-emerged in the 2019 Presidential Election was the PKI (Indonesian Communist Party) stooge, a party labeled anti-Islam and declared banned in Indonesia since 1966. Muhammad Al-Fayyadl, a lecturer at the Nurul Jadid Islamic Boarding School, Probollinggo, East Java mentioned many clerics in the Tapal Kuda area, East Java, which was consumed by the rumor.
"There were quite a lot of 212 actions in Madura and Pantura.They have Islamic sentiments (who) feel closer to Prabowo. Plus Jokowi was attacked by PKI hoaxes and propaganda. Kyai also consumed a lot of rumors, "he said, Saturday, 11 May 2019.
The accusation that Prabowo-Sandi supporters used Identity Politics with hate narration was denied by Kyai Haji Ilyas Siraj, caretaker of the Nurul Islam Islamic Boarding School, Sumenep Regency, East Java. He returned to mention the row of accusations which he said were addressed by supporters of Joko Widodo-Ma'aruf Amin on his side. Starting from the Wahabi label to partiality on Hizbut-Tahrir Indonesia (HTI).
"The Wahabi accusation was so strong to us, in case Prabowo wins, Wahabi will rule, then it is considered a hard flow," he said inflamed when met by Jaring.id, Sunday, 5 May 2019.
Kyai Haji Marzuki Mustamar, the Steering Chairman of the Region Nahdatul Ullemas (PWNU) East Java said that NU may not support one pair of President candidates or certain political party. However, he had requested that NU residents not choose a presidential candidate supported by Wahabi.
"I wish for residents of NU to pay attention to the presidential candidate and his representatives who truly understand religion and are not supported by pro-Wahabi," he said as written by santrinews.com, Sunday, 3 February 2019.
The head of the Sabiilul Rosyad Islamic Boarding School in Malang, East Java, also said he was not willing to take action with Sandiaga Uno who used the NU flag when conducting campaigns.
***
Ari (31), Pakandangan resident, Sumenep, East Java often finds information about both Candidate Pair going back and forth in WhatsApp conversation groups. The rumors have always been about Islam and anti-Islam.
"PKI rumors are indeed rolling. There are also anti-Islamic and radical Islamic rumors, "he said to Jaring.id, Sunday, 5 May 2019.
He added, social media often becomes the upstream of various overlapping information circulating in conversation groups. A Facebook group named "Sumenep Baru" is shown to Jaring.id. The number of members in the group made 6 years ago exceeded 75 thousand. At least there are 10,000 content uploaded last month, or more than 300 contents uploaded in this group daily.
Interestingly, the New Sumenep does not have a preference for a particular Candidate Pair. Towards the Presidential Election 2019, the contents concerning Jokowi's and the Indonesian Democratic Party of Struggle (PDIP) party with the PKI were scattered. The form starts from writing, to photo editing.
In contrast, Wahabi rumors also were also exploited to attack Prabowo-Password pair. Various memes and links to certain sites are uploaded. PKIs are labeled with Jokowi. That happened a lot in the Horseshoe area, as it was called for several regions in the eastern part of East Java.
***
Secretary of the General of Campaign Manager of Prabowo-Sandi Aceh Province Wen Rimba Raya acknowledged that the Religious issue could not be released from the Presidential Election Campaign 2019 in Aceh Province. The banner writing "Save Islam Aceh for Indonesia" is still standing when Jaring.id visits Prabowo-Sandi's winning headquarter, Banda Aceh on Monday, April 29, 2019.
"I don't want to be a hypocrite. Religion is the only issue that we sell to win Prabowo," he said. Religious issue is not only exploited by Prabowo-Sandi Campaign Manager. A billboard on Jalan Teuku Muhammad Jam, Banda Aceh, for example during the campaign period, frames Jokowi's closeness with ullemass. The photo taken at the State Palace, Jakarta was given the phrase "Jokowi with Ullemas Aceh".
However, the effort to build a picture of closeness with Ullemas was not able to control the vote gain of Candidate Pair number 01 in Aceh. One of the reasons, according to Chairman of the Aceh Province Regional Campaign Team (TKD), Irwansyah, is the supporting parties of Jokowi-Ma'aruf, who are reluctant to have their voices eroded by the bad perception of Jokowi.
The supporting parties and legislative candidates of the supporting parties did not campaign much for Jokowi in Aceh. The Indonesian Democratic Struggle (PDIP) track record party that has never garnered much votes in Aceh is the reason.
"When the top line of the team is not solid, it will not be solid in the field. The general term we say, they only want to save their parties, "he said.
***
Ahmad Zainul Hamdi, a political observer at Islamic University of Negeri Sunan Ampel (UINSA) highlighted the use of Identity Politics in Indonesia. According to him, this made voters not clear about the situation.
"All can be insane to see humans. Indonesia can be considered as non-existent, with an army of demons and an army of Allah. There is nothing else but to win or win in total. That is very bad according to I, "he said, Friday, 3 May 2019.
RI General Election Commission (KPU) on Tuesday morning, 21 May 2019, appointed Joko Widodo-Ma'ruf Amin as the winner of the 2019 Presidential Election. After a few hours, thousands of supporters of Prabowo Subianto-Sandiaga Uno's pair held a demonstration in front of the office of Election Supervisory Board to protest election fraud.
The original demonstration rally was peaceful. Yet, unknown mass action heated up the situation at night. Clashes between the police and the masses led to the fall of the victim. The Chairman of the National Mandate Party (PAN) Steering Board Amien Rais, one of the Prabowo supporting parties, highlighted the matter.
"My brothers, I am crying. I was really sad, also mad at the police who smelled of the PKI had shot Muslims in a reckless manner," he said, uploaded to his personal Instagram account, Wednesday, May 22 2019. Mobilization of Identity Politics by politicians is likely to continue. (Damar Fery Ardiyan/ Abdus Somad)