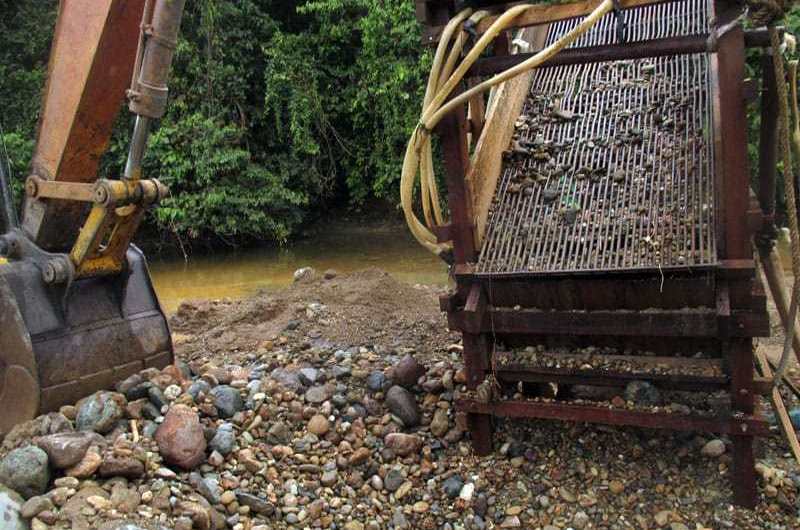 RESEARCHER Faculty of Medicine, Syiah Kuala University, Sofia, in 2014 conducted a study of mercury contamination from small-scale gold mining activities in Krueng Sabee District, Aceh Jaya. Sofie took hair samples from 72 people from four villages. With details of 17 individuals in Panggong, 17 individuals from Curek, 26 individuals in Paya Seumantok, and 12 individuals in Panton Makmur.
The highest levels of mercury were recorded in the village of Paya Seumantok, the village where most of the small-scale gold processing is. Mercury levels in people's hair have reached 48.32 milligrams per gram. Furthermore, at Panton Makmur the amount is 42.05 milligrams per gram, Panggong is 35.12 milligrams per gram and Curek 11.23 milligrams per gram.
Of the 72 samples taken, 90.28 percent had passed the safe standard tolerance for mercury in humans. The World Health Organization (WHO) tolerates mercury levels in the human body to a maximum of 10 milligrams per gram.
Apart from humans, samples were also taken from fish and lokanes that live in the Krueng Sabee river and fish sold in a nearby market. Of all the fish species examined, the highest mercury content was in the species of Puntius latristriga (seluang) caught from the Krueng Sabee river, namely 172, 299 milligrams per gram. Furthermore, the fish and shrimp caught in Krueng Sabee were 160.032 milligrams per gram, and 116.975 milligrams per gram, respectively.
Overall, the species found in this study are contaminated with mercury from gold mining activities and are not safe for human consumption. Very far from the safe limit for consumption set by WHO of 0.5 milligrams per gram.
Several detections of disease complaints were also found in four villages, such as respiratory problems, red and dark gums and teeth that fell out easily. Residents also often cough. At the same location, Unsyiah Medical student, Mirza Risqa, analyzed the neurological status of mercury from the activities of community gold miners.
Miners who work to process gold tend to experience mercury poisoning from acute to chronic levels. Those with acute poisoning experience headaches, mood changes, hearing loss. While chronic poisoning has difficulty sleeping, tremors, memory and sensation disorders.
The processing of chunks that are thought to contain gold is carried out behind the residents' houses using traditional machines. The stones taken from the mountains are broken down to a size of 1-2 cm, then milled in drums which the miners call as loops to obtain sand powder. After that, the sand powder is mixed with mercury and water for 6-8 hours. This is called the amalgamation process.
The amalgamation process will produce amalgam. This mixture of gold and mercury is heated to obtain pure gold. Sofia said miners don't usually wear safe work protection when in contact with mercury. Combustion fumes containing mercury are directly inhaled by workers and the surrounding community.
Water that has been mixed with mercury during the amalgamation process is also dumped into ditches and rivers. Meanwhile, the flow of water to residents' rice fields as well as the fish and fish consumed comes from the river.
According to Sofia, it is necessary to double-check the residents after this research is carried out. The local government has moved the unsafe gold processing location to be concentrated in one village.
"Does the change of location have a significant impact because based on health theory a poison can enter through the food and respiratory tract," said Sofia.
***
IN 2016, the Aceh People's Anti-Corruption Movement (GeRAK) conducted an investigation into illegal mining in Aceh, including illegal mining in rivers that are included in protected forests in West Aceh District.
Apart from Pante Ceureumen District, illegal mining in West Aceh also occurs in Panton Reu District, Sungai Mas District and East Woyla District. Illegal gold mining in the river has cost the country quite a lot.
This illegal gold mining activity has been going on for a very long time. The gross income from illegal mining is also huge. Of the total estimated gold income produced per month totaling 89,262.9 grams, if it is calculated that in one year, the total gold produced from this illegal activity reaches 1,071,154.5 grams or 1.1 tonnes / year, if every gram of gold is sold at a price of Rp. 400,000, then in one year, the state's losses reached Rp. 568,361,004,627.
Aceh GeRAK coordinator Askhalani revealed that if the illegal mining continues and is not stopped immediately, it will not only damage rivers and forests, but also the potential for the state to lose revenue will be even greater.
"Because in one year the amount of state losses due to illegal gold mining alone reached Rp.568 billion, this is only one district, we do not count illegal gold mining in other districts in Aceh," said Askhalani.
Askhalani said illegal gold mining in West Aceh Regency is a serious problem that the regional government will not be able to handle, especially since mining involves many parties including law enforcers.
"We found that a number of law enforcement officers were involved in mining activities, besides that they also involved former GAM combatants," said Askhalani.
The following table is an assumption of production results from illegal mining activities that lasted two years:
Assumption that the activity has been going on for 2 (two) years: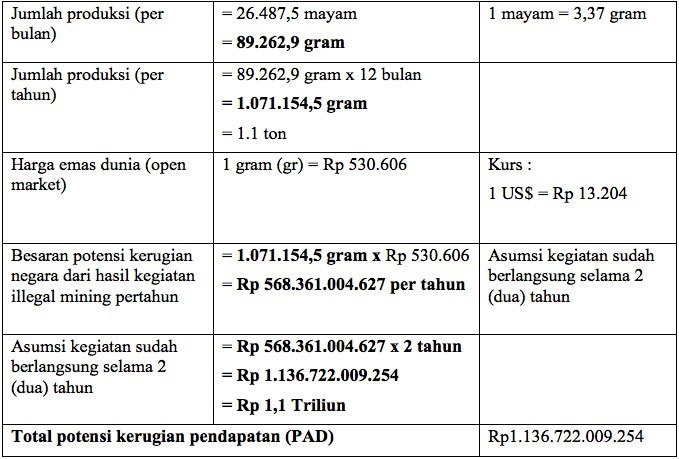 Number of production (per month)
= 26,487.5 mayam
1 mayam = 3.37 grams
= 89,262.9 grams
Number of production (per year)
= 89,262.9 grams x 12 months
= 1,071,154.5 grams
= 1.1 tons
World gold price (open market)
1 gram (gr) = Rp. 530,606
Exchange rate:
1 US $ = Rp. 13,204
The amount of potential loss
the country from the results of the activities
illegal mining per year
= 1,071,154.5 grams x IDR 530,606
Activity assumptions already
lasts for 2
(two years
= IDR 568,361,004,627 per year
Activity assumptions already
lasts for 2
(two years
= IDR 568,361,004,627 x 2 years
= IDR 1,136,722,009,254
= IDR 1.1 Trillion
Total potential loss of income (PAD)
Rp1,136,722,009,254
Source: the results of the 2016 Aceh GeRAK investigation
(NETWORK Team)