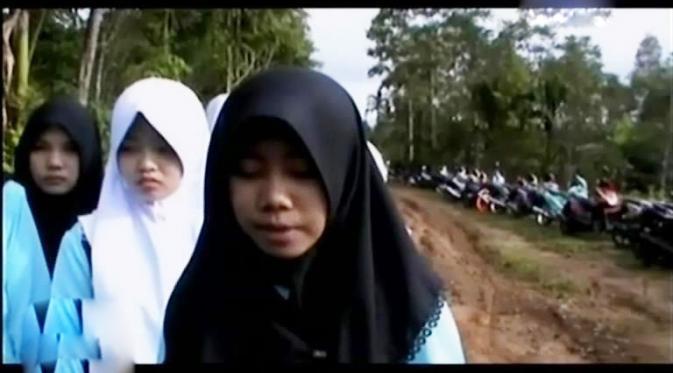 Liputan6.com, Jambi - Saturday (5/12/2015) the pair of candidates for Governor and Deputy Governor of Jambi, Hasan Basri Agus (HBA) -Edi Purwanto (EP) held their last grand campaign in Rimbo Bujang District, Tebo Regency, Jambi. As an incumbent, Hasan Basri Agus promised to improve and prioritize services in various sectors if he was re-elected as governor. Starting from physical, economic, health and education.
"We will improve infrastructure, health, economy and of course education. We will continue the scholarship program, "said Hasan, greeted by cheers of thousands of crowds who had gathered.
Hasan stated that the scholarship program had a good objective to improve the quality of human resources for local men in Jambi Province. With this program, it is hoped that Jambi Province will have a lot of potential human resources to develop the region.
Responding to the findings of the Supreme Audit Agency (BPK) on the educational scholarship program when he was Governor of Jambi, Hasan said that this had been followed up by the Jambi Provincial Education Office.
Especially in the field of education, since his election as Jambi Governor, Hasan Basri Agus has spent tens of billions of rupiah in state budget for scholarship costs ranging from undergraduate, postgraduate and doctoral levels. But this program is not flawless. Most recently, based on the results of the 2014 BPK audit report, there are funds worth more than Rp. 5.2 billion that cannot be accounted for in relation to the education scholarship program taken from the social assistance budget post (bansos).
By the BPK, the allocation of social assistance for educational scholarships is actually not in accordance with Permendagri Number 39 of 2012 concerning Amendments to Permendagri Number 32 of 2011 concerning Guidelines for Grants and Social Assistance sourced from the Regional Revenue and Expenditure Budget (APBD). Article 1 point (15) states, that Social Assistance Expenditures are the provision of assistance in the form of money / goods from the Regional Government to individuals, families, groups and / or communities which are not continuous and selective in nature with the aim of protecting from possible social risks.
From BPK data, the total budget for education scholarships for Jambi Province in 2014 was IDR 25, 50 billion. BPK considered the budget to be inaccurate. From the realization of the use of the budget of more than Rp. 19.5 billion or the realization of 76.54 percent, it is considered to have violated various regulations. Such as Permendagri Number 39 of 2012 concerning Guidelines for Grants, Permendagri Number 13 of 2007 concerning Guidelines for Regional Financial Management, Permendagri Number 27 of 2013 concerning Guidelines for Budgeting and Regional Expenditures for Fiscal Years 2014 to Pergub Number 20 of 2013 concerning Budgeting Procedures, Implementation and Administration, Reporting and Accountability as well as Monitoring and Evaluation of Grants and Social Assistance Provision of the Jambi Provincial Government.
From the results of the BPK audit, the scholarship budget should not have been allocated from social assistance funds. In fact, social assistance funds are mostly used for personal purposes such as purchasing laptops, paying bills and transportation.
Of a total of 2,111 scholarship recipients, 1,597 people or Rp. 15.49 billion have not submitted an accountability report for the use of the scholarship funds. In details, 11 recipients of Scholarship Assistance for Foreign and Internal Doctoral Students in Jambi Province, 298 Scholarship Assistance for Masters Students Outside and Within Jambi Province, 1,204 recipients of Scholarship Assistance for Undergraduate Students Outside and Within Jambi Province. Then, there were 6 recipients of Scholarship Assistance for 2013 S3 Advanced Program Students Outside and Within Jambi Province, 29 recipients of Scholarship Assistance for 2013 Advanced Program Masters Students Outside Jambi Province. Then there were 42 Scholarship Assistants for Doctoral Students of 2012 Advanced Program Outside and Inside Jambi Province and 7 recipients of Scholarship Assistance for Students in Cooperation Program with STKS Bandung.
The BPK also stated that there had been state losses to the program amounting to Rp. 5,007 billion which 282 students could not be held accountable for. BPK also requested that the Jambi Provincial Education Office immediately withdraw the budget and immediately return it to the state treasury.
From the records of prospective recipients of scholarship assistance at the Jambi Provincial Education Office obtained by Liputan6.com, there are several political figures who are currently members of the Jambi Provincial DPRD on the list of candidates for scholarship recipient selection. Among them, there is the name Nasri Umar, a politician from the Democratic Party as well as the chairman of Commission I DPRD Jambi Province. Then there is the name Muhammadiyah as Chairman of the Gerindra Party Faction. Gerindra was later known to be one of the parties that supported Hasan Basri Agus to advance in the 2015 Jambi Pilgub in addition to the Democratic Party, PDIP and PKS.
"That's a process by the selection team, I followed the selection according to procedure," said Nasri Umar, last August 2015.
Nasri Umar denied that his name was recorded as a candidate for the scholarship recipient because of his close relationship with the governor? Hasan Basri Agus, who incidentally also served as Chairman of the DPD Democratic Party in Jambi. "Not true lah "I, like other participants, participated in various selections from the start," he said.
Meanwhile, Muhammadiyah admitted that they resigned as a candidate for scholarship recipients during the interview process by the selection team. At that time, a bad smell had indeed appeared on the scholarship program. Where a number of NGOs and students considered there was something wrong with the scholarship program. "I resigned, it was not an administrative matter, but because there were many who needed more. I am ready to be tested academically. That's why I chose to resign, "said Muhammadiyah.
He also denied that the educational scholarship program he was participating in at that time was due to political elements. Muhammadiyah said that initially he registered together with S2 students of the Faculty of Law, Jambi State University (Unja) in early 2015. "I resigned during the interview selection process," he said again.
Assessed as politically charged
Meanwhile, a number of recipients of the Jambi Province education scholarship program admitted that they were very disappointed. Because, to take part in the selection requires a lot of money. "The Jambi provincial government must provide compensation. It took a long time. This is in fact canceled, "said Amrullah, a student from Jambi, Department of Biology, University of Medan (North Sumatra).
He suspects that there is political content in the program. This is because the Jambi provincial government education scholarship program was launched ahead of the gubernatorial election (Pilgub). He considered that the Education Office which manages the scholarship program is not professional. "The budget is clear, the recruitment has been done, but suddenly it is canceled," he regretted.
Reza Hendrawan, a postgraduate student of character education at STAIN Kerinci, also expressed disappointment. He considered that the cancellation of the scholarship program by the Jambi Provincial Government had actually damaged the world of education in Jambi. "The education office must be responsible," he said.
Reasons for Cancellation
Head of the Jambi Provincial Education Office, Rahmat Derita, said that during 2015 the S2 and S3 education scholarship programs were temporarily canceled. However, undergraduate scholarships have been included in the One Billion One District (Samisake) program which was a mainstay program during Hasan Basri Agus' tenure as governor.
"This cancellation is due to a shift in direct spending of Rp. 16.587 billion," said Rahmad Derita.
He explained that the scholarship budget was shifted to support other activities in the education sector, such as rehabilitating school buildings. He stated that the remaining scholarship budget was only Rp. 2,290 billion. Where the amount is for further scholarships for social assistance that are not planned. Meanwhile, the new ones were eliminated.
He admitted that the distribution of educational scholarships in Jambi over the past few years has been problematic. However, Rahmat denied that the 2015 scholarship budget shift was due to the distribution of scholarships that had been problematic. "There is nothing to do with it, the shift in the scholarship budget was purely a result of the 2015 Jambi provincial government budget deficit. So we diverted aid to improve educational facilities," he explained.
He added that the Education Office has also carried out a collection process students who do not report their accountability. This was done according to the instructions from the BPK. Rahmat guarantees that in the 2016 budget there will be no more budget deficit problems. So, the scholarship program can be continued.
Based on the schedule at the Jambi Provincial Education Office, the budget for S2 and S3 education scholarships should have been disbursed starting last August 2015. However because a problem arose and the budget deficit, eventually the program was abolished.
Investigated by the AGO
The polemic surrounding the funding for the Jambi Province scholarship program is quiet already smelled the Jambi High Prosecutor's Office (Kejati). In the last few months, a number of important names in the Jambi Provincial Government have been summoned to ask for information. Among them are the Head of the Jambi Provincial Education Office, Rahmat Derita, the Jambi Provincial Secretary as well as the former Head of the Inspectorate for Jambi Province, Ridham Priskap. Investigators have also asked for related names.
"We are still exploring, where the budget is between 2012-2014. There are several other names who will also ask for information, "said Head of Investigation at the Jambi Prosecutor's Office, Imran Yusuf.
Especially for the Jambi Provincial Secretary, Ridham Priskap, he was summoned because investigators needed information about the audit. "Has the inspectorate ever conducted an inspection or not. Then when we check what the results are, considering Ridham Priskap's position at that time was as an inspector at the Inspectorate of Jambi Province, "explained Imran.
Unfortunately, Imran was reluctant to explain in detail the case of the education scholarship program. He reasoned that it was still in the investigation stage. (Wake up Santoso)