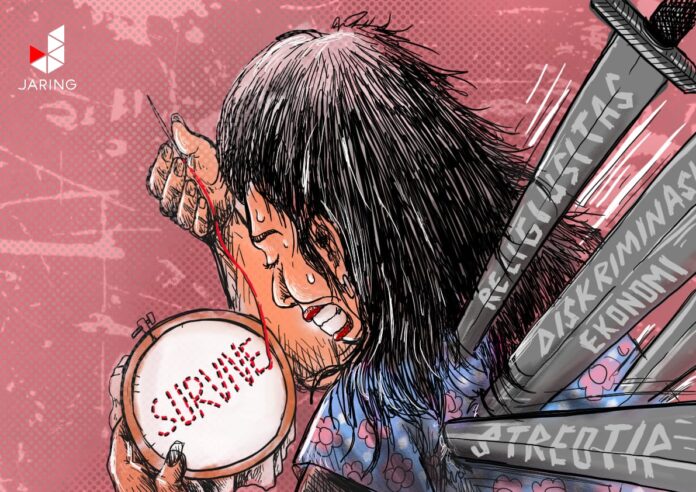 Hartoyo covered half of his face with his hands. His voice trembled when he watched the film titled "Bulu Mata" (Eyelashes), which was screened on Thursday, September 1, 2022. The film can now only be watched in a limited circle with the permission of Suara Kita for safety. "I'm afraid that my friends there will be hunted down," he told Jaring.id and Koran Tempo.
The founder of Suara Kita—an organization advocating equality and justice for lesbian, gay, bisexual, transgender, queer, and intersex (LGBTQI) groups also admitted that he couldn't stand watching the film, so he chose to break memories of the traumatic event by playing on his smartphone. "I've watched it many times, but I still can't stand it. I feel suffocated," said Hartoyo.
The film, which won the Citra Award in the Indonesian Film Festival in the long documentary category in 2017, recorded the activities of a number of trans women in Aceh ahead of the enactment of Regional Regulation Number 6 of 2014 concerning Jinayat Law. They include Citra, Dea, Lisa, and Puri.
The film, which is more than an hour long, opens with trans women activities in a market. Walking hand in hand, they greeted the sellers of various dishes, vegetables, and fresh fish. When buying fish, some of the men whistled and cheered at them. Even one of them did not hesitate to speak sarcastically in the crowd. "Just cut them with a machete! They are useless!" exclaimed the seller in the documentary. Of course the ones who were being talked about did not reply. They just smiled.
According to Hartoyo, the sequence of scenes in the film is only a small part of the various problems faced by trans women inside and outside Aceh, especially after the sharia law is enforced. "The condition remains the same until now," he said.
Therefore, not a few of them make difficult choices to get out of Aceh. Vanesa is one of them. The trans woman from Meuraxa, Banda Aceh City was expelled from Aceh for gender alteration. "We helped them to escape from Aceh, because they were being persecuted at midnight. We evacuated them to Medan because it was the closest city from Aceh," Hartoyo said.
The story began seven years ago. After midnight in July 2015, the door in Vanesa's boarding room was violently banged. Vanesa was shocked. He immediately opened the door and found more than ten people outside. They immediately dragged him out of the house. Without being given time to speak, Vanesa was suddenly beaten up. The perpetrators were identified as local residents, young people and parents. He said there were also officials. "I was tortured," said Vanesa, who was wearing a negligee with a flower pattern. His tears dripped while telling the incident on that unlucky night.
Vanesa was then dragged to the security post. He was shaved, then doused with water. Residents who gathered that night were like being entertained and took turns capturing the violence with a cell phone camera. "I cried. Where is the justice for us as trans women?" said Vanesa. Rizky, Vanesa's real name when he was born, was also demanded to pay a fine in the form of two goats. The animal is part of a traditional ceremony for cleansing the village. He is considered to have "contaminated" the environment.
"Banda Aceh is horrifying. The Sharia law is very tight. I got a fine of two goats and  IDR500,000," he said when he was met on the sidelines of skyscrapers in Kebon Jeruk, West Jakarta, Wednesday, August 10.
After being beaten, fined, and expelled. He was forced to sign a statement containing the threat of caning if he was found to be active in Aceh. "I was almost depressed. I was born and raised in Aceh. I could not just easily go away, "said Vanesa.
Vanesa was forced to leave her homeland and moved to Medan. There, he worked in a liquor shop. For a better livelihood, he moved to Jakarta in 2018.
His biggest dream is to return to Banda Aceh. Vanesa wants to visit the grave of his father, mother, and his stepbrother. The three were victims of the 2004 tsunami. At that time, Rizky, 7, was in Medan. From television, he saw the sea waves devastating his hometown.
Until now, Vanesa is still communicating with his family through video calls. One of the people who is often contacted is his biological brother who now lives in Medan. "I missed them, but I should ignore that feeling. I last met with my brother in 2017," Vanesa said while remembering his parents. "I want to go home and visit the graves of my father and mother," he added.
Not only losing his family, Vanesa also lost his voting rights. Despite having a resident card and receiving a notification to vote in his village, he could not vote in the 2019 general election. It is likely that the same thing would be repeated in the General Election and Presidential Election of 2024. He was worried that he would get a whip when he returned home. "So, I would abstain. I want to maintain the good name of my family too, "he said.
***
Living far away on the other side of the archipelago, Vanesa has become a "spokesperson" for the thousands of transgender women who still live in Aceh. At the end of last July, a gender identity equality activist provided the mobile phone numbers of Vanesa and another trans woman who had also left Aceh. "What they experienced in the past is the same as what trans women are experiencing now," said the source, who refused to be identified. Unfortunately, another trans woman who chose to leave the country did not respond when this report was published.
Since last July, the collaboration team has communicated with a number of trans women in several districts and cities in Aceh. However, due to security considerations, all of them unitedly requested that the story about their current condition should not be written down. "We will be chased," said one of them.
Getting information openly about the condition of transgender women from academics and civil society groups in Aceh is also not easy. They said, "This is a sensitive issue in Aceh." However, one of them said, Qanun Jinayat is a rule that applies in Aceh, which is dubbed as the Veranda of Mecca.
The bad news is that the threat to trans women in Aceh is not non-existent. Trans women in Aceh currently choose to be more disciplined to avoid disasters, such as not going out at night. If they are not being careful, they could be caught in a raid, something that is considered positive by some people in the society. "Before the election, the raids usually get more frequent. This moment is often being infiltrated by local politicians to raise their image," said a source for the collaboration team.
The incident that happened to Vanesa seven years ago occurred shortly after the Aceh government enacted Aceh Qanun Number 6 of 2014 concerning the Jinayat Law. In short, this regional bylaw regulates actions that are prohibited by Islamic law.
Actually, none of the articles in the Qanun mention transgender. However, these minority groups are vulnerable to being targeted by the Liwath ban. Qanun defines it as the act of a man by inserting his penis into the rectum of another man with the willingness of both parties. There is also a prohibition on Musahaqah or the act of two or more women by rubbing each other's bodies to obtain sexual pleasure with the willingness of both parties.
The punishment for the two acts is the same. The perpetrators are threatened with 100 lashes or a maximum fine of 1,000 grams of pure gold or a maximum imprisonment of 100 months.
Since then, raids have been held throughout Aceh. Vanesa is just one of the victims. Hartoyo, the head of Suara Kita, has taken care of the evacuation several times. "Before the Qanun was implemented, our friends there were still able to work, open a salon or coffee shop, but now they can't," he said, last September 1.
***
A member of the Aceh House of Representatives, Irawan Abdullah, claims that there is no sharia law discrimination against trans women. They are given the right to participate in the political process.
According to Irawan, the qanun was not made to limit transgender people. The sharia rules, he continued, only prohibit someone from doing activities that are prohibited by religion, such as sexual behavior that is considered deviant or adultery. "So, that's what the qanun is looking for. Not the person, but the behavior," he said.
The Aceh Independent Election Commission stated that marginalized groups such as transgender women were a target for election dissemination. This is because they are often being marginalized in the once-in-five-year democratic event. "They are our subjects to ensure that their constitutional rights can be used," said the Head of the Aceh KIP Technical Division, Munawarsyah.
He ensured that everyone could exercise their right to vote as long as they met the requirements set out in the Election Law. One of them is being able to vote if the person is 17 years old or married and has an electronic ID card. However, according to Munawar, the problem is that some of the trans women living in Aceh are migrants who have not changed their domicile.
Those who do not change their domicile or apply for a transfer to vote, he said, could be threatened with losing their right to vote. "We often convey to marginalized communities that changes in population administration are important so that their right to vote and be elected is guaranteed by the constitution," said Munawarsyah.
Social conditions also make trans women uncomfortable in exercising their right to vote. For example, being the center of attention at a polling station. "Socio-religious conditions also cannot be ruled out," he said. "This group has not been accepted by all Acehnese people," he continued.
According to Munawarsyah, the rejection was not due to sharia rules. The Qanun Jinayat regulation actually protects trans women from sexual harassment. The sharia regulation, he said, only places men as men and so does women.
What must also be understood, he continued, is that each region has regulations that are agreed by the general public. Public regulations can be made referring to cultural or religious values. The Qanun Jinayat applies Islamic sharia principles. One rule, he said, is that it is obligatory for Muslim men to wear clothes that cover their genitals—between the waist and knees.
Amnesty International Indonesia Executive Director Usman Hamid emphasized that the social and political discrimination experienced by trans women in Aceh is an iceberg phenomenon. "….especially (the discrimination) to get their human rights," he told Jaring.id and Koran Tempo on Wednesday, September 14, 2022 by telephone.
As citizens, continued Usman, trans women have the same rights constitutionally and legally. They are free to choose. They even have the right to nominate themselves as a contestant in the general election. "If this phenomenon is not stopped, then it is tantamount to showing the government's failure to protect transgender women from treatment that degrades their dignity as human beings," he explained.
The collaboration of this coverage was held thanks to the support of the Indonesian Association for Media Development  (PPMN) and The Asia-Pacific Regional Support for Elections and Political Transitions (RESPECT). The program also involved the Philippines Center for Investigative Journalism (PCIJ) and Lafaek News (Timor Leste).
---
Collaboration Team
Coordinators: Muhammad Kholikul Alim (Jaring.id); Agoeng Wijaya (Koran Tempo)
Writers: Abdus Somad, Reka Kajaksana (Jaring.id); Shinta Maharani, Imam Hamdi, Riri Rahayuningsih (Koran Tempo)
Editors: Damar Fery Ardiyan (Jaring.id); Agoeng Wijaya, Rusman Paraqbueq (Koran Tempo)
Photographers: Shinta Maharani (Koran Tempo), Abdus Somad (Jaring.id)