The roaring sound of the exhaust echoed as Hendrika Mayora Victoria drove his black motorcycle across Jalan Soekarno-Hatta, Sikka, East Nusa Tenggara. With a speed of over 60 kilometers per hour, he hoped he would not be late to meet the Regent of Sikka, Fransiskus Roberto Diogo, on Sunday morning, July 24, 2022, at around 8.30 WIT. As he arrived, Mayora was welcomed in a room close to the house's white-fenced yard.
To Roberto, Mayora bluntly complained about how transgender group were denied from the service of making identity cards (KTP) and social security. Also, he did not forget to talk about the rights of transgender women to vote in the upcoming 2024 General Election. Mayora also shared various problems experienced by trans women, including Ochan and Lola Pitaloka.
During the 30-minute discussion, the Sikka Regent emphasized that the local government does not discriminate against trans women. In terms of access to health services, she said, trans women have the same rights as other residents in the regency. "We do not discriminate. (We provide) health and protection for the community through BPJS (health insurance). There is no difference in basic rights in Sikka. Everybody gets their rights," he said.
To ensure that no one will be left behind to get the local government services, Roberto asked Mayora to register all trans women who do not have ID cards, as well as social security cards. "They can have ID cards. About the gender, the choice is only male or female. No trans yet. This is the nation's homework. In fact, other countries have done this," he told Mayora.
According to provisional data from the Fajar Sikka community—a transgender group that helps trans women advocacy in Sikka Regency, there are around 300 trans women in Maumere. Of that number, only about 100 persons have ID cards.
***
Ochan is one of 200 trans women who do not have an ID card. It was no less than 10 times he tried to make an ID card at the Population and Civil Registration Office of Sikka Regency. "I had already worn a shirt and I was on my way (to the Dukcapil Office)," he said. However, due to past trauma that is imprinted on his memory, Ochan's steps stopped in front of the Dukcapil Office building. "I was afraid of being laughed at. I was afraid people would make fun of me like 'Why does this girl have a boy name?' I'm scared," said Ochan on Thursday, July 21, 2022.
Consequently, Ochan cannot access other services, such as cooperatives, banking, or other financial services. Since he doesn't have an ID card either, he lost his right to vote in the 2019 General Election and is in danger of not being able to vote in 2024.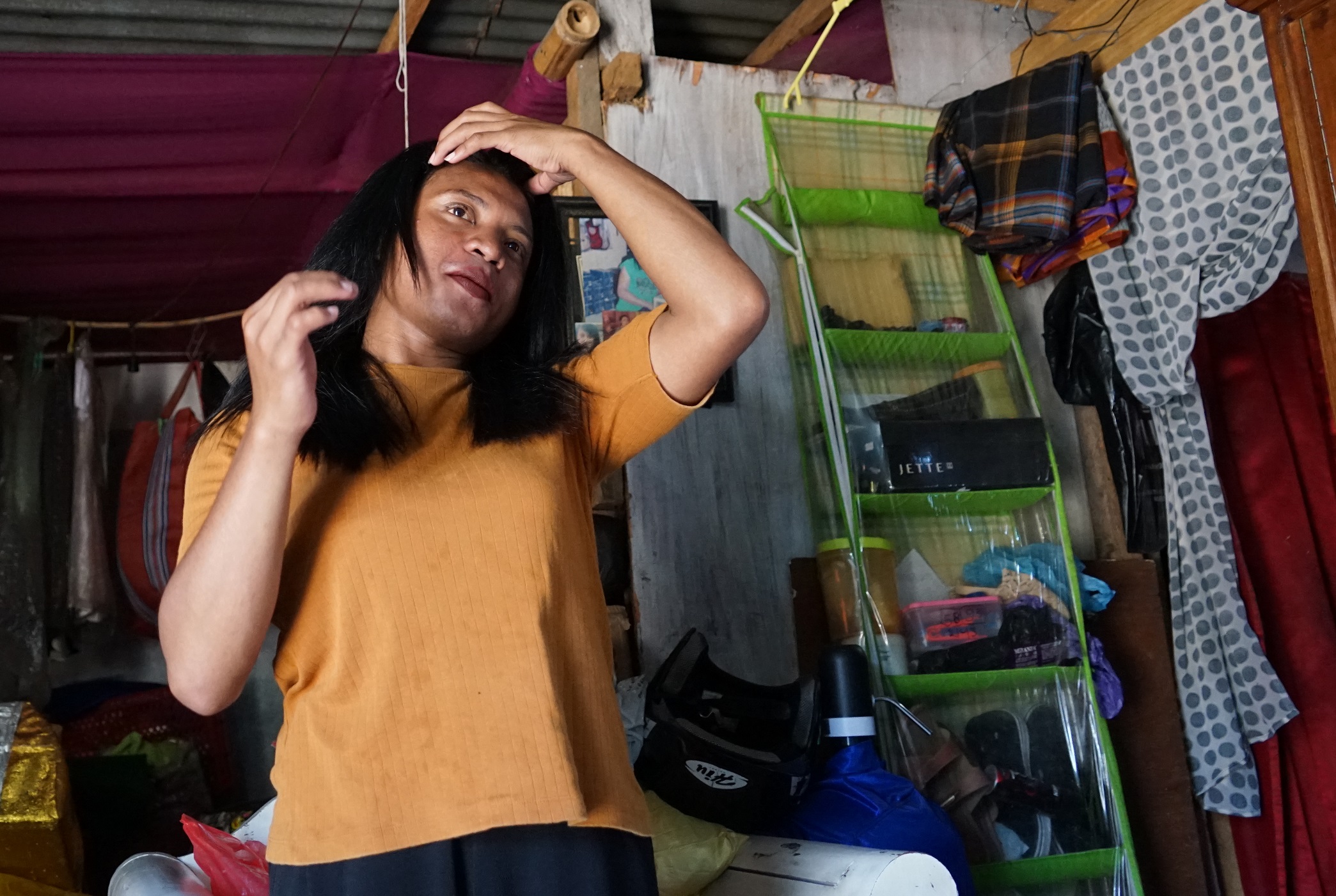 Ochan's fear was the result of an unpleasant experience during his childhood. As a child, he was often made fun of by his peers just because he looked different. "I went to school wearing a skirt, my friends and teacher at school were angry. Then I changed my clothes, but I wore lipstick," Ochan recalled.
Ochan's decision to make an appearance the way he is now is not an easy matter. The majority of the people in the village could not accept it. Some of his family members also forbade him to dress up like that. Even when he was in his twenties. "I was hit by a family member who didn't like me being a trans woman," she said. Therefore, he chose to leave Liau, Ende and now lives in Maumere. "I ran away from home because I wasn't free."
Even so, he did not necessarily escape the stigma and violence in the new place until he became an adult. Two years ago, Ochan was blocked by a number of people while riding a motorcycle. One of them even kicked him until he lay on the ground. Injuries all over his hands and feet were unavoidable.
"If I get sick, I never go to the hospital. I only buy medicine at the pharmacy," he said.
From that incident, Ochan realized that he was vulnerable, but he had no guarantee of protection against negative stigma from society. "What if you get sick later? If there is no money, then what? I don't have the BPJS," he said worriedly.
The condition of Lola Pitaloka, a trans woman from Loka Village, Sikka, is not much different from Ochan. Until now, he admitted that he could not access social security services. When he was sick, he had to go into debt to get treatment. "I borrow money, sometimes someone gives it. Sometimes no one gives it. I desperately want treatment," said Lola when she met at his home.
Meanwhile, Jeny, a trans woman who now lives in Yogyakarta, has failed to apply for an ID card for years because he did not meet the requirements for a letter of recommendation to move domicile from his hometown in Subang, West Java. He was expelled from a family that refused Jeny's altered gender. Almost two decades ago, he had wandered around Lempuyangan Station, peddling his voice as a street singer at the intersection of Prambanan Temples. The only choice is to survive on his own. "I was exiled, not taken care of, and not protected," he said when met at the Yogyakarta Waria (Iwayo) extended family office on Tuesday, August 30, 2022.
Without having the ID card, Jeny cannot register as a participant for the BPJS health insurance. "It's hard when I get sick," he said. When he finally pocketed his residence number in August 2021, he rushed to take care of BPJS membership. "August 2021 my ID card was finally done, then I got vaccinated, saved to the bank, and registered for other social (security) access," he said.
Currently, Jeny no longer depends on the income from busking. He has a bag and wallet craft business. For initial capital, he used his savings and got a loan from a savings and loan cooperative initiated by the Waria Crisis Center.
***
The absence of access to health and social security has put transwomen in an even more difficult situation during the Covid-19 pandemic. A survey conducted by the Crisis Response Mechanism (CRM), a collective activity initiated by a number of gender equality activists during the pandemic, showed that 57.5 percent of lesbian, gay, bisexual, transgender and intersex (LGBTI) did not receive Covid-19 assistance from the government. Apart from the limited access to information, it was because of the absence of population documents, and it turns out that practices of gender and sexual identity discrimination still occur.
In Yogyakarta in July 2021, the Waria Crisis Center announced that at least 11 trans women died in boarding houses due to limited access to medical assistance, health services, and food.
Suara Kita Coordinator, Hartoyo, said the condition of trans women was pathetic. Not to mention health assistance, the process of taking care of the dead bodies relies on a modest joint venture from the trans women community themselves. "The reason for the limited access to health services and social assistance for the transgender community is because they are denied from the rights of having ID cards," said Hartoyo.
Since June 2021 until now, said Hartoyo, there have only been 647 transgender women who got ID cards. Meanwhile, only 61 trans women have the BPJS Employment insurance. The number of trans women who have BPJS Health insurance remains unknown. That's why, Suara Kita collaborates with focal points in various regions, such as Greater Jakarta, Denpasar, Surabaya, Semarang, Bandung, and Yogyakarta to advocate for services from the government through the Friends of the Elderly Transgender Movement for Social Security.
According to Hartoyo, this movement is a crowdfunding activity to help transgender women. Contributions are given in the form of a minimum of IDR16,800 in an effort to pay BPJS Employment contributions. "There is no provision regarding the number of participants being assisted, so that each donor can determine the amount of assistance himself. Everything is adjusted to the ability of each donor himself," said Hartoyo.
Until August 31, 2022, donations of IDR10 million have been collected. According to him, the money was used to assist the BPJS Employment payment process and the assistance process while helping to make ID cards for trans women.
The Director General of Population and Civil Registration of the Ministry of Home Affairs, Zudan Arif Fakrulloh, said that he had tried to help transgender groups in obtaining ID cards. This was marked by the issuance of Circular Letter Number 470/9363/Dukcapil regarding Data Collection and Issuance of Administrative Documents for Transwomen. Since the letter was issued, according to Zudan, 600 ID cards for trans women have been issued. "We will not refuse transgender friends who come to Dukcapil with complete requirements or we can come to approach them. We will certainly serve them," said Zudan.
The problem, said Zudan, is that some transgender women think the requirements for making an e-KTP are complicated. Some of them, according to him, could not apply for an ID card due to the absence of the family card because they changed their domicile. "The family card is the basis for making an electronic ID card," he said.
Meanwhile, the spokesperson for BPJS Kesehatan, M. Iqbal Anas Ma'ruf, said that his institution did not look at the status of the community, including trans women, when registering for health insurance. He emphasized that BPJS does not look at gender in making membership. "As long as there is a resident identity from the government, we will definitely process it. If you don't have an identity, of course you can't," he said.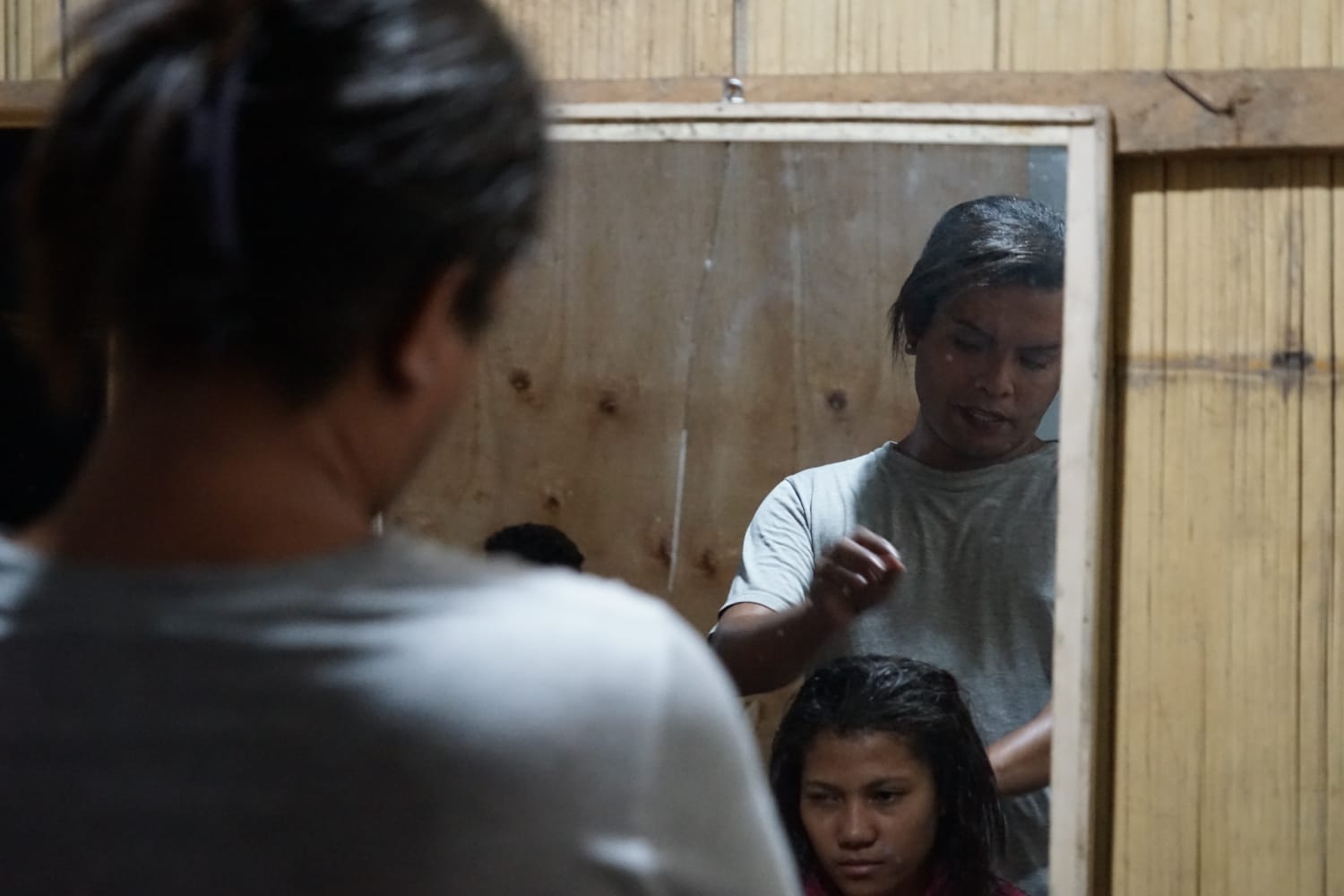 The National Team for the Acceleration of Poverty Reduction (TNP2K) also mentioned population identity as the basis for the government to provide assistance to the poor. The head of TNP2K, Elan Satriawan, said that transgender groups in the poor category must have an ID card to access government assistance. The reason is, the assistance is given based on the population identification number (NIK). "To ensure there is no duplication in the data," explained Elan.
From Trans Women for Trans Women
Often being excluded from government programs, the transgender community operates independently. This collective effort arose because there were not a few transgender women in various areas who faced hard situation due to the Covid-19 pandemic. In Maumere, through Fajar Sikka, Bunda Mayora distributed rice, oil, eggs, sugar and vegetable crops to a number of women who were economically affected. "This movement is a support system for trans women. We were born for solidarity. We grew up in a circle of love to do good things," he said.
While in Yogyakarta, Arumce Mariska sells shibori cloth. Shibori is a traditional Japanese dyeing technique that is similar to tie dye or jumput dye. The difference is that shibori uses knots and squeezing to produce the desired pattern.
This business has been run by Arumce since four years ago, with his sister in Ngampilan Village, Yogyakarta City. At that time, the merchandise was fairly profitable. However, due to the Covid-19 outbreak, the production workshop was in a state of confusion. The orders are low due to restrictions on community activities. He only relies on purchases through the online market. Networks and friendships are fields that Arumce needs to work on during the pandemic.
Now, after the activity restrictions have been relaxed, Arumce can sell their wares more freely by adding to their collection list in the form of natural fiber fabrics dyed with the ecoprint technique. The business grew after Arumce joined the Waria Kingkit Credit Union, a credit cooperative formed by the Yogyakarta Waria Family. "It is very helpful as additional capital," he said.
Arumce's average monthly income can reach IDR2 million. Every month, this 46-year-old transgender deposited IDR50,000 in savings and IDR150,000 in stock deposits to the Waria Kingkit Credit Union. In addition, he also set aside IDR10,000 per month to finance the needs of community empowerment. From there, members can receive training in batik, sewing, cooking, and make-up.
The Coordinator of the Waria Crisis Center, Rully Mallay, explained that credit unions are a way out for transgender women to escape the snares of moneylenders. Most of them can't access bank capital because they don't have ID cards.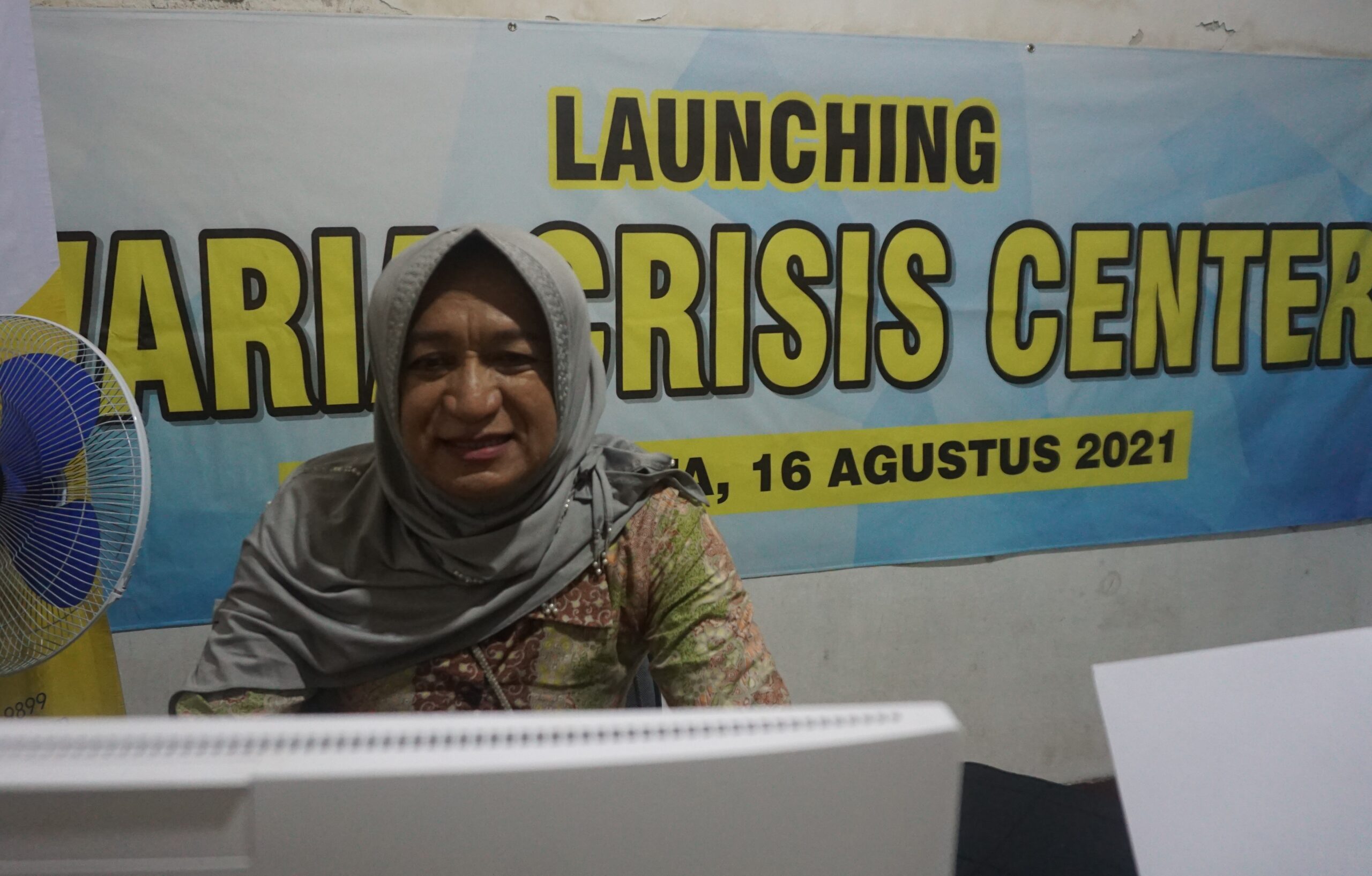 The savings and loan cooperatives, which were formed from the arisan (regular social gathering) tradition in three transgender communities in Yogyakarta, namely the Waria Islamic Boarding School, Kebaya, and the Yogyakarta Waria Association, have spread across the cities of Yogyakarta, Sleman, and Bantul. The foundation, said Rully, could provide a stimulant fund of IDR4 million to each creditor representative. "We are focusing on the economic resilience of the community because the government's policies are not yet friendly to trans women," said Waria Crisis Center Coordinator Rully Mallay when met at the Kebaya Foundation office, Tuesday, August 30, 2022.
In addition to developing credit cooperatives, trans women are also independent in cultivating gardens to meet food needs. They grow vegetables and fruit in the yard of the Waria Crisis Center, which is located on Jalan Kaloran, Bangutapan, Bantul. This house is actually a rented place to accommodate trans women infected with Covid-19 and the elderly. Last Monday afternoon, August 29, there were three elderly waria sitting on the veranda. They also help take care of the garden, sweep the leaves, and weed the plants.
This gardening activity, according to Rully, had even been carried out before the savings and loan cooperative was founded. Rully did not hesitate to water and sprinkle fertilizer, and also asked agricultural experts on campuses if he had problems with his plants.
Until last August, the garden was filled with sweet potato, pumpkin, papaya, chili, tomato, turmeric, and guava. By farming, said Mami Rully, transwomen groups can save money. "They get healthy food because it is grown organically," said Rully.
That way, Mami Rully hopes that she will no longer hear of trans women falling helplessly, then they will die because they cannot reach treatment and live on their own.
---
This collaborative reporting was made possible with the support of the Indonesian Association for Media Development (PPMN) and The Asia-Pacific Regional Support for Elections and Political Transitions (RESPECT). The program also involves the Philippines Center for Investigative Journalism (PCIJ) and Lafaek News (Timor Leste).
---
Collaboration Team
Coordinators: Muhammad Kholikul Alim (Jaring.id); Agoeng Wijaya (Koran Tempo)
Writers: Abdus Somad, Reka Kajaksana (Jaring.id); Shinta Maharani, Imam Hamdi, Riri Rahayuningsih (Koran Tempo)
Editors: Damar Fery Ardiyan, Muhammad Kholikul Alim (Jaring.id); Agoeng Wijaya, Rusman Paraqbueq (Koran Tempo)
Photographers: Abdus Somad (Jaring.id); Shinta Maharani (Koran Tempo)