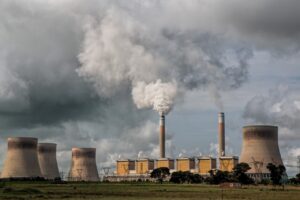 Cerobong PLTU Suralaya tampak mengerdilkan bangunan dan lahan terbuka lain di sekitarnya. Tak terkecuali rumah dan ladang yang digarap Rebudin dan Nafas Sawi. Pasangan yang usianya sudah lebih dari 60 tahun tersebut bertanam kacang, singkong, dan pisang di lahan kosong milik Perum Perhutani.
Belakangan, keduanya tidak lagi bisa mengandalkan hasil kebun. Pertumbuhan kacang di kebun garapannya tak sesuai harapan. Selain jarang, ukurannya lebih kecil dari biasanya. Begitu pula dengan singkong dan ubi jalar. Sementara pohon pisang yang tumbuh, kerap tak berbuah. Sekalipun berbuah, teksturnya keras dan panjangnya tak lebih dari 10 sentimeter.
"Most of the crop failures," said Sawi.
Edi Suryana (41), another farmer in the vicinity of PLTU Suralaya said something similar. According to him, agricultural conditions in Suralaya are deteriorating. Farmers rarely plant sorghum because the land conditions are no longer fertile. Meanwhile, the coconut, which was originally large, is now getting smaller. Even so, Edi is not sure what caused this. It's just that, according to him, the change occurred after the power plant began operating.
"Suralaya is now the weather is not comfortable. The dust from the PLTU flies off at night and makes you short of breath, "he said.
PLTU Suralaya has seven generating units with a total capacity of 3.4 gigawatts (GW). This plant is one of the oldest PLTUs in Indonesia. He is already 36 years old. In Banten there are 21 generators spread across various regions. One of the largest currently is PLTU Jawa 7. The plant with a capacity of 2000 megawatts only started operating at the end of last year. Meanwhile, PT Indo Raya Tenaga, a joint venture company (join venture) between PT Indonesia Power - a subsidiary of PT Pembangkit Listrik Nasional (Persero) and the Barito Pacific group will build PLTU 9 & 10 with a capacity of 2 × 1,000 megawatts (MW).
As a farmer, Edi cannot imagine that the construction of the PLTU in his area continues. He assured that the fine ash (fly ask) it is the residue from burning coal that causes agricultural land to no longer be fertile. "We hope that the construction of PLTU 9-10 will be stopped," said Edi.
The decline in agricultural production was acknowledged by the Head of Banten Agriculture and Fisheries Service, Agus Tauchid. The 2020 Central Statistics Agency (BPS) Cilegon report shows agricultural production such as rice, corn, soybean and banana in the 2015-2019 period has decreased. In 2015, production was recorded at 12,950 tonnes, 2016 had increased to 13,397 tonnes, then 2017 fell again by 13,277 tonnes. The production figure then dropped to 8,284 tons in 2018, and in 2019 only increased by 9,792 tons in the following year.
"It could be the water factor there, but in terms of the main task and function, ask the Environmental Agency which is their authority. For several periods, districts / cities are due to water factors, land conversion, "said Agus when contacted by Jaring.id and Suara.com, Friday, November 20, 2020.
Head of the Banten Province Environment and Forestry Service Husni Hasan did not answer questions sent via text messages or telephone calls.
Meanwhile, PT Indo Raya Tenaga's public relations division, Hamim, claims that the Java 9-10 PLTU project is environmentally friendly. The new power plant will use technology ultra-supercritical which is claimed to reduce emissions. "PLTU Jawa 9-10 controls the environmental impact of air by installing the latest international standard equipment," said Hamim.
One of the tools used is Low NOx Burner and Selective Catalytic Reduction (SCR). According to Hamim, this tool is useful for controlling NOx or nitrogen monoxide and nitrogen dioxide gas. Then the Electrostatic Precipitator (EP) which functions to control particles and the Flue Gas Desulfurization (FGD) Plant which means it can filter out sulfur oxide (SOx). "This project is the first in Indonesia to install SCR equipment in order to better control emissions," Hamim explained.
This claim was doubted by the professor of Sultan Agung Tirtayasa University, Yayat Ruhiat. According to him, emissions from burning coal in Suralaya are inevitable. PLTU Jawa 9 & 10, located in Suralaya, will add to the long list of pollutant sources in the Banten region. Currently there are 8 PLTUs with a total capacity of 4,025 MW operating not far from community settlements. That way, the operation of PLTU Jawa 9 & 10 is expected to worsen air quality in Suralaya and Banten Province in general.
"The surrounding agriculture is definitely affected fly ask. That's particular, the fall is close. Of course the effect on fruit plants such as bananas and coconuts is sure to bear fruit. Like a banana tree, it will die, "he said.
According to Yayat, the results of burning coal produce NOx and sulfur dioxide. These two compounds are the biggest contributors to the formation of acid rain and pollution which is smaller than 2.5 microns (micrometers). The explanation is consistent with the statement of the International Energy Agency (IEA). This agency noted that the distribution of global carbon dioxide CO2 emissions from new stones currently reaches 44 percent. Apart from destroying agriculture, it can also trigger climate change through greenhouse gas emissions.
"In addition, coal pollution by PLTU also results in exposure to hazardous chemicals such as arsenic and mercury. This has a huge impact on the health of the surrounding community, "said Yayat.
Referring to Greenpeace's report, the coal power plant project worth US$ 3.5 billion has the potential to result in more than 4000 premature deaths during its 30 years of operation. In fact, due to the current poor quality of air, the number of people suffering from acute respiratory infections (ISPA) in Cilegon City is high. Based on data from the Cilegon City Health Office from 2018 to May 2020, there were 118,184 cases of ARI in Cilegon City.
Therefore, the Forum for the Environment (Walhi) filed a lawsuit against the Decree of the Head of the Banten Province One Stop Investment and Integrated Service Agency Number: 570/2 / ILH.DPMPTSP / III / 2017 concerning Granting Environmental Permits to PT Indonesia Power Development Activities Plan PLTU Suralaya Unit 9-10 (2 x 1,000 MW) along with its supporting facilities.
The lawsuit, which was filed Wednesday, November 4, 2020, was filed at the Serang State Administrative Court (PTUN) with case number 51 / G / LH / 2020 / PTUN.SRG. Walhi assessed that PLTU Suralaya failed to comply with emission standards based on the Regulation of the Minister of Environment and Forestry Number 15 of 2019 concerning Emission Standards for Thermal Power Plants which regulate emissions sulfur dioxide (SO2), nitrogen oxides (Nox), particulate (PM) and mercury (Hg).
"This lawsuit is filed in the interest of protecting the environment from the potential negative impacts caused by the construction and operation of PLTU Suralaya 9-10. For that, we ask the Governor of Banten Province to cancel the Suralaya 9-10 PLTU Environmental Permit, "said Ronald Siahaan, the plaintiff's attorney in his press statement some time ago.
Before registering the lawsuit with the PTUN, Walhi submitted an objection letter to the Java 9 & 10 PLTU environmental permit to the Governor of Banten, Wahidin Halim on Wednesday, August 5, 2020. However, the objection letter was not answered. Even with an administrative appeal to President Joko Widodo which was filed Tuesday, September 1, 2020.
---
The report entitled "Impact of PLTU Ash on Agriculture"Is the final part of three reports that highlight the impact of the construction of a steam power plant (PLTU) in Banten. Previously, Jaring.id published a report entitled "Suam-Suam Danger in Banten Bay"And"Against Bahang Shipments PLTU-7. "
The publication of this report was carried out by Jaring.id and Suara.com with the support of the Jakarta Alliance of Independent Journalists (AJI) and Trend Asia.