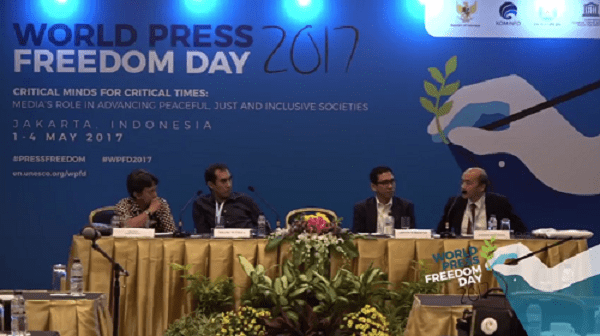 JAKARTA, JARING.id - Mass media in Indonesia and even the whole world must continue to rack their brains in order to survive in the digital era. Not only for the print media, the media that have begun to switch to digital forms are also experiencing the same problem.
Until now, no media has made a pure profit from the digital media business. The mass media have not found a suitable digital business model format. The mass media have to compete with media such as Facebook and Google.
Some digital mass media try to attract advertisers by competing to increase ratings and shares, although sometimes they have to sacrifice content quality. Emphasizes speed and sensation, ignores verification and data.
The rating, click or share method certainly benefits big media, but not small media. Then how can digital mass media survive in the era of digitization without sacrificing quality, especially small media in the regions? This discussion was raised on a panel World Press Freedom Day 2017 at the Jakarta Convention Center, last Tuesday, May 2 2017.
Collaboration
It is inevitable if media ownership is concentrated in the era of media industrialization now. Many small media eventually bought by big media, if not forced to close. According to the President Director of PT Tempo Inti Media Tbk, Bambang Harymurti, to avoid the two choices, small media should collaborate.
The power of collaborating media is certainly greater when compared to managing content and business alone. In terms of content, small media can complement each other depending on the issue focus of each media. Or do collaborative coverage as did 107 press organizations from 80 countries for an investigative work on the Panama Papers. The result is coverage with impact, quality and efficiency.
In terms of business, it is time to form a non-profit media cooperative where the owners are members of the media. This has long been practiced by the United States news agency, Associated Press (AP). APs are subscribed to many media outside the US, and they are paid for each content.
Every profit obtained from the cooperative is prioritized on developing the quality of members so that every AP journalist still has high standards and equitable abilities.
"This choice is like wanting to become a small fish in the big pond or big fish in the small pond. But if you want to be in the big pond, just make small media riots, like ants fighting an elephant, "said Bambang.
Quality
Advertisers do not always rely on a high number of clicks or shares to place ads. Advertisers also see the quality of a medium so that the ads served are more targeted.
According to Nielsen Indonesia Media Director Adwin Wibisono, the press has a great opportunity to increase its business amidst the hoaxes. The public will look for news that is reliable and that can be presented through various and responsible news.
"The key to media success, including attracting loyal readers and advertisers, is quality content," said Adwin.
Small media has a very good chance of growing because advertisers often target media that has a focused audience segmentation. Nielsen Indonesia also plans to expand research on these small media.
"So, for example, for print media with a limited number of readers, there is no need to be discouraged. A small number does not mean that the media is weak, but on the contrary it can show that the media are focused, "said Adwin.
Bambang added that sensational news in a short time could be read by many people, but after that the news would disappear. In contrast to quality news which is usually published at the beginning of the reader a few but over time will increase.
At present, at a meeting of a number of media, proposals have emerged to change the calculation of online advertising, which was initially based on the number of visitors to the length of time that visitors stay on one story. If this is successfully changed, Bambang assessed that the media will definitely change the way they present quality news. [Deborah Blandina Sinambela]