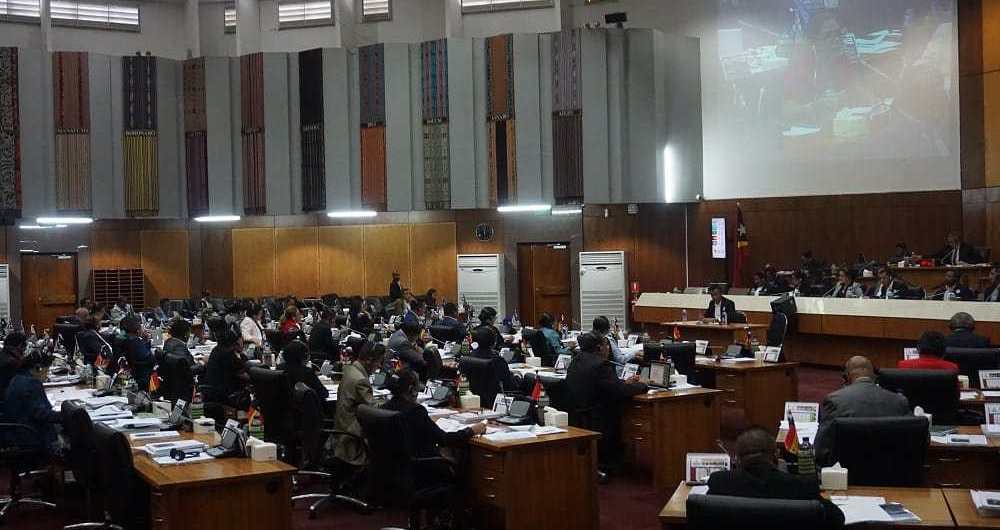 The issuance of the Domestic Violence Law in Timor Leste changed the position of women and children before the law. Those who previously locked up cases of domestic violence are now starting to think that the case is not just a private matter. Other laws for gender mainstreaming were also sought. However, positive change in the Land of the Rising Sun is not an overnight job, but a chronic effort that has been fought by women, both outside and inside the parliament.
***
It has been more than three days, the burns that scorched part of Ruy's skin (not his real name) were not treated. Instead of getting medical help, the six-year-old was hidden by his family in Ermera District, which is 30 kilometers from Dili, the capital of Timor Leste. The victim of domestic violence was only rushed to Fatin Hakmatek, a safe house at the Dili National Hospital after a neighbor made a report to the local police station. Apart from moaning in pain and trauma, doctors diagnosed him as suffering from malnutrition and stunted growth.
"He looks like a three year old child. There were scars on his arms and legs, "said a fragment of the story in the report A day in Fatin Hakmatek, Multi Tasking and Still Breathing in August 2010.
The international organization that advocates for victims of domestic violence, Fatin Hakmatek, said that the domestic violence Ruy experienced was not just physical violence, but a patriarchal power relation to family members. Ruy is not the only child who has been a victim of violence in Timor Leste. Of the various domestic violence handled by Fatin Hakmatek, children and women are the most victims.
Report titled 'Unseen, Unsafe' that was released Safe the Children, World Vision, Plan International and the Child Fund in 2017 recorded 612,539 cases of child abuse in Timor Leste. This figure is equivalent to 87.4 percent of the country's 700,845 children. Meanwhile, UN Women noted that 59 percent of women experienced physical and sexual violence in 2015.
Therefore, a women's empowerment group consisting of 38 women's organizations in Timor Leste has traced the root of the problem of violence since the country's independence from Indonesia. The first attempt was made in 2001 when the first women's congress held in Dili agreed to establish a Women's Ministry. After that, they want a larger share of women's representation in parliament by up to 30 percent, as well as the passage of the Law against Domestic Violence.
These years of work finally paid off in 2010. The Timor Leste National Parliament passed the Law (UU) on Domestic Violence. Apart from providing legal certainty to victims of violence, this regulation also provides a time limit so that case handling does not drag on. The police only have no more than five days to make case files.
"Domestic violence is not a complaint offense, but is a general crime," said the Chairman of Commission A in charge of legislation, Carmelita Moniz at the National Parliament, Dili, Timor Leste to Jaring.id and Radio Rakambia on Tuesday 24 September 2019.
Judicial System Monitoring Program (JSMP), Civil society organizations that monitor the judiciary in Timor Leste have recorded an increase in cases of gender based violence that are brought to trial by up to 65 percent. Meanwhile, other criminal cases were only 35 percent in 2017.
The high number of reports of cases of violence, according to Carmelita, has succeeded in changing the position of victims before the law. The people of Timor Leste no longer consider cases of violence as a private matter. Cases that harm children and women have begun to surface and are no longer considered a disgrace that need to be covered up.
"Here there is a general understanding that the sound of 'spoon' and 'fork' hitting each other cannot be heard reaching the neighbors," he said.
Apart from issuing the Domestic Violence Law which succeeded in changing the culture of Timorese society, women in the Timor Leste parliament also succeeded in passing the Law on Parliamentary Elections in 2012. This law provides wider opportunities for women who wish to sit on the council seats. Because the party is obliged to carry one woman from among the three candidates. In this way, the number of women sitting in parliament increased to 39 percent from the previous 27 percent.
Even so, the relatively high political representation of women in the Timor Leste National Parliament does not necessarily change the economic, educational and health levels of women in the country. Referring data Global Gender Gap Index, an index that measures a country's gender inequality, Timor Leste is still entrenched in position 124 out of 149 countries with a ratio of 0.638. This figure is not far from Indonesia, which ranks 85th with a ratio of 0.691. This shows that the gap in inequality in Timor Leste is still considered wide.
In Southeast Asia, the Philippines has been most successful in narrowing the gap between men and women, particularly in the areas of political empowerment and education. This neighboring country ranks 8th in the world with a score of 0.799.
Chairman of the Caucus Feto Politika Timor Leste, a civil organization that promotes gender equality in politics, Teresinha Maria Noronha Cardoso said the capacity of women in parliament is still weak, especially in budget discussions. In fact, there are still many pro-women's policies that must be fought for, including the Child Protection Bill, the Gender Equality Bill and the Regional Representative Council Election Bill. So far, according to Teresinha, parties still rely on capacity strengthening programs provided by civil society organizations.
"Even though we have included some of them (women parliamentarians) in the parliamentary exchange program to several countries. But it hasn't shown any results yet, "complained Teresinha to Jaring.id in the Obrigado Barack area, Dili, Monday, September 24, 2019.
Not Just Numbers
The issue of budget-related capacity, according to Teresinha, is not a single obstacle that limits women's movement in the Timor Leste parliament. They often work under the pressure of short-term party political interests. This causes women to move away from gender-based political agendas.
"Our political situation is also unclear. If you want to focus on women's issues, it's still difficult. Because national problems are still difficult, "said Teresinha.
Maria's statement referred to the current political situation in Timor Leste. In early 2017, the President of Timor Leste, Francisco Guterres or as he was called Lu Olo dissolved the parliament with veto power. The use of this unilateral power resulted in Timor Leste's national program stagnating. The re-election of parliament in 2018 was not a panacea for the political impasse in the land of the rising sun. Because now it is the turn of parliament members to attack the government back by boycotting a number of national programs.
According to the Secretary of the Women's Parliamentary Caucus, Hetifah Sjaifuddin, the political condition of women in Timor Leste and Indonesia is not much different from that of Timor Leste. However, women in Timor Leste are quite empowered to fight for gender equality, something that is not fully owned by women members of the DPR in Indonesia.
"From Commission I to XI. Don't think that women's problems are only in Commission VIII. In fact, all commissions should pay attention to whether there are regulations that discriminate against women or only benefit one particular gender, "said the Golkar politician on September 2, 2019, to Jaring.id in Central Jakarta.
That's because, Hetifah hopes that the party will support women to fill the structure in the parliament. Not only as an ordinary member, but in positions that can influence policy, such as Chairman of the Commission, Chair of the Budget Agency, to the Chair of the Legislation Body. Hetifah is the only woman who has held a strategic position as Deputy Chair of Commission XI of the Indonesian Parliament for the 2014-2019 period. While in the 2019-2024 period, PDI-P politician Puan Maharani became the first woman to be appointed as the Chair of the DPR.
"I think we have to work harder because of the number of women only twenty percent are in parliament. It needs more women to be more loud, "He said.
Director of Cakra Wikara Indonesia (CWI), a gender-based social and political research association, Anna Margret agrees. In addition to a partiarchic culture that makes women have different positions of origin, according to him, political dynamics within parties are also an inhibiting factor in women's empowerment. Therefore, Anna agrees that a large portion of women in parliament needs to be pushed to reach the ideal figure. This can be done through political affirmations.
This is important so that women do not lose their voice when dealing with strategic issues. She did not want the legislation products being discussed by the DPR to be gender biased, so that they could harm women.
"Women's experience is important in terms of budgeting and designing programs that are friendly to women," said Anna when met at the CWI office, Depok, Tuesday, September 4, 2019.
However, he reminded that the number of women in parliament is not the only measure that can encourage the birth of a pro-women policy. However, according to him, the capacity related to gender-based political identity is important for women in the DPR.
"In a feminist study there has never been a saying that more women are better off. The determining element is the political identity that women carry, "he said. (Deborah Blandina Sinambela)
This article is the result of a collaboration between Jaring.id and Radio Rakambia, Timor Leste