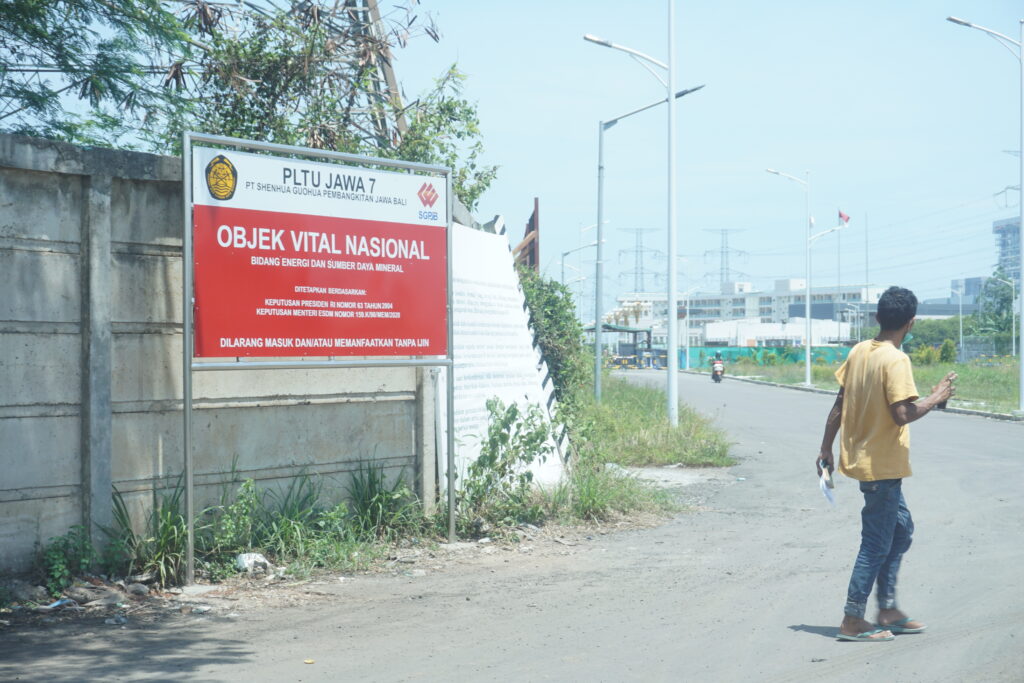 Muhammad Iqbal Elbeten (22) spurred a boat engine with a capacity of 6 PK, cutting the surface of the mouth of the Berung River which was getting dark. The clock shows 19.00 WIB. If not for the pier lighting, the surface of the river connected to the sea in Banten Bay would be completely dark. The only place that is rather bright is the rows of dozens of fishing boats on the riverbank that have been moored at anchor for a month.
Iqbal did not want to sail fishing that night. He is one of hundreds of fishermen in Terate Village, Kramatwatu, Serang, Banten who have allowed his boat to mangrak to protest the operation of the Java VII Steam Power Plant (PLTU) since December 2019.
The plant with a capacity of 2 x 1,000 megawatts (MW) was built by PT Shenhua Guohua Pembangkit Jawa Bali (PT SGPJB) - a consortium company between China Shenhua Energy Company Limited (CSECL) and PT Pembangkit Jawa Bali (PJBI) which is a subsidiary of PT PLN (Persero). ). CSECL's share ownership in PLTU 7 reaches 70 percent, while PJBI owns the rest. In Indonesia, CSECL's actions in producing dirty energy are not only in Banten. The largest energy and infrastructure company in China is also building the East Kalimantan Mine-Mouth PLTU, the South Sumatra I PLTU and the Muara Enim Simpang Belimbing PLTU.
PLTU-7 is claimed to be environmentally friendly because it uses heating technology ultra super critical (USC). However, conditions on the ground are not as smooth as on paper. That is what Iqbal and other fishermen saw. Like other PLTUs, the use of USC in PLTU 7 still produces coal carbon emissions. Meanwhile, the cooling process of the steam boiler with seawater produces hot water — waste water with a hot temperature exceeding lukewarm.
"The waste is starting to come out," said Iqbal as he directed the ship's bow to approach the runoff from the dump.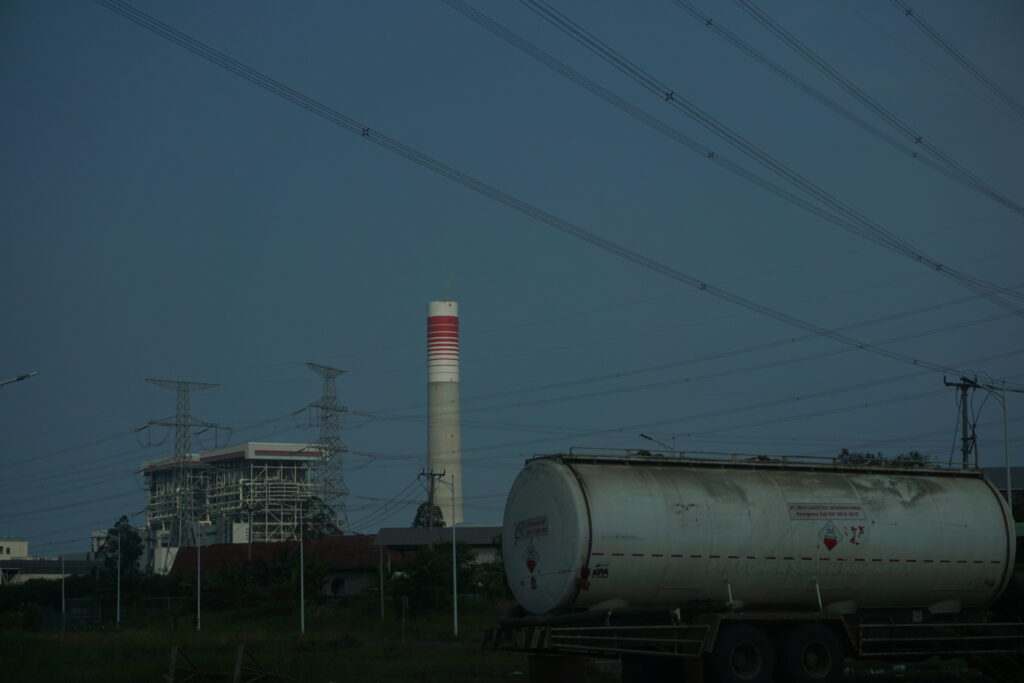 I was so fast, the speed of the water coming out of the mouth of the pipe, the sea surface was shaken until foamy. The stench wafted up to the boat.
Jaring.id had time to measure the surface temperature of the water using a thermometer. The water temperature around PLTU VII changed to 37.9 ℃ or an increase of about 6 bah after heat waste was poured into the sea. The heat waste temperature quality standard in Permen LH No. 8/2009 actually allows a temperature increase of 40 ℃, but the sea water temperature quality standard in Minister of Environment Decree No. 51/2004 only allows an increase in temperature of no more than 2 ℃.
"The waste is hot. Previously, the waste was like brown porridge, "he said.
The results of acid-base measurements using a sea water pH meter show that the water quality around the PLTU is low, which is only 4.5. Whereas in accordance with the Regulation of the Minister of the Environment Number 8 of 2009 concerning Wastewater Quality Standards for Business or Activities of Thermal Power Plants - a derivative of Government Regulation No 82 of 2001 concerning Water Quality Management and Water Pollution Control, the water quality standard must be 6-9. Meanwhile, testing of salinity (salinity) and total suspended solid (TSS) to determine the quality of seawater for marine biota has not yet produced results. Sample testing conducted since mid-November had to be stopped due to the widespread spread of Covid-19.
Local fishermen like Suheri (41) believe that the presence of PLTU-7 has damaged their livelihoods. Since the PLTU started operating, Suheri's catch has drastically reduced. Previously he was able to bring home 20 kilograms of fish, ranging from snapper to milkfish to mullet per day. However, this time the catch was no more than 5 kilograms.
"The catch zone is now narrowing," said Heri when met at his residence in Terate Village, Saturday, November 14, 2020.
Another fisherman from Cikubang, Pulo Ampel, Ali (41) complained about the same thing. Every time he goes to sea, he has to throw a net up to 20 times to bring home a fish weighing 5 kilograms.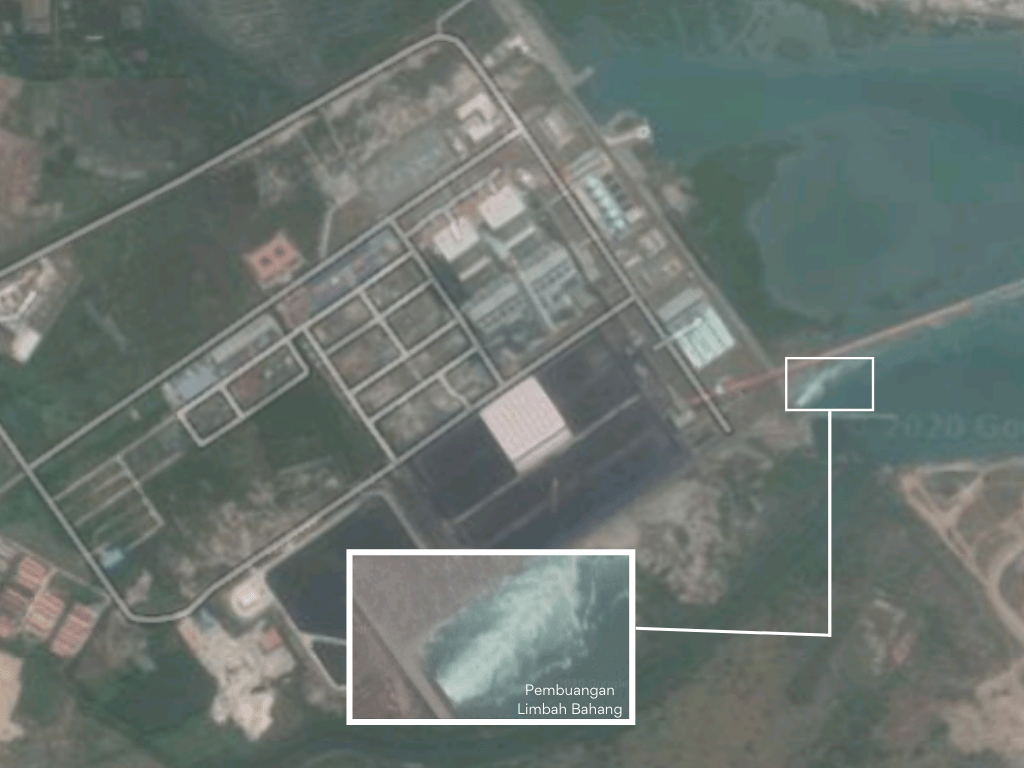 "That is not necessarily possible. Where are we going to find food? where we are eaten by PLTU. The coral reefs are gone. In the past, it was very easy for us to get fish because there were many coral reefs, "said Ali.
Based on reports monitoring marine biota by the Directorate General of Marine Spatial Management Loka Coastal and Sea Resources Management, Ministry of Marine Affairs and Fisheries in 2019 stated that coral reef cover has decreased significantly, reaching 16.94 percent. Meanwhile, in 2017, coral reef cover decreased by 28 percent and a year later this figure had decreased by 18 percent. 
This condition is agreed by Kheysia Abigail, a researcher from an independent research institute, World Resources Institute (WRI) Indonesia. Disposal of heat waste and uncontrolled use of coastal areas around Banten Bay has damaged coral reefs. According to him, coral reefs cannot thrive in water temperatures above 30 ℃.
"The high concentration of waste can also pollute the mangrove ecosystem," said Kheysia to Jaring.id and Suara.com, Wednesday, November 25, 2020.
Meanwhile, the results of research conducted by the Faculty of Fisheries and Marine Sciences, Diponegoro University Semarang, Central Java in November-December 2019 found damage to seagrass beds around Panjang and Lima Islands. One of the researchers, Rafdi Abdillah Harjuna stated that the cover was in the form of enhalus acoroides and thalassia hemprichi on both islands currently live around 11-15 percent. This figure is very different from the minimum cover of 60 percent stated in the Minister of Environment Decree Number 200 of 2004. Rafdi indicated that the increase in sea water temperature around the island resulted in the growth rate of seagrass being stunted, to death.
"Pulau lima is near the PLTU, Pulau Panjang is close to the barge parking lot," said Rafdi.
Published research Indonesia Journal of Marine Science stated that the seagrass beds on the two islands were contaminated with metals with a concentration value between 0.03-0.61 ppm. The level of exposure to this metal is above the lead metal quality standard of 0.0005 mg / l which is regulated in the Decree of the Minister of Environment Number 51 of 2004 concerning Sea Water Quality Standards.
Another researcher from Diponegoro University, Faishal Fallah, said that heavy metal pollution on Panjang Island could not be separated from industrial activities in Bojonegara, Serang.
"There is a big possibility of a PLTU, even though the PLTU is not fully working 100 percent when we do research. If it is operating 100 percent, it can affect the condition of the ecosystem in the water. The particles can settle in the water and affect the marine ecosystem, "said Faishal when contacted by Jaring.id and Suara.com, Friday, November 14, 2020.
Head of the Sub-Section for Utilization and Conservation of Loka PSPP Serang, Zaid Abdur Rahman, reminded the importance of seagrass beds for the sustainability of marine ecosystems. According to him, many marine biota such as green turtles and dugongs depend on this vegetation. If the seagrass beds are empty, then the two animals protected by Minister of Environment Regulation Number 20 of 2018 in conjunction with Minister of Environment Regulation Number 92 of 2018 will be threatened. Turtles and dugongs are included in the Global Red List of IUCN as vulnerable to extinction.   
"Physical (PLTU) on land has an effect on the oceans," said Zaid when contacted by telephone, Thursday, November 19, 2020.
***
PT Shenhua Guohua Pembangkit Jawa Bali (PT SGPJB) does not deny that there are foam bubbles resulting from the cooling process of the steam engine. In a brief description of the company that was received by Jaring.id and Suara.com, the foam that was lying around the PLTU was caused by a large water discharge. The cooling water discharge pipe spews 70 cubic meters or the equivalent of 70 thousand liters of water per second.
"The foam that appears can last a long time due to natural factors and other causes," said the company statement PT SGPJB in a letter of clarification on August 10, 2020.
Meanwhile, the Secretary of PT Pembangkit Jawa Bali, Muhammad Bardan, when confirmed, was economical. Bardan suggested that Jaring.id contact the PLTU-7 manager, namely PT Shenhua Gouhua Pembangkit Jawa Bali.
"This has become the area of the Shenhua Gouhua PJB management company. If I answered, I jumped the fence, "said Bardan via WhatsApp message, Friday, November 27, 2020.
Until this article was published, Jaring.id had not received confirmation from PT Shenhua Gouhua Pembangkit Jawa Bali. Requests for interviews either by telephone or by letter were not returned. Meanwhile, spokesperson for PT Shenhua Gouhua, Vicky Yang, when contacted separately, admitted that he could not answer Jaring.id's questions.
"Let me ask first and I will share it if I can confirm it," said Vicky when contacted by Jaring.id via WhatsApp, Wednesday, December 2, 2020.
Professor of Chemical Engineering at Sultan Agung Tirtayasa University, Professor Yeyen Maryani, suspected that there were irregularities in the cooling process of PLTU-7. According to him, the heat waste released to Banten Bay should not be foamy or brown and smelly.
"In plain view it is already on the threshold. Must be checked for waste content in water. Although academically it cannot be concluded. But that's a danger to marine life, "said Yeyen, Monday, November 23, 2020.
So that the situation does not worsen, he suggested that the Environmental Service and the Ministry of Environment and Forestry immediately take samples and check the content of the waste. He estimates that there is a mixture of soil or metal in the waste of PLTU-7.
"There may also be chemical compounds. If it contains metal or iron, it must be checked, "he said.
Contacted separately, the Head of the Supervision Division of the Banten Province Environmental Service, Dr. Dendi, admitted that he had not received any reports regarding the alleged contamination of PLTU-7. However, he confirmed that the company that produced the stun was not yet licensed to dispose of liquid waste into the sea, even though it had been operating for almost a year.
"I have not received a report, if there is I will definitely go to the field," said Dendi when contacted by telephone, Thursday, November 19, 2020.
Dendi's statement is in accordance with the permit data for disposal of waste water into the sea which is stored in the site of the One Stop Integrated Center (PTSP). PT Shenhua Guohua Pembangkitan Jawa Bali is known to have just processed a permit for managing hazardous and toxic waste (B3). Among other things, the activities of landfilling B409 and B410 waste originating from coal burning.
Separately confirmed regarding the permit, the Ministry of Environment and Forestry's Director of Pollution and Damage Control, Dida Migfar, doubted that PLTU-7 had not yet obtained a liquid waste disposal permit.
"Should have entered. We will check first, "said Dida.
Even so, Dida explained that PLTU-7 has yet to submit a quarterly report related to environmental conditions. This obligation is in accordance with the Regulation of the Minister of Environment Number 16 of 2012 concerning Guidelines for the Compilation of Environmental Documents.
"We have told them. Next week there is an answer from the company. We will follow up from the report again with field verification, "said Dida Migfar when contacted by telephone, Friday, November 27, 2020.
If in the process it is found that water quality standards exceed the statutory provisions, KLHK will not hesitate to take firm action.
"As long as we can build a company, we will build it. If it continues, then Gakkum will deal with it, "said Dida.
***
As of June 2020, the power generation capacity in Indonesia has reached 70,964 megawatts (MW). Of that amount, about 50% of electricity is produced by steam power plants (PLTU). Meanwhile, the other half comes from gas, diesel, geothermal and renewable energy power plants. An environmental organization, Trend Asia, noted that Banten has the largest number of PLTUs. There are at least 21 generators spread across various regions in Banten. One of the biggest is the Jawa-7 PLTU. The plant with a capacity of 2000 megawatts only started operating at the end of last year.
"Indonesia is one of the countries highlighted in the world because it is still massively using fossil coal energy as a source of electrical energy," said Asian Trend spokesman Andri Prasetiyo.
The problem is, according to Andri, that electricity production in Indonesia has now exceeded demand. Java-Bali electricity needs oversupply by 40 percent. Meanwhile, demand for electricity consumption only grew by 6.9 percent, far from the government's initial estimate of 8.3 percent. This condition indicates that the construction of PLTU does not affect electricity absorption in Java. 
Therefore, Andri suggested that the government stop using dirty energy. Besides having an impact on environmental sustainability, the use of coal will have a social impact. "Because there is no justification in terms of utilization in the interests of the people, even worse financing for PLTU can increase the risk of environmental impacts and serious health threats," he said.
Responding to the massive use of dirty energy, the Director of Electricity Program Development at the Ministry of Energy and Mineral Resources (ESDM) Jisman Hutajulu said that the government is committed to reducing the construction of PLTU in the future. PLTUs that are 25-30 years old will be replaced with large-scale solar power plants (PLTS). "The role of PLTU is reduced in the future," said Jisman Hutajulu in a webinar entitled Policy Support to Achieve The 2050 Indonesia Energy Transition, Tuesday, November 24, 2020.
According to the Ministry of Energy and Mineral Resources, the potential for renewable energy in Indonesia reaches 417,800 MW with the share of solar energy reaching 207,800 megawatts. peak (Mwp), 32,600 megawatts of bioenergy, 23,900 megawatts of geothermal, 60,600 megawatts of wind and 17,900 megawatts of ocean waves
"In the 2019-2028 Electricity Supply Business Plan (RUPTL), 10,000 megawatts (MW) of new and renewable energy plants are required by 2025," he said. (Abdus Somad)
_____________________________________________________________________________
The report entitled "Suam-Suam Danger in Banten Bay"This is one of three parts of the text that highlight the impact of the construction of a steam power plant (PLTU) in Banten. Jaring.id, this time collaborating with Suara.com to carry out journalistic work, from conducting observations to testing samples of heat waste that flowed by PLTU-7 to Banten Bay. 
This report is a writing program on the theme of dismantling the destructive power of dirty energy organized by the Jakarta Alliance of Independent Journalists (AJI) and Trend Asia.