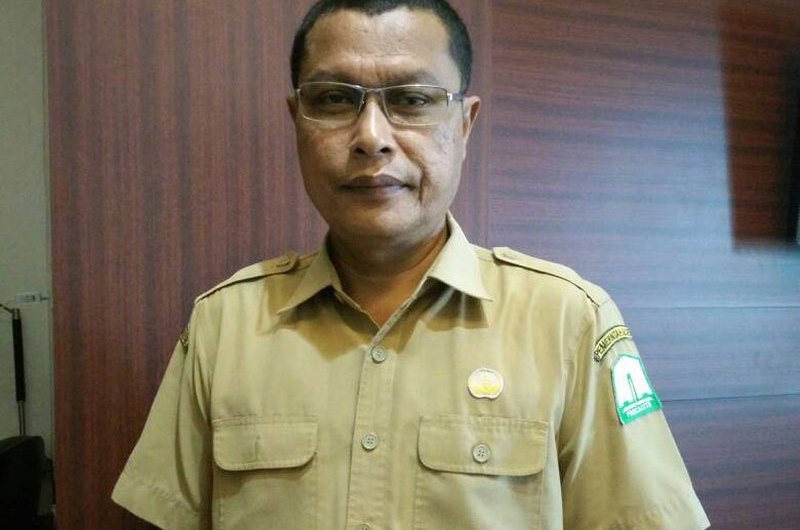 BANDA ACEH - Illegal gold mining that flourished in Aceh after Indonesia's peace with the Free Aceh Movement, made authorities ranging from the Provincial Government of Nanggroe Aceh Darussalam, Polda Aceh, and the Iskandar Muda Regional Military Command (Kodam) confused - if they could not be called overwhelmed. Illegal mining, which began to bloom since 2005, involved many people, both Acehnese and non-Acehnese, had a large turnover of money, and it was recognized or had not revived the economy in areas where illegal mining was present. This illegal mining activity has damaged the ecosystem and got rid of many farmers and traditional gold panners. But if the illegal mining is closed, the government and law enforcement officials will be faced with unemployment problems and mass protests that can cause social unrest. The following is an excerpt from an interview with Mahdinur, the Head of the Mineral Sector at the Nanggroe Aceh Darussalam Department of Energy and Mineral Resources, which provides an overview of the government's uncertainty in solving the problem of illegal mining.
Mining is under the authority of the provincial government, what are the obstacles in curbing illegal gold mining?
It is clear that illegal mining is against the law and difficult to manage, currently it continues to grow. The government has made coordination efforts, while there was still a mining agency in the district also coordinating so that this would not develop.
On the way it turns out that (the gold mine) is growing. If in the past it was possible for individuals and now it has become a mass, the number of miners is probably hundreds or even thousands.
This is also an obstacle that is not easy to put in order. But they clearly violated the provisions. For that, of course, if you want it to be disciplined, you can not allow illegal mining or they may be legalized by forming a legal entity, cooperative or regionally owned business entity or whatever its name is. They are involved there, legalized and follow the existing procedures and conditions.
Who does mining?
What I think now is that there are those who do mining with heavy equipment, it is not just looking for produce to eat, not anymore. They are already looking for wealth, excess there. Because the tools used are mechanical, such as excavators, which cost more than billions. Why is this possible, of course those who move there they have the capital.
Those who carry out activities there are local people as workers. But behind them, I saw an indication that there were excavators, of course there was a cukong behind it.
For example, it is only people who pan, digging in a simple manner like that, even though it is not justified in terms of provisions, it is another thing because it is just for the necessities of life. Now what is developing is commercial.
Have you ever conducted raids, for example, an integrated team that involved all elements?
Actually, you see, to carry out a raid with an integrated team there must be a coordination, of course there is the availability of government funds to do that. In 2017, funds have been plotted - from the initial information I received - for that. The problem is what mechanism of use of money will be regulated later.
Throughout 2017, the team has not stepped down.
What about the official team?
Our team has participated in several times in 2016. However, we cannot take action, because that is the realm of criminal law. Stop them can't. We only provide directions, (for example) this is wrong and violating.
Have you ever been threatened when the service team came down?
From the admission of the team that had been down, there was no direct threat and it was physical. But there was some sort of rejection by them there to the team. The reason is maybe they feel uncomfortable when our team comes down there. We played our own team in 2016, and this year (2017) we have never been there.
Were there members of the TNI and POLRI who armored the mining site when the team came down? Is there a threat from them?
So far, none of the teams that have come down have reported that way. What is reported is that if it comes down again there will be discomfort from residents and miners at the location.
How about a mine closure?
It must be an integrated team, not only from ESDM. Must involve law enforcement.
Where have the miners been?
We don't memorize it, but there are outsiders from the community. Maybe the Javanese who have been there for a long time. But if I see, they are more like workers, for example heavy equipment operators. There are prime movers behind, financiers. This could be, on average, people outside Aceh.
Are there any reports of the involvement of members of the TNI, Polri and former combatants there?
I don't know (to) answer it.
Do you think if it is closed later, what will the government do for the welfare of the people?
For me personally, maybe it could be legalized in a procedural manner following the applicable provisions, legalized by following all the mechanisms. If it can't, then it must be closed because the provisions are clearly criminal, according to the law.
The problem then is, when they do not have any livelihoods, when their livelihoods are stopped, there will be an effect of social unrest, because they have been economically disturbed.
Continue?
Therefore, in the future the government, the new governors need to find a solution. What is clear is that even if this is justified, it can be in accordance with the rules. The factors that damage the environment must really be re-examined. So far, what has happened is that mining is not directed, he likes to be happy. When the correct mining technique is applied, for example the spray mining technique, it can be directed properly, environmental influences can be maintained, Amdal is prepared for them, well organized, yes why not.
I see it like this, which is called Peti (illegal mining), not only in Aceh, but throughout Indonesia and even the world, it is difficult to handle (let alone) because it has become a mass. It should be stopped completely, I would rather agree to that actually, but the government must also see so that other problems do not arise later.
What source of income is most likely to see the condition of the area there to replace illegal mining activities?
Maybe there is agricultural land and plantations, the community should be given assistance to make it more productive, directed there. The government cannot close its eyes if the mine is closed.
But if they also stay there, they don't want others, the government can legalize all kinds of technical provisions, according to the rules and not damage the environment.
What is the potential state loss in the illegal mining of West Aceh?
What is clear is that there is no contribution and damage to the environment. On the other hand, they have jobs. There is income there. The losses can be billions per year, I don't know the exact number because I don't see the condition of the gold yield there. (NETWORK Team)