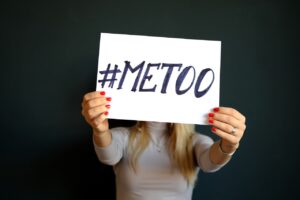 French news agency France Inter and Mediapart in May 2016 exposed the sexual assault scandal by the Deputy Speaker of the French Parliament, Denis Baupin. The report, which contained eight victims' confessions, succeeded in urging Denis to resign from his position.
"We were able to publish the story because we had eight victims, four of them on the record, "Said the journalist Mediapart, Lenaig Bredoux at an online seminar Global Investigative Jounalism Network (GIJN) entitled Investigating Sexual Abuse: Reporting Tips & Tools on Thursday, November 12, 2020.
In reporting on sexual violence, according to Bredoux, the victim's confession is one of the determinants of success. Journalists need to find as many victims as possible, even if the case has passed for years. That way journalists can find patterns of sexual violence perpetrated by public officials, such as Denis Baupin.
"It would be very difficult if there was only one victim's testimony," he explained.
The victims' confessions, he continued, could be confirmed through documentary evidence such as official institutional reports, text messages, e-mails, social media contacts, voice messages, photos, and the victim's diary. If these documents cannot be obtained, then confirmation efforts can be made to the witness who knows the incident.
"Survivors often delete their messages with the perpetrators, but more often they tell them to their closest people. You can find conversations about violence with other people, "he said.
Meeting many victims, said Bredoux, is just as important as seeing multiple witnesses. In this case, the witness testimony does not have to always be related to the incident. The background of the perpetrator who frequently engages in sexist conversations and jokes about women's bodies and clothes can also be used to reinforce stories about sexual crimes.
Bredoux distinguishes between coverage of sexual crimes and investigating other cases. In cases of sexual violence, victims are the main source. Therefore, journalists still need to keep their distance, be skeptical while understanding the psychological condition of the victims. One method that can be used to gain a victim's trust is openness. Journalists are advised to tell the victim openly how the case will come to light.
"You have to convey that I believe, but I need to gather evidence. Why is evidence necessary because at the end you will interview the perpetrator, "he said.
A similar approach was taken by freelance journalist in China, Sophia Huang. According to him, journalists must disclose the news sources that will be used, whether it is the statements of friends, family or people closest to the victim.
"Risks must also be conveyed, for example people may blame the victim and check the victim's personal life after the article is published," he said.
The situation of sexual violence in China, in his opinion, is very concerning. In 2017, he found 416 or 83.7 percent of journalists experienced sexual violence in the workplace. Of these cases, only 3.2 percent reported to institutions or the authorities. Meanwhile, only three cases were published. This condition is not much different from the campus environment. The results of a survey of 6,000 college students showed that about 70 percent of them experienced sexual violence.
Unfortunately, according to Sophia, not all victims are able to speak. Therefore, it is the journalist's job to convince the victims that what happened to them was more than a personal problem.
"Avoid blaming the victim, understand the structural factors of harassment. Don't ask why you didn't stop the perpetrator, why didn't you call the police. I wouldn't ask questions like that, "he suggested.
Another reason that has kept survivors of sexual crimes silent in China is the practice of silencing by the government. # movementMeToo in China in July 2018, it was considered to have disturbed the stability and security of the country because it provoked survivors to talk openly through social media or to make police reports. The Chinese government subsequently removed victims' claims on the internet and labeled them as a national security threat.
Apart from the victims, a number of parties who helped the victims were also threatened with articles related to defamation. "You have to go to a lawyer, ask for advice. There have been many cases of friends helping to spread information but being subjected to defamation, "he said.
Meanwhile in India, freelance journalist Ashwaq Masoodi revealed how the division of social and cultural classes still hinders reporting of sexual crimes. In fact, since 2012, India has revised the Sexual Violence and Rape Law. In this law, the definition of rape is expanded so that it can ensnare the perpetrator of penetration other than the genitals. According to him, finger penetration without consensus can be categorized as rape. Even so, not a few victims chose to be silent.
"I have to look for several layers that he knows (family or civil organizations)," he said.
That's because, Ashwaq admitted that he could spend weeks approaching the victims. He often put the brakes on his will to immediately ask questions about cases.
"In reporting, I constantly remind myself that those who were kind to me and my readers by telling their stories. It helps me respect their right to tell stories or not. That's their choice, "he explained. (Deborah Blandina Sinambela)