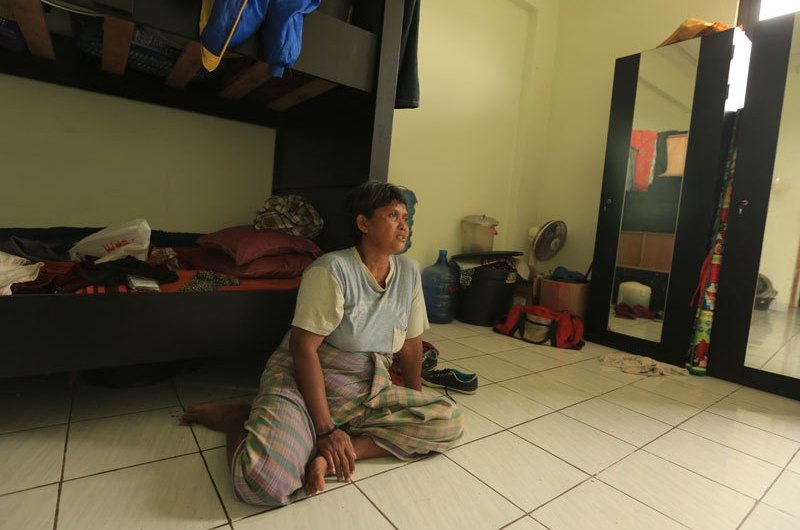 JAKARTA, JARING.id - Red, black, green, blue, and white combine. The shiny paint color of the Rawa Bebek apartment building is a contrasting sight. On the left and right of the building stretches empty land overgrown with green grass, while in front of it flows brown water from the East Canal Flood.
About 100 meters before arriving at the gate, the road to the flat is still rocky yellow soil and a little bumpy. Dust will fly every vehicle passing. Unlike the circle in the flat which covers an area of approximately 26,000 square meters, this route is almost entirely covered with paving blocks.
In this area it has been three days since Samsiar went to collect waste. His house is on the 4th floor Block D of the Rawa Bebek Flats, always closed. Not knowing what was happening and curious, a neighbor who lived only 2 houses came to take a look. It turned out that the neighbor was curled up in bed due to illness.
Samsiar's health never got better. The health clinic in the flat could not handle him because the medicine was not available. He was then taken to the Cakung Health Center. There the doctor said that he had acute internal fever, so that he had dysentery. He was also asked by the doctor to administer a Healthy Indonesia Card so that the cataract in his right eye was operated on. Already having dysentery, eye cataracts must be operated on too! He didn't know what to say; even felt the pain he was almost speechless.
Why is Samsiar sick? The answer is simple. His diet is never regular. The problem is not self-discipline but insufficient money to buy an adequate and nutritious body intake. His income as a scavenger is only Rp. 80,000 - Rp. 100,000 per day. The money he got only after selling used goods was collected 3 weeks. Often the rupiah was not enough to meet his daily needs.
After paying debts here and there, usually what is left of the income every day is only Rp. 30,000. Even though there is another very important expense: buying electricity pulses. The price is Rp. 25,000. Of course he couldn't live in a flat without lighting; Moreover, he still has children who are in 4th grade of elementary school.
"That's just paying for electricity, not paying for water and housing. After all, just barely enough money… how to pay for water? I don't even have daily meals, "he said softly.
Samsiar moved there since April 2016. The Rawa Bebek flat which he occupies consists of 6 blocks, each with 5 floors. To reach each floor there are stairs and an elevator. The area of each unit is 24 square meters (6 × 4) with 2 bathrooms on the left and right of the entrance door, without a kitchen. The place to cook and dry clothes together in an open space that is partitioned by an iron cage. The stove and other cooking utensils lay on the floor.
The flat, which was built through the State Revenue and Expenditure Budget, is actually intended for singles. However, blocks A, E, and F are used as temporary residences for 189 out of a total of 310 family heads evicted by the Fish Market. They will be moved when the suitable family flat for them has been completed.
The tenant for the first three months has not been charged the rental fee. They are only asked to pay for water and electricity credit. After 3 months they are required to deposit their rent through Bank DKI.
The three months free period programmed by the government has ended. When it comes to paying, Samsiar can't. Now he has been in arrears for 4 months. The water bill is also still ridiculous. The flat manager has given him the first warning letter (SP1).
There was also an offer to move to Pondok Bambu. The manager promised that he could sell and his children could go to school for free. Also in that place there is a social institution. The offer he refused. What crossed his mind, the authorities there would treat him like a prisoner.
"After SP1 I started crying, okay… I better hang myself to death here. Suicide is okay too. I don't have any food. Even though it's only 300 silver, where's my money from. "
Now, thanks to the help of zakat, donation and alms charities, Samsiar doesn't have to think about paying rent. However, this assistance is only temporary. Apart from that at any time he could be diverted from there because the flat he currently occupies was specifically for single residents. Naturally, he was still anxious. If he moved to the family flat early next year he had to pay. How can he do that?
All expensive
One of the differences that Samsiar has felt since moving to the flat is the high expenditure. If calculated, rent a house, water and electricity can reach Rp. 400,000 per month. In the past, even though the house he lived in at the Fish Market stood without a certificate and leaked when it rained, he had no rent to pay. Electricity never paid for. If he doesn't have money to buy water, he can bathe in a well.
Sumratul Aini, a Fish Market resident who now lives in Blok F of the Rawa Bebek flats, feels more or less the same. Living in a flat, according to him, is indeed better in terms of environmental atmosphere. Cleaner, beautiful and safer. But in terms of cost, it's the opposite. Everything is more expensive, especially expenses for daily needs. The market, for example, is too far to reach by foot. Ojek is the one that is relied on, even though it costs Rp. 15,000. Water costs Rp. 5,500 per cubic meter; at the Fish Market it is still Rp. 1,000.
"The complaints of the mothers here are the same: everything is more expensive," said Sumratul Aini.
Saman, 45 years old, occupies the Merpati Rusun Rawa Bebek Building. This flat was built by PT Summarecon Agung as a form of obligation. Every time they establish 1 commercial flat, the development company is obliged to set aside 20% of its project value for the construction of a public flat. This flat consists of 4 buildings, each with 5 floors. The unit type is 36 (6 × 6) with 2 bedrooms, 1 living room, 1 kitchen, 1 bathroom, and a little open space at the back. In each building only stairs are provided.
The activity in this building looks busier. There were 320 out of 379 families from Bukit Duri who were evicted to occupy it. The front of the building facing the road is filled with local stalls. They use the ground floor of the building to sell food, groceries, clothes, and so on.
Saman, along with his wife and two children, were among the first evicted residents from Bukit Duri. He has been living in this place since July 2016. For the first 3 months he was happy because his routine expenses were only to pay water bills and buy electricity pulses. Rent a house for free.
Henceforth, the water bill turned out to have doubled from the first month, even though it actually used less. Managers only inform via a bulletin board the amount to be paid by each occupant. There are no calculated figures and payment receipts that they provide to tap water users.
"I am confused, I did not give a payment hill. Should have given it so we can know. Like before paying for electricity there is a receipt; so we can know how much usage and how much it costs. "
Saman was also surprised because the electricity costs he had to pay in one month could be up to IDR 150,000 for three voucher refills. Even though he has saved electricity. "In the past there (Bukit Duri) Rp. 150,000 a month already paying for water because I use sanyo. "
Recehan
Saman not only lost his place of residence; his business also floated. He used to sell spices in the Bukit Duri alley market which is open from 07.00-10.00 WIB. When the order is high, the profit can be up to Rp. 1 million in 2 days. Subscriptions can be from anywhere: warteg owner, fried rice seller, or meatball vendor. The person who was going to have the wedding party came.
He also has other side businesses, namely buying and selling cabinets and motorcycle taxis. From the results of these kinds of efforts, he was able to send his children to school to graduate from private vocational high schools. He is able to pay off motorbike installments without ever being in arrears. Every year he can also return to his hometown by setting aside Rp. 50,000 a day. His house, which burned down in 2001, could be rebuilt.
He has even planned to rent a shop around Bukit Duri. But the eviction by the DKI Regional Government has obliterated his entire business and aspirations. Now to pay for a rented plot of Rp. 750,000 per month he was not able to. He had no choice but to move to the Rawa Bebek Flat.
"If my business is not evicted, I might still be able to contract it. The business was evicted, the house was evicted… I was double, my blank was there. If my house is evicted, my business is not evicted, I will still be able to survive in Jakarta. "
At Rusun Rawa Bebek, he started everything from scratch. He was confused because he did not have any income.
Then he asked permission from the manager to sell vegetables on the ground floor.
Initially the merchandise was selling well because there was no competition. But lately the sales have started to decrease because people's purchasing power has decreased. Even though the market is limited to flat residents.
The profit he got was not much. He got even more troubled when the price of vegetables went up. He tried to find the cheapest vegetables to suit the purchasing power of the flat community. From Cibitung market, he moved shopping to Kramat Jati Main Market, which takes one hour by motorbike if it is not jammed.
"In this flat the technicians are fast, security is maintained, cleanliness is good. I admit it. You don't have to pay for the parking motorbike. The building is cute everywhere. But this is where the economy gets even more difficult. The decline was really felt. "
A better economy was also experienced by Samsiar when he was still at the Fish Market. Apart from scavenging, he was busking. From selling votes every day he can pocket Rp. 60,000. Now his only income is picking garbage in the flat area. The security guards do not allow residents to collect waste outside the flat.
It never occurred to him to trade. But he immediately shook off the thought as well as realizing there were too many rivals in the flat. On the other hand, his waist could no longer be strong when he worked as a scrubbing cleaner.
Sumratul, who opened a shop on the ground floor of Block F, was also bandaged with a miracle. Initially he was working in Sunter. Too far and tiring if you have to commute every day from Rawa Bebek there. Finally he turned to block F. In Rawa Bebek he has also been in the cake business, partnering with his in-laws. It turned out that the problem immediately confronted him. The electric power there is not sufficient to operate the cake making tools.
"It really feels the difference. We used to be able to hold more money. Now from this little shop, it's change. But what else can you do? "
job vacancy
That afternoon the Head of the Rawa Bebek Rusun Darmawati Sembiring had just finished receiving guests from the Ministry of Public Works and Public Housing. This place is often visited by state officials and members of the people's representatives from various regions who come for comparative studies. They want to see for themselves how the residents adapt and manage the flat.
Darmawati said that the DKI government has made efforts to provide facilities so that residents can quickly adapt to their new environment. Fulfilling the residents' request, a kiosk was prepared. Economic strengthening is also the goal. Then, on the ground floor, a place for business was prepared; free electricity. Facilities for empowering farming communities also exist.
So far, he said, to fulfill various requests from residents, as managers they only need to coordinate with related work units in the DKI provincial government. For the provision of sports facilities for children, for example, the manager only needs to coordinate with the sports agency.
The government has prepared the facilities; that there are still many residents' complaints, that, according to Darmawati, is only natural. Time, he said, would definitely make things better. This includes those who have not found a suitable new job. Of the 189 Fish Market residents who live in the flat, 30% are rents in arrears.
"Maybe it depends on each one's sustenance too. And their desire to try, "said Darmawati.
Flat management actually provides opportunities for residents who are in arrears in rent due to not having a job. They are accepted as cleaners or technicians. Meanwhile, for those who are less able to pay, assistance is being sought from the government. "Which government doesn't want to help its citizens who are in trouble? There is no such thing, "said Darmawati.
Apart from being unable to afford it, there are also residents who refuse to pay because they are not used to it.
The rental fee is Rp. The 300,000, according to him, is still affordable and cheap when compared to the facilities provided by residents.
The government provides free Transjakarta transportation to the flat. School buses are also available to transport children who have moved schools to the residential circle.
"Also, if they are sick, there is a doctor. There is a clinic that is open every day. Then their children don't have to go all the way to look for the library; here the library is there. Their facilities for interacting are also good. That can't be valued in money. "
There are indeed sanctions for arrears, ranging from warning letters to disapproval from the flat. However, so far no residents have been released for being in arrears. "Maybe there is a lot in arrears, he is embarrassed, he keeps going out alone. So, that's fine. " (Deborah Blandina Sinambela)