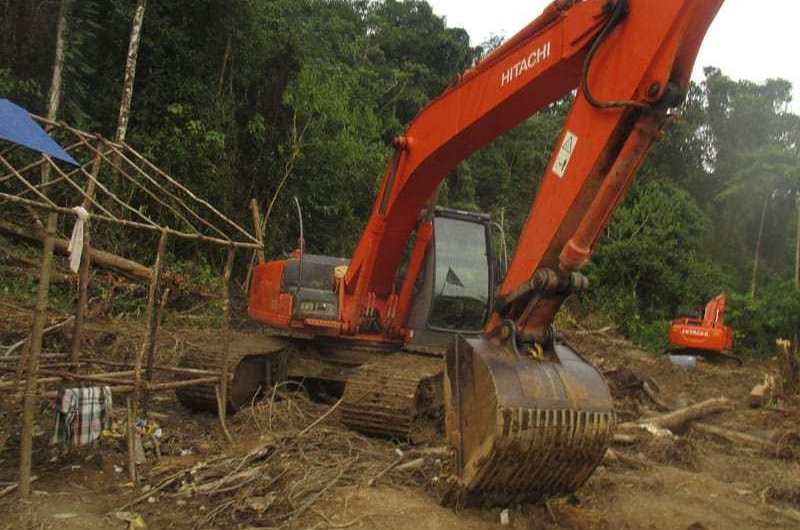 Illegal gold mining in Aceh does not only involve Acehnese. The illegal mining also involves workers who are brought in from outside Aceh, whether as miners, heavy equipment operators, as well as mechanics to repair damaged machines.
MEULABOH - EDI has just finished inspecting the damaged excavator heavy equipment. Then, the resident of Medan, North Sumatra, walked and waited for a ride to get down to the residential area. Edi is a mechanic sent by a heavy equipment owner from Medanke Pante Ceureuman to inspect the heavy equipment damage.
After Edi finds out where the engine failure is, he will repair it. If there are spare parts to be purchased, they will be sent from Medan to Aceh. The heavy equipment he has repaired is used to dig holes in the riverbed to suck up the mud containing gold. Heavy equipment was left by the river guarded by several people.
That day, Edi was unable to repair the heavy equipment because there were spare parts that had to be purchased in Medan, North Sumatra. Ten hours to deliver goods from North Sumatra to Meulaboh, West Aceh District. If sent by public bus, it may take longer.
"I've been here for three days, I worked at a company that rents out heavy equipment to (mining) entrepreneurs," said Edi.
Edi admitted that even though the heavy equipment was rented for several months, the owner of the heavy equipment was still responsible for the damage. Including sending a technician to repair. Heavy equipment operators are also paid by the heavy equipment owner.
"The company where I work has been renting heavy equipment for several months to entrepreneurs here, I don't know the number of heavy equipment our company operates here, because where I work there are several technicians," said Edi.
Edi admitted that he had been sent by heavy equipment owners several times to repair damaged heavy equipment. Usually, heavy equipment is damaged due to working too long, some even overtime at night.
According to Edi, the cost for renting heavy equipment is usually calculated by the hour, but there are also those who rent it monthly, depending on the agreement between the miner and the owner of the heavy equipment. "For the place I work, it is calculated Rp. 250,000 for one hour. In one month it can reach more than IDR 50 million, "explained Edi.
Meanwhile, the cost of transporting heavy equipment from Medan to the gold mining location is borne by the renting party, including fuel. Heavy equipment damage is borne by the owner. Heavy equipment operator salaries are also borne by the heavy equipment owner.
Edi had to wait a long time, because spare parts had to be imported from North Sumatra. Many spare parts for heavy equipment are not available in Meulaboh, and must be purchased in Medan, so heavy equipment cannot be repaired in one day.
***
TAMI is a resident of Banda Aceh, Aceh Province who manages several heavy equipment. In the gold mine in West Aceh and Nagan Raya districts, he manages about eight heavy equipment.
Tami admitted that he had been renting heavy equipment for a year to gold mining entrepreneurs in the two districts. One heavy equipment is rented for Rp. 60 million per month. Heavy equipment damage must also be borne by the owner or manager of the heavy equipment.
Tami admitted that previously there were 12 heavy equipment that he managed to work in gold mining in West Aceh and Nagan Raya, but four of them had been brought home because the risk of renting heavy equipment to gold mining was very high.
"There were heavy equipment that was submerged in water due to flooding, some were arrested by the police, although when the police arrested the cost of being caught by the tenant, the owner also lost because the heavy equipment could not work and was stuck at the police station," said Tami.
Tami is waiting for the day to return all the heavy equipment. When the lease period expires, he admits that he will repatriate all the heavy equipment he manages. "Now there are two heavy equipment submerged in the river. Because when crossing the river it was damaged and dragged into the flood. I am still trying to remove the two heavy equipment, a lot of money has run out, "said Tami.
Edi and Tami's activities are proof that illegal gold mining activities using heavy equipment are still happening in Aceh. Regardless of the moratorium or any prohibition related to illegal mining activities, people like Edi and Tami choose to work in the heavy equipment rental sector for illegal mining, because money is still pouring out of it. (NETWORK Team) ***