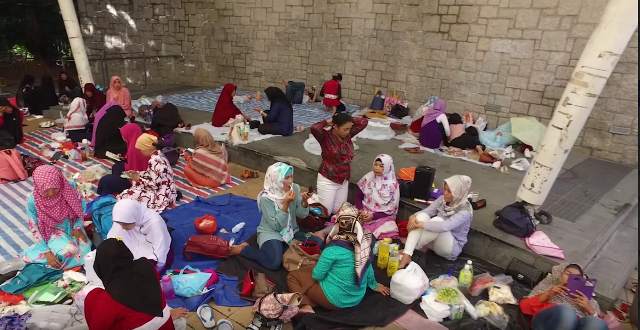 The sun was not empty when a woman stepped into the front of Mari's house, February 2017. Her clothes were all black and left only a small part of the open around the two eyes.
"Who are you ?," asked Mari while guessing the face behind the veil.
The woman introduced herself by saying a familiar name. Reluctant to believe, Mari asked her guests to remove the veil. It didn't take long to confirm that the face belonged to Lia, her nephew.
That was the beginning of Lia's appearance before her family in Doko Village, Kediri, East Java, after a year of no news in Turkey. Lia did not return home alone, she was accompanied by the Special Datasemen 88 on Anti-terrorism.
Lia has an identical story with many women in her village. Squeezed by economic conditions, his education was not complete until Senior High School. In the midst of limited job options, a large salary offer encourages him to try his luck in a foreign land.
Having been a migrant worker in Malaysia and Singapore, Lia decided to move to Hong Kong in 2010. The reason is simple: the country offers multiple salaries and a day off each week.
"There are a lot of salaries there. Those that were sent were Rp1.5 million to Rp1.7 million, "said Joko, Lia's father, to us at the end of last September.
At the end of the third contract which ended in August 2016, Lia notified her father that the elderly she had been caring for had died, so the employer was reluctant to renew the contract. This did not make Lia feel discouraged. He already knew how to move on.
"Sir, I want to say goodbye to work far away. Where to stay from Hong Kong, Li? It's far, sir, "said Joko imitating a conversation with his eldest daughter at that time.
Joko did not immediately agree to the saying goodbye over the telephone. He asked Lia to hold back his desire to work in a bakery located in Turkey. However, Lia argued that the departure could not be postponed because the new employer had already bought a ticket.
Two Versions
It is not clear how much Lia's income in Turkey is, but the woman born in 1982 stopped sending money to Indonesia. In fact, he still has a dependable son who lives with his grandfather.
To Ayu, her younger sister, Lia tells a different version of her story about her work in Turkey.
"They said it didn't work. If you work in Hong Kong, you don't work in Turkey, so you can't send money, "Ayu told us last September.
Instead of working in a bakery, Lia's daily activities in Turkey are filled with cooking, reciting the Koran, and hanging out with several other Indonesians. He also does not live in a hotel as told to his father, but lives moving from location to location. The place where she lives is called Lia as a shelter.
"I don't know what the story is, they were constantly raided and then told to return (to Indonesia)," said Ayu.
Ayu had time to investigate why the security forces raided Lia's shelter, but she only got the excitement as an answer. He is well aware of the change in his older brother, who has been reluctant to speak much since returning from Turkey.
"It seems (something is covered). In the past (Lia) used to tell stories, now she is even more silent when asked, "he added.
From television news, Ayu learned about the news about several Indonesian citizens who had been repatriated from Turkey for trying to cross into Syria. However, he was not sure that his brother was involved in a similar case.
"No. (story) at all. (I) was surprised why I joined the (ISIS) network, "Ayu was amazed.
Ask for a Book
After the declaration of the Islamic State of Iraq and Syria, several Indonesian Migrant Workers in Hong Kong tried to realize their fantasies of living in the shade of a caliphate. Some of them managed to cross into Syria, while the rest were stuck in Turkey and faced with tightening national borders.
A year before Densus 88 sent Lia back to Indonesia, another BMI from Hong Kong suffered a similar fate. Secretary of Surjo Village, Batang Regency, Central Java, Teguh Kurniawan, spoke with Aya and asked the reason behind his intention to move to Syria.
"He said he wanted to explore more religious knowledge. Then I asked where did I get the information (about ISIS)? From Facebook, "Said Teguh, last October.
Failure to enter Syria did not make Aya's desire to deepen religious knowledge just disappear. He had asked to find several books, one of which was written by Sayyid Qutb, a Muslim Brotherhood leader who was executed by the Egyptian government because he was accused of being involved in the plot to overthrow Egyptian President Gamal Abdul Naseer.
It's not easy to find books to read in areas like Batang. Moreover, some of the titles Aya wanted did not appear on the market and were only circulating hand to hand among supporters of extreme Islam.
However, women born in 1991 don't seem to care. For him, the village secretary must be able to meet the demands of the residents at any price.
"While cycling, around the 2016 Haj season, he once stopped to question books. I answered that I didn't get it, then he said Mr. Carik was a lie. Even remember I like that, keep going again, "complained Teguh.
Lost
After move away leaving and leaving the accusation of being a liar, Teguh no longer had the opportunity to meet Aya face to face. From her father, she got the news that Aya had said goodbye to Pekalongan to look for books.
Until now, Aya never again appeared  in Surjo Village, as well as the book he wanted. His father didn't know where to look.
However, traces of her interest in extreme understanding of Islam are still detected from several profile photos that Aya posted on her instant messaging account. A source shared some of his screenshots with us.
One of his profile photos features a photo collage containing several domestic and foreign religious leaders, including Anjem Choudary and Omar Bakri Muhammad. The two of them are members of the Al-Muhajiroun organization, an organization that the Saudi Arabian government has blacklisted since 1986.
Aya also had the chance to update his status on his instant message account with a sentence rejecting democracy and advocating for jihad. Our source said that Aya had been traced to Bekasi and Aceh before being observed in Poso, Central Sulawesi recently.
A similar case happened to Lia, who also disappeared from her village after a month of being sent home. After working for one month in Kediri, Lia said goodbye to her father to join her employer to move to Bandung, West Java. Feeling something strange, a few days after his son said goodbye, the father tried to check directly into the employer's house.
Joko was shocked when he learned that Lia's employer had not moved to Bandung and was still in Kediri. Lia again tricked Joko with an alibi to change jobs.
Survival of Fantasy
Alfindra Primaldhi, a researcher at the Center for the Study of Terrorism and Social Conflict at the University of Indonesia, assessed that Indonesian citizens who were deported from Turkey for trying to cross to Syria still harbor fantasies about the life of an Islamic state in their heads.
"Those who were returned never arrived in Syria. So their knowledge of what happened in Syria was obtained from other sources, for example gossip or stories on social media, not direct experience, "explained Alfindra, last November.
On the other hand, he continued, not a few ISIS sympathizers managed to cross into Syria but returned home disappointed. The real conditions in Syria are not in line with the fantasy of Islamic life that they have imagined so far.
"After returning to the environment that the RT / RW family received, no one can monitor (the deportants) for 24 hours," said Irfan, last October.
Director of Deradicalization of the National Counterterrorism Agency, Irfan Idris, said that several deportants who were returned to their families had received deradicalization materials. As for those who do not undergo this process, BNPT cannot monitor them continuously.
"After returning to the environment that the RT / RW family received, no one can monitor (the deportants) for 24 hours," said Irfan, last October.
One of the ones missing from the BNPT's radar is Anggi Indah Kusuma, an Indonesian migrant worker who was deported from Hong Kong in April 2017. He was sent back to Indonesia after uploading a video recording of himself raising the ISIS flag in a corner of Hong Kong.
"Anggi is just the usual child before going to Hong Kong. He didn't have any stories to tell. All of a sudden he was accompanied by the Densus and the police, "said Susilo when we met at the end of September 2017.
The woman who took the alias Khanza did not talk much and locked herself in the house more after being sent home by Densus 88. A week after that, taking advantage of the condition of the house that the residents were living in, she rushed to take a thousand steps.
His tracks were not traced until finally Densus 88 sniffed his tracks in Bandung, West Java, on Tuesday, August 15 2017. This time, the authorities did not bring him back home, but dragged him to the Mobile Brigade Command Headquarters (Mako Brimob), Kelapa Dua, Depok. . He and four colleagues allegedly planned a bombing at the Presidential Palace using chemical bombs.
Hopefully those who are lost after returning home will not take steps like Anggi. The door to the house is always opened for them, just like the closing sentence Joko left through us for Lia, his son.
"Previously, I apologized, if for example I met (Lia) tomorrow, I would ask her to go home. I really miss (him), "Joko ordered stumblingly.