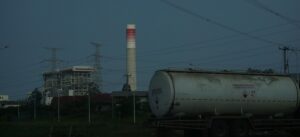 The chimney of the VII Java steam power plant (PLTU) rises in Terate Village, Kramatwatu, Serang, Banten. Every day, at least 20 thousand metric tons of coal are burned by PT Shenhua Guohua Pembangkit Jawa Bali (PT SGPJB) to produce electricity. Muhammad Iqbal, a local resident, could clearly see from the terrace of his house how the remains of burning coal were steaming at the top of the chimney. Meanwhile, fine ashes fell right over his head.
"Black smoke comes out at night," said Iqbal while lamenting the smoke, Saturday, November 14, 2020.
The burst of smoke, according to Iqbal, will be accompanied by disposal of heat waste into the sea. The sewage pipe is about 500 meters from the mouth of the Berung River, a body of water often used by local fishermen to take off the coast. In addition to the hot temperature, according to Iqbal, the seawater used by the PLTU to cool the steam boiler turned brown, spread foam to the surface of the sea, and exhaled a foul odor.
"That lump of foam is too thick, it smells dirty," said Iqbal.
Iqbal is not the only fisherman who is bothered by the disposal of heat waste. In Terate Village, no less than 1000 fishermen have the same fate. Suheri (41) and Ali (41) two of them. Their arrests dropped dramatically after the PLTU stood up. Previously they were able to bring home 20 kilograms of fish, such as snapper, milkfish, and mullet. However, since the PLTU began operating, their catch has not exceeded 5 kilograms.
"The catch zone is now narrowing," said Heri when met at his residence in Terate Village, Saturday, November 14, 2020.
Even another fisherman from Cikubang, Pulo Ampel, Ali admitted that he had to throw nets up to 20 times to bring home the 5 kilograms of fish.
"That is not necessarily possible. Where are we going to find food? where we are eaten by PLTU. The coral reefs are gone. In the past, it was very easy for us to get fish because there were many coral reefs, "said Ali.
That is because the fishing communities operating around PLTU-7 filed a protest at the Environmental Service Office of Serang, Banten in June 2020. They demanded that the local government intervene in handling allegations of sea water pollution. However, until now those asked have not shown the bridge of his nose. In fact, the foam of heat waste flowing into Banten Bay is getting thicker and spreading up to 3 kilometers from the disposal site.
On Tuesday, August 4, 2020, Iqbal and a number of fishermen had submitted an examination of the heat waste sample. They brought foam and mud from hot water to the local Environmental Implementation Unit (UPLH). However, this sample cannot be accepted because there is no copy letter from the Environmental Service Office of Serang Regency. Several days later, the fishermen managed to get a letter to submit a sample of heat waste.
"The goods have been received, there is an explanation that the results will come out in 14 working days," said Iqbal remembering the process of submitting waste samples.
After three months, the deadline promised by the local government was not met. Never mind the results of laboratory tests, the fishermen also never received any notification regarding sample testing.
"It should have come out last August 18, until November there have been no results. Dinas said it would be confirmed again. A phone number has also been given, "said Iqbal who was getting annoyed with the official treatment.
Iqbal hopes that the local government will immediately intervene in researching heat waste in the waters that have been the source of life for local fishermen for generations. According to him, the allegation of environmental pollution around the PLTU cannot be denied. One proof of disposal of heat waste into the sea is stored in a 1.02 minute video on his cell phone. The video shows how waste irrigates the sea until it becomes cloudy and foamy. This condition, he said, occurs almost every day when a power plant with ultra critical sector technology (USC) dumps heat waste into the sea.
"We will continue to guard," said Iqbal.
***
Contacted separately, the Secretary of the Serang Regency Environmental Service, Yani Setyamulida, admitted that he did not know about the heat waste samples provided by fishermen from Terate Village. He promised to trace the results of the waste testing.
"I will confirm. I have to check into the relevant fields. I will see and follow up, "said Yani when contacted by Jaring.id by telephone, Wednesday, November 18, 2020.
PLTU Jawa-7 with a capacity of 2 × 1.05 MW is claimed to be an efficient and environmentally friendly power plant. The reason is that the PLTU, which began operating since September 2020, uses a coal transportation system conveyor covered 4 kilometers long. Conveyer This tubular shape will minimize the scattering of coal into the sea.
Yani said that the Environmental Service Office would not hesitate to take firm action against companies that have polluted sea water.
"Environmental management must depart from ourselves. Don't just have supervision, it will be good, but if there is no supervision it will be bad, "he said.
Meanwhile, Director of Pollution Control and Coastal and Marine Damage at the Ministry of Environment and Forestry (KLHK), Dida Migfar, emphasized that the government will monitor the management of coal power plants until this December. The company is asked to control waste disposal so that it does not aggravate the destruction of the marine ecosystem of Banten Bay.
"We will try whether it can be controlled in the future. How to handle it, that's what we do, "said Dida when contacted by Jaring.id by telephone, Thursday, November 19, 2020.
In this case, the Ministry of Environment and Forestry asked PT Shenhua Gouhua Pembangkit Jawa Bali to immediately submit a quarterly report regarding environmental conditions. After that, the Ministry of Environment and Forestry team will carry out inspections and carry out laboratory tests of the heat waste samples that the PLTU-7 flows into the sea.
"We have told them. Next week there will be an answer from the company, "he said.
Until this article was published, Jaring.id had not received confirmation from PT Shenhua Gouhua Pembangkit Jawa Bali. Requests for interviews, whether submitted by telephone or post, are not returned. Meanwhile, a spokesman for PT Shenhua Gouhua, Vicky Yang, when contacted separately, admitted that he could not answer Jaring.id's questions.
"Let me ask first and I will share it if I can confirm it," said Vicky when contacted by Jaring.id via WhatsApp, Wednesday, December 2, 2020.
Even so, the PLTU-7 management company does not deny the existence of foam bubbles in the process of discharge of heat water. In a brief description of the company received by Jaring.id and Suara.com, the foam around the PLTU discharge pipe was caused by heavy water discharge. In the cooling process, the PLTU-7 furnace spews at least 70 cubic meters or the equivalent of 70 thousand liters of water per second into the sea. This is what is claimed to stir the sea surface to produce foam.
"The foam that appears can last a long time due to natural factors and other causes," said the company statement PT SGPJB in a letter of clarification on August 10, 2020.Abdus Somad)
---
The report entitled "Against Bahang Shipments PLTU-7"Is part 2 of three texts that highlight the impact of the construction of a steam power plant (PLTU) in Banten. Previously, Jaring.id published a main report with the title "Suam-Suam Danger in Banten Bay."
The publication of this report was carried out by Jaring.id and Suara.com with the support of the Jakarta Alliance of Independent Journalists (AJI) and Trend Asia. Since the beginning of November 2020, we have been doing journalistic work, from observation to testing of samples of heat waste that flowed by PLTU-7 to Banten Bay.