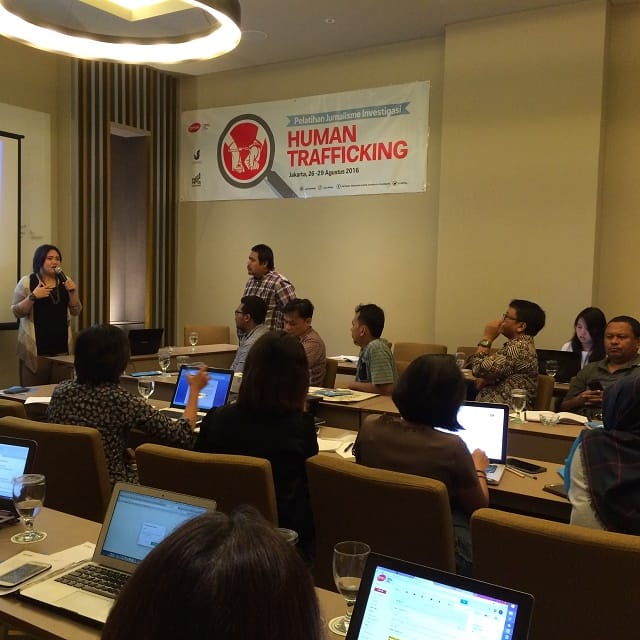 JAKARTA, NETWORK - Investigative journalism for issues human trafficking (human trafficking) must be developed and continuously encouraged. "The media has a very important role in educating people about various matters related to human trafficking," said Maria Hartiningsih, a senior journalist, in front of the participants of the Fellowship for Journalists: Human Trafficking Investigation Report, Saturday (27/8) in Jakarta.
Maria encouraged journalists not to write stories at the end, when victims had already occurred. "There are problems upstream. The task of journalism is unraveling at the beginning. This is because there are tasks that the state as a government does not do, "said Maria.
He agreed that the right to work is a human right. Anyone is free to work anywhere. However, the state must also guarantee the rights of its citizens to find work in their own country. "The government's job is to create jobs. If it is not dismantled from here, the government will be happy. They are not doing their job to reduce unemployment, "said Maria.
Jobs are not only for the educated, but also for the uneducated. Most Indonesian people only receive education for less than six years of schooling.
Maria further said that the right to work can occur if it is fully protected. What is happening now is that there is no protection for citizens who work abroad. The government only found out when its citizens' organs were being traded. In fact, the foreign exchange target of migrant workers continues to grow. "Migrant workers are made a commodity," said a senior journalist who worked at Kompas until 2015.
Maria reminded that as journalists, we must apply a human rights perspective in reporting. "Even if one dies, it's still a human. Numbers don't matter. We are obliged to fight for his rights, the right to live, "he said.
Weak Reporting
Maria also criticized the media's weak attitude towards the issue of human trafficking. "Some media are not even aware of the trafficking phenomenon, or are confused with other issues such as illegal migration and smuggling of foreigners or people from other countries," Maria said in the presentation of the material. In fact, the media plays a very important role in mobilizing the public and getting involved to help prevent and eradicate human trafficking.
"Public opinion and media coverage are closely linked, as well as have a direct impact on policy. It is very important for consumers to carefully observe the surface image of news coverage to get the right answer, "he said. For consumers who only swallow news without being critical, erroneous news becomes a source of gossip.
Addressing the issue of human trafficking requires more work than standard journalistic work. The execution and writing of the report must also take into account human rights from a strong power relations perspective because most of the victims are women, girls and boys.
"The most important thing is to ensure that there are no violations of the rights of victims and survivors or survivors, both in writing reports and in carrying out journalistic work. They also have to be able to identify the perpetrators, "Maria explained.
Maria also advised journalists not to write only about gloomy situations, but also those that build hope. "For example, interviewing trafficking victims who rose, not only returned to a normal life, but also became a source of inspiration because they were able to fight their downturn with hard work and produce real work. The story of Ima Matul is one of them, "he said. (Ida Rosdalina)