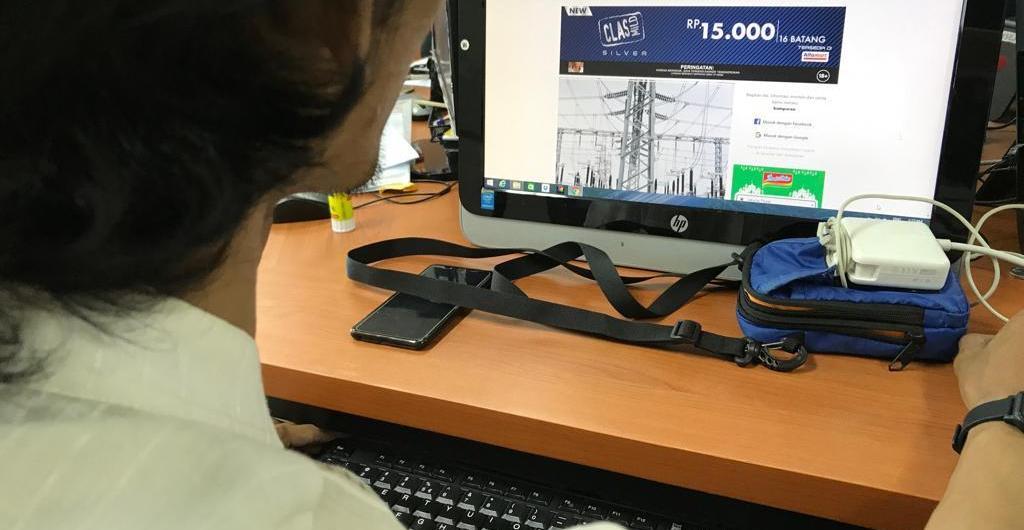 Anthonius Malau, Head of the Sub-Directorate (Kasubdit) of Internet Content Control of the Ministry of Communication and Information Technology (Kominfo) was repeatedly asked to block cigarette advertisements on online news sites and social media platforms. At the end of April, in a discussion entitled Challenges and Opportunities for the Total Prohibition of Advertising, Promotion and Sponsorship of Cigarettes in Online Media, this was again conveyed by the anti-tobacco community.
"If the Ministry of Health has the courage to issue a regulation stating that cigarette products are prohibited from being advertised, including on the internet, then Kominfo will ban all cigarette advertising content on the internet," he replied at the time.
Hearing this statement, Theresia Sandra Diah Ratih, who sat on a panel with Antonius, became inflamed. According to the Head of Sub-Directorate for Chronic Lung Disease and Immunological Disorders, Directorate of Prevention and Control of Non-Communicable Diseases (P2TPM) of the Ministry of Health, Kominfo does not need to wait for the Ministry of Health to control the promotion of tobacco products.
Government Regulation (PP) 109 of 2012 concerning Safeguarding of Materials Containing Addictive Substances in the Form of Tobacco Products clearly regulates this. Among others, Articles 27 and 30 which limit exposure to cigarette advertisements in information technology (IT) -based media by verifying the age of internet users.
"Advertising on television which regulates the Indonesian Broadcasting Commission (KPI), print media advertisements of the Press Council, if advertising on the internet is the authority of Kominfo," argued Theresia.
Kominfo, he continued, needs to limit access to cigarette advertisements for internet users under 18 years of age by verifying age. Moreover, the research results of the Tobacco Control Support Center - the Association of Indonesian Public Health Associations (TCSC-IAKMI) show that adolescents aged 10-18 years are most exposed to cigarette advertisements via the internet, such as YouTube, websites, Instagram, as well as online games.
The Food and Drug Control Agency (BPOM) recorded an average of 20 pop-up cigarette ads per day on news portals. However, the current regulations on advertising restrictions are unable to monitor the circulation of cigarette advertisements on the internet.
According to the Head of Sub-Directorate for Tobacco Products Supervision of the BPOM, Moriana Hutabarat, monitoring advertisements in online media is much more difficult than conventional broadcast and mass media. The reason is, it is impossible to impose restrictions based on broadcast hours for advertisements on the internet. In addition, Kominfo always argues that it is difficult to implement age verification for advertisements.
"So, cigarette advertising on the internet should be totally banned," he suggested.
Based on Jaring.id's observations, almost all national online news sites contain cigarette advertisements. Mainly from three giant cigarette manufacturers such as PT. Djarum, PT. HM Sampoerna Tbk, and PT. Gudang Garam Tbk. However, there is no data that shows specifically the amount of cigarette advertising spending in online media.
***
Nielsen's survey of cigarette advertising spending in conventional media, such as television, newspapers, magazines, tabloids and radio in recent years has decreased. In 2016, cigarette advertising spending surpassed Rp. 6.4 billion per year. Meanwhile, in 2017, it amounted to 5.4 billion and became Rp.5.9 billion last year.
According to Nielsen's Marketing and Communication Director, although in 2018 there was an increase in the value of advertising spending compared to 2017, there was a decrease in the number of ad spots. The recorded advertising spots reached 159,694, while last year there were only 142,919 ad spots.
"The increase in the value of advertising spending is more driven by an increase in the price or rate of advertising," he said in a written statement to Jaring on Wednesday, May 29, 2019.
Referring to this data, researcher Ridhwan Fauzi Tobacco Control Support Center-Indonesian Association of Public Health Experts (TCSC-IAKMI) emphasized the transition of cigarette advertisements from conventional media to online. This is a serious threat to teenagers who access the internet.
"As a company profit oriented they (cigarette companies) don't just let go, there must be shifting to another place. For online media itself, we don't have any data, but our suspicion is going to online media, "he assured.
The Secretary General of the Indonesian Cyber Media Association (AMSI), Wahyu Dhyatmika, did not deny that online news sites are currently a storefront for cigarette manufacturers. But he assured that so far the media have tried to protect the public through reporting. Among other things, reviewing products and lifestyles that are harmful to health, including cigarettes.
"On the one hand, AMSI realizes the dangers of smoking for health, especially the younger generation. On the other hand, the arrangement of the association members' business areas also requires time and process. Given the various profiles of AMSI members, "said Wahyu Dhyatmika in a written statement received by Jaring.id on May 22, 2019.
***
Commissioner for the Indonesian Child Protection Commission (KPAI), Jasra Putra, told Jaring.id that he was concerned about the effect of cigarette advertisements in online media on children. For the cigarette industry, children are only targeted, so that their businesses do not go bankrupt.
"Teenage smoking is the only source of substitute smoking. If teenagers don't smoke, the industry will go bankrupt. Children are the target of cigarette advertisements, "he said irritably.
The results of TCSC-IAKMI research conducted in 16 districts / cities since 2017 show that adolescents aged 10-18 years are the most exposed to cigarette advertisements. This is in line with the profile of internet users released by the Indonesian Internet Service Providers Association (APJII) in 2018. As many as 91 percent of adolescents aged 15-19 are registered to use the internet.
Widyastuti Soerojo, Chairman of the Special Agency for Tobacco Control, IAKMI, thinks there is a need to improve the regulation on the prohibition of cigarette advertising. | Photo: Debora (net.id)
Meanwhile, the 2018 Health Research showed that the prevalence of adolescent smokers touched 9.2 percent. In fact, the 2019 National Mid-Term Development Plan targets the number of teenage smokers to fall to a level of 5.8 percent.
London School Public Relations (LSPR) lecturer in Jakarta who was also involved in the research, Kiki Suwarno, revealed that around 10 percent of adolescents are prone to becoming smokers after watching advertisements on the internet.
"Anyone who can access the online world and technology will be exposed to cigarette advertisements," he said when met by Jaring.id on May 10, 2019.
Even so, cigarette advertisements will not automatically make someone smoke. According to researcher Ridhwan Fauzi, Tobacco Control Support Center-Indonesian Association of Public Health Experts (TCSC-IAKMI), cigarette advertising is currently trying to frame risk-free behavior. The method is to be sedated by displaying a positive image for young people, such as outdoor activities, the meaning of solidarity, to tolerance.
"A person's decision to smoke is long. Not necessarily advertising today, smoking straight tomorrow. But at least the advertisement creates the impression that smoking behavior is normal, normal, "he said.
That was what Alkindi (19) felt. This early semester student of a university in Depok, West Java stated that he often sees cigarette advertisements on online media. "The advertisements are everywhere," he said.
Meanwhile, Widi Alfatah (21) admits that he is amazed by the content of cigarette advertisements. This man, who started smoking since elementary school, was more or less influenced by cigarette advertisements. For him, cigarette advertisements make him feel cool when he billows smoke into the air.
"Moreover, cigarette advertising now looks premium. The actors are cool, "said Widi at the Margonda coffee shop, Depok on May 27, 2019.
Therefore, the Chairperson of the IAKMI Special Tobacco Control Agency, Widyastuti Soerojo, assesses that tobacco control efforts require detailed and firm rules.
According to him, regulations related to tobacco distribution control such as PP 109 were ineffective and left many gaps. This regulation does not explain who is authorized to carry out supervision, how supervision is carried out and what sanctions are imposed on violators.
This is the reason Kominfo and the Ministry of Health often accuse each other of authority. "The rules exist but they are barren. Sometimes these regulations are issued, without any feasibility. As long as there are regulations, "he said when met by Jaring.id on May 14, 2019 at the office of the Indonesian Doctors Association (IDI), Central Jakarta.
Meanwhile, a member of the People's Representative Council (DPR) from the Gerindra faction, Sumarjanti Arjoso, considered that the partial ban on cigarette advertisements has proven ineffective in protecting children from the dangers of smoking. According to him, the existing regulations are inversely proportional to the high number of teenage smokers.
"It is time for the total ban on cigarette advertisements in online media," he said. (Deborah Blandina Sinambela)