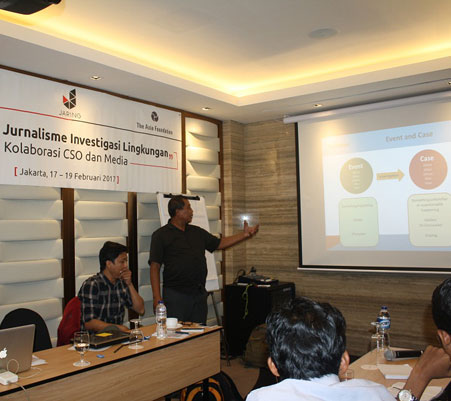 JAKARTA, Jaring.id - An investigative report requires collaboration and synergy with a number of parties if it is to have an impact. Collaboration can be done not only between journalists or between media, but also between journalists and NGO activists.
This collaboration opportunity between the media and NGOs is what the Indonesian Network for Investigative Journalism (JARING) tries to facilitate. Taking place in Jakarta, mid-February 2017, journalists from four media and NGO activists from four environmental NGOs in Aceh, Riau and Pontianak attended investigative reporting training.
NGOs have the advantage of collecting and analyzing data on the cases they advocate / supervise, while the media have the advantage of verifying the data obtained in the corridor of journalistic objectivity.
"You could say that NGOs are more specialists while generalist journalists," said Nabiha Shahab, an environmental journalist and academician who was one of the speakers at the training last February.
The work of NGOs is one of the assets that journalists can use in conducting investigations, so there is no need to start from scratch. However, in using this data, journalists must adhere to journalistic principles. Data verification is mandatory.
Mustafa Silalahi, the Investigation team of Tempo magazine, said that when they got the data, they had to sort out which were state documents and could not be published such as personal information. For example, information containing a person's personal account number may not be published.
"Sometimes we feel heroic to display exclusive data even though the data is included in state secrets or information that is private in nature," said the journalist who is familiarly called Moses.
Information whose source is not clear or information which "says" should not be published. Moreover, for standard investigations, citing anonymous sources also has strict requirements. In-depth reports can use anonymity if there are at least two anonymous saying the same thing and the two sources are not related to each other.
For investigative reporting, the use of anonymous sources can be done incognito. Journalists who go undercover will be identified as anonymous sources. However, all information obtained by journalists during incognito can be published if it has been reconfirmed by other journalists to sources through regular interviews.
Data and information are not sufficient for an investigative report. Moses said data and information must be elaborated in a journalistic manner so that there are stories to be told. Journalistic reports emphasize how and why violations were committed.
The same opinion was conveyed by environmental journalist, Harry Surjadi. According to him, environmental writing must be able to inspire other people to move. You do this by arousing the readers' emotions through story telling.
"It's like a story, there are criminals, there are heroes and solutions. Not just mastering issues, having data or having interviews. We have to tell a story. That is what can move, "he said.
Meanwhile, the ability to convey messages inspires one of the weaknesses of NGOs. As a result, various messages, research and work by NGOs are not widely known and understood so that they do not receive public attention and support. If collaboration is carried out, journalists can close the gap.
Planning
Both the media and NGOs need careful planning before carrying out investigations. For Yudi Prinyanto from Greenpeace Indonesia, planning must be detailed and detailed to maximize field investigations. Greenpeace has standards on what to plan before an investigation is carried out, including task analysis, target analysis, report format, security, logistics and regulations.
By knowing the main target (the information that must be obtained), the investigation technique is determined. Is it enough to make observations and interviews or need incognito. Yudi said that undercover was done if information gathering could not be done in the normal way.
In addition to being disguised, information is obtained by building good networks and relationships with sources so that confidence in providing information appears. The most emphasized thing not to do is bribery in obtaining information.
In journalistic investigations, according to Moses, journalists are often weak in planning and take to the field without sufficient provisions. The results of the investigation were not optimal and endangered journalists' lives. Or when they have a good plan, they find other things that are more interesting in the field so that journalists turn away from the original plan.
"Journalists should stick to the plans and targets that were determined from the start. If there is information or an interesting theme in the field, it should be saved for future coverage plans, "he explained.
Journalists also often neglect safety plans. The level of risk must be calculated from the start so that journalists create security fences. In the vicinity of the incognito location there must be someone who can provide assistance, or if the worst possible case the incognito must know a way out.
"Life must be the priority of everything. Because there is no reward that is worth your life, "said Moses. (Deborah Blandina Sinambela)