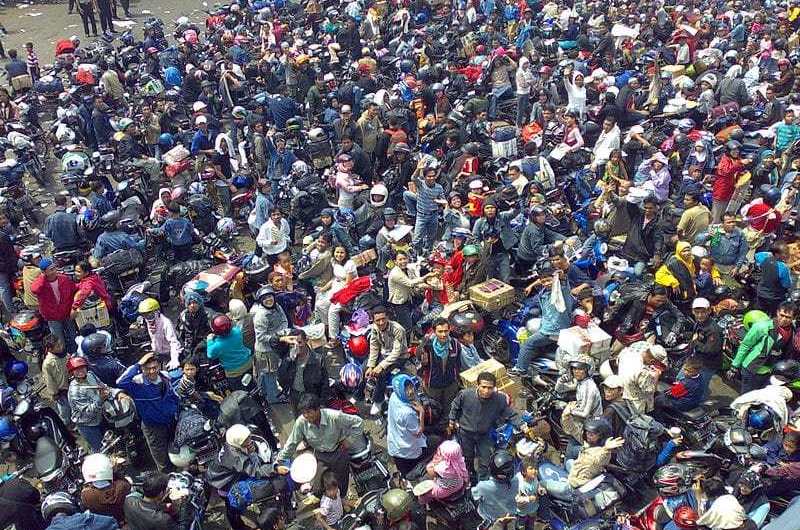 Rifka Annisa (26), a Masters student in Sociology at the Faculty of Social Sciences, University of Indonesia, Depok, West Java, hurriedly scrolled through her cellphone screen. He checked the Jakarta-Indramayu train ticket dated April 23, 2020, which he had bought in advance. The ban on returning to his hometown, imposed by President Joko Widodo, April 24-May 31, 2020, upset him.
"I'm actually afraid to go home, because I could be a virus carrier," said Rifka when contacted by Jaring.id, Friday, April 24, 2020.
However, Rifka admitted that he did not want to be trapped in Depok City during the period of prohibition of going home and large-scale social restrictions (PSBB). Going home is the best choice instead of having to spend Ramadan worship alone in a 3X4 meter boarding room.
Living alone during a pandemic made him worried about his psychological condition. Not to mention that the number of positive Covid-19 patients in Depok has crossed the 250 mark since it was first announced on March 2.
Therefore, the decision was unanimous to pass a three-hour train journey to his hometown. Even though anxiety haunts him because he has to use public transportation, he believes that the health procedures implemented by PT Kereta Api Indonesia can minimize the risk of contracting the corona virus. He must comply with body temperature checks, the obligation to use a mask and wash his hands, and maintain physical distance during the trip.
"At that time I also used two masks," he said.
At home, Rifka immediately reported to Dukuh Village, Jatibarang to carry out independent isolation. For 14 days his condition will be monitored by local health workers group WhatsApp Dusun Dukuh Covid-19 Team. Inside there are 16 people, consisting of 14 people in monitoring (DOP), village officials, and midwives.
"If there are symptoms, the Puskemas will come immediately," he said.
A similar step was taken by the national board of Wahana Lingkungan Hidup (Walhi), Achmad Rozani (36). Since last week, he has isolated himself in the East Java Walhi office before returning to Sidoarjo.
Achmad doesn't want to take the risk of going home early because his in-laws have diabetes, one of a number of diseases that are prone to contracting Covid-19.
"I don't want to take risks for the condition of my family," said Rozani, who has lived in the East Java Walhi office in Surabaya for 9 days.
On Tuesday, April 28, he plans to go home on a motorbike to avoid the crowds of public transportation.
Stay in Rantau
While Rifka and Rozani returned to their hometowns early, Tri Wahyu chose to stay in Yogyakarta even though the distance between Yogya and his hometown in Surakarta was no more than 63 kilometers. According to him, traveling home is very risky considering Yogya is one of the areas where the corona virus spreads. As of April 24, the number of positive cases in Kota Gudeg was 77, 33 recovered, and 7 patients died.
"I can spread the plague to my family. This could have a serious impact, "said Tri Wahyu when contacted by Jaring.id on Friday, April 24, 2020.
Based on survey results from the Ministry of Transportation's Research and Development Agency (Balitbang) 2020, Central Java is the largest destination for travelers, which is 24.2 percent. Followed by East Java with 23.8 percent, then West Java Province with 12.7 percent. Meanwhile, Jabodetabek is only targeted at 6.3 percent of people. As many as 33 percent chose to return outside Java.
Meanwhile, when referring to the Katadata survey results Insight Center on March 29-30 2020, 63 percent of the 2437 respondents chose not to travel back and forth. Another 4 percent chose to go home early after the government declared a health emergency status on March 31, 2020. Meanwhile, 12 percent of respondents said they would continue going home, even though the government had banned it. The survey results also show that the homecoming wave will occur from 16-31 May 2020.
Spokesperson for the Ministry of Transportation, Adita Irawati, said that his party had blocked the return flow from and to areas that had implemented large-scale social restrictions (PSBB). According to him, this prohibition is in accordance with the Minister of Health Regulation number 9 of 2020 concerning PSBB Guidelines and Regulation of the Minister of Transportation number 25 of 2020 concerning Control of Transportation during the Idul Fitri 1441 Hijriah Homecoming Season in the context of the spread of covid-19.
This regulation marks the prohibition on homecoming, either by land, sea or air transportation. Even so, the government does not prohibit airlines from transporting passengers on international routes to and from Indonesia. Meanwhile, domestic flights are prohibited from operating.
Adita explained that the airport runway for domestic passengers will be closed one day longer until June 1, while port access will reopen after June 8, 2020. Meanwhile, long-distance train travel will resume operating on June 14.
"For state-led vehicles, operational services with official plates, TNI, Polri, fire engines, ambulances, hearses, and logistical goods cars are excluded. This ban can be extended, "he said.
Until May 7, added Adita, the government will only ask motorists who want to go home to make a U-turn. However, after 7 to 31 May, the government claims it will impose strict sanctions in the form of fines.
Step Too Late
The Mayor of Surakarta, FX Hadi Rudyatmo, considers that the ban on going home and returning home is too late. Because long before President Jokowi implemented the ban, the movement of people between regions had occurred. There are five destination areas for travelers, most of which go to Brebes (76,016 people), Banyumas (73,468 people), Pemalang (58,517 people), Tegal (48,826 people) and Wonogiri (43,100 people).
"It is right to forbid going home. It's just that many have gone home to the regions. So the decision is too late, "said Rudy at Solo City Hall, Wednesday, April 22, 2020.
Chairman of the Advocacy and Community Affairs of the Indonesian Transportation Society (MTI) Center, Djoko Setijowarno, assessed that the government is not enough to just prohibit going home or returning home. Apart from the need for decisiveness, he said, banning homecoming must be accompanied by compensation for residents who remain in the red zone. He assured them that people would obey not to return to their hometowns if the government could make sure they did not starve to death.
"So far, there is a free homecoming budget for informal sector workers, this budget can be allocated for the provision of basic foodstuffs to help people who are free homecoming participants who cannot return home," said Djoko when contacted by Jaring.id, Friday, April 24, 2020.
He continued the need for incentives or stimulus for public transportation workers, including entrepreneurs. According to him, this assistance must be given so that the impact of the pandemic on the transportation mode business can be minimized.
"In order for the recipient data to be right on target, the Kasatlantas at the Polres as the lowest implementer can cooperate with district and city Organda to obtain data on public transport drivers in their area," said Djoko.
Djoko also recommended that the government revise the Financial Services Authority (OJK) Regulation Number 11 / POJK.03 / 2020 concerning National Economic Stimulus as Policy. Countercyclical The Impact of the Spread of Coronavirus Disease 2019. In this regulation, the credit ceiling limit that can be restructured is IDR 10 billion. This limitation, according to him, is burdensome for transportation entrepreneurs who are currently gasping for air to maintain their business.
"Just eliminating this limitation so that public transport entrepreneurs receive incentives to postpone loan payments. Also postponement of paying taxes and non-tax state revenue (PNBP), "he said.
Previously, President Joko Widodo announced the ban on Lebaran 2020 homecoming because it was considered to have the potential to increase the number of Covid-19 cases in Indonesia. As of Monday, 27 April 2020, there were 9096 positive cases in Indonesia. Most of the cases of Covid-19 were from DKI Jakarta, namely 3869 people. Followed by West Java, East Java and Central Java. On the covid19.go.id site, the number of recovered patients has increased to 1,151 people. Meanwhile, the number of patients who died was 765 people.
However, instead of prohibiting the movement of people altogether, the President made concessions with vague statements that sparked polemics in the community. In talkshow on one of the private television stations, Jokowi allowed the community to return home.
According to him, there is a difference between going home and returning home. Mudik means a trip that the community takes to celebrate Eid. Meanwhile, returning to the village is a return trip for residents who do not settle down or those who are not recorded in their place of earning sustenance.
"Indeed working in Jabodetabek. There are no jobs here, so they go home. Because his wife's child is in the village. The homecoming is on the day of Eid to celebrate Eid. If those who return to their hometown are working in Jakarta, but their wife's children are in the village, "Jokowi explained about returning home at an event. talkshow on Tuesday, April 21, 2020.Abdus Somad)