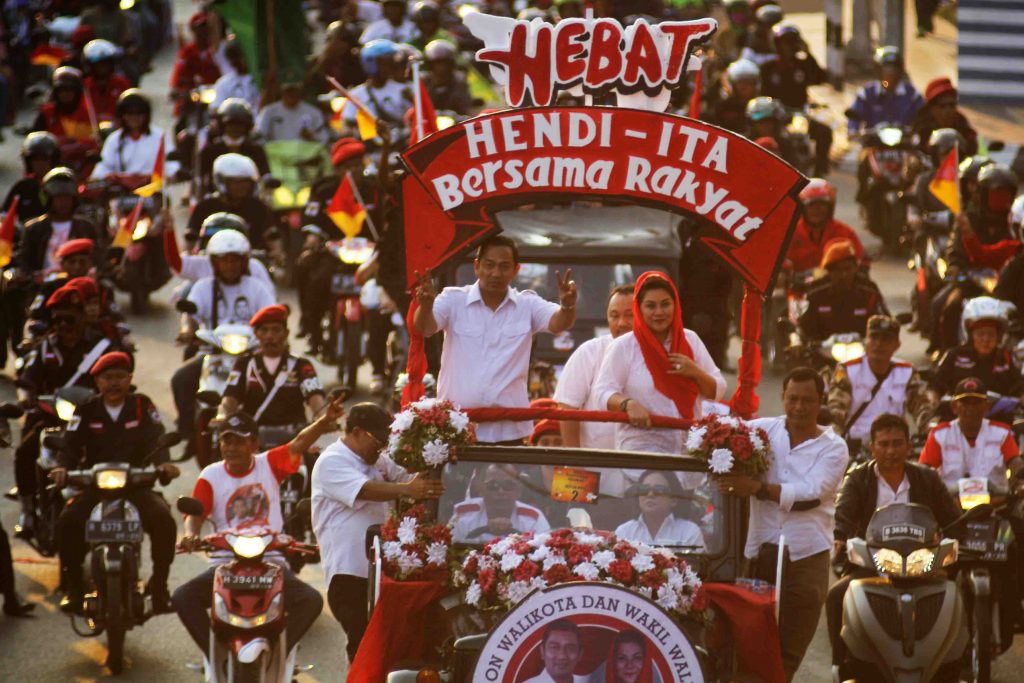 Dozens of kiai and four thousand residents gathered at Hendrar Prihadi's house in Lempongsari, Semarang. At the end of last November (Sunday evening, November 29), the host who became a Candidate for Mayor of Semarang held a Digdoyo Tanpo Aji Win Tanpo Ngasorake (great without winning without underestimating).
The audience, who mostly wore white clothes and songkok, recited tahlil and istighosah to pray for the host. Paired with Hevearita Gunaryanti, Hendi - as Hendrar is called - has the status of an incumbent candidate. This status made it easier for the PDIP-nominated candidate to gain support.
At the event, for example, Nahdlatul Ulama figures were also present, such as Habib Ja Far, Habib Umar Mutohar, KH Hadlor Ihsan, KH Hanif Ismail, and the chairman of PC NU Semarang City KH Anasom, to the Chairman of the Semarang Ansor Youth Movement Muhammad Busro. We, together with friends of Ansor and Banser, are ready to win over Hendi's partner. We have 8 thousand members, said Busro.
As an incumbent, Hendi's network to mass organizations is quite large. The proof, yes that was earlier, a lot of support from mass organizations that flowed. Starting from the Chairman of the KONI, Muhammadiyah Youth, NU, HIPMI, the association of street vendors, the Ansor youth movement, and others.
In the 2014 APBD accountability report document obtained by Tempo, on average the organizations that supported Hendi were those that received social assistance or grants when Hendi was mayor.
Based on the BPK audit of the 2014 APBD, grants for KONI Semarang in 2014 were Rp. 13.8 billion, an increase compared to 2013 which amounted to Rp. 11 billion. The chairman of KONI is Ihwan Ubaidillah. The Chairman of the Organizational Council, Lindu Aji, mobilized hundreds of members to support Hendi. In an open campaign at Simpang Lima, Wednesday, December 2, Ihwan took the stage along with hundreds of troops wearing Lindu Aji uniforms.
Based on the BPK audit, dozens of other organizations were stolen from grants, such as Pemuda Pancasila Rp. 25 million, NU Rp. 50 million, Pemuda Muhammadiyah Rp. 20 million, KNPI Rp. 476 million, Ansor Semarang Rp. 10 million, and others. However, they denied support for Hendi because he had been given a grant. Although the 2014 BPK audit listed Ansor's name as the grant recipient, the chairman of Ansor Busro denied this. I never received social assistance, he said. He claims to support Hendi because of the same ideology.
Ahead of the election for mayor, the budget for grants and social assistance in the city of Semarang has increased dramatically. According to BPK audit documents, the 2014 grant budget was only Rp. 57 billion. However, Hendi, as the Mayor, increased the grant realization to Rp. 113 billion or 196.21 percent. This realization jumped drastically compared to 2013 which was only Rp 1.9 billion. The 2014 social assistance budget also increased. In 2013 it was only IDR 4 billion, while in 2014 it was IDR 7.7 billion with the realization of IDR 6.3 billion (81 percent). According to Tempo's observation, the ceremonies of providing social assistance and grants were always carried out by Hendi while serving as Mayor. Usually given at the Semarang City Hall Office.
Apart from the APBD, Hendi benefited from posting his photos through public service advertisements on government-owned billboards. Long before the start of the election for the mayor of Semarang, the former member of the Central Java DPRD had spread his photos through billboards in various corners of the city. Starting from zakat advertisements, anti-drug advertisements, anti-corruption, obeying tax payments, cigarette excise, to New Year greetings, and happy Eid al-Fitr. This is what makes candidates jealous. Campaign advertisements are limited, but incumbents even post photos everywhere. Just look at Hendi's photo ,? said the candidate for mayor Soemarmo.
Now, Hendi has been resigned since July 2015. However, there are still billboards with Hendi's picture installed until now. For example on Jalan Setiabudi, to be precise near the ADA Banyumanik supermarket.
Hendi stated that the distribution of social assistance and grants was in accordance with the regulations. The recipients are those who are truly entitled. In fact, now the distribution of grants and social assistance is very strict in accordance with the regulations of the Minister of Home Affairs. The recipients of social assistance and grants must also make an accountability report ,? he said.