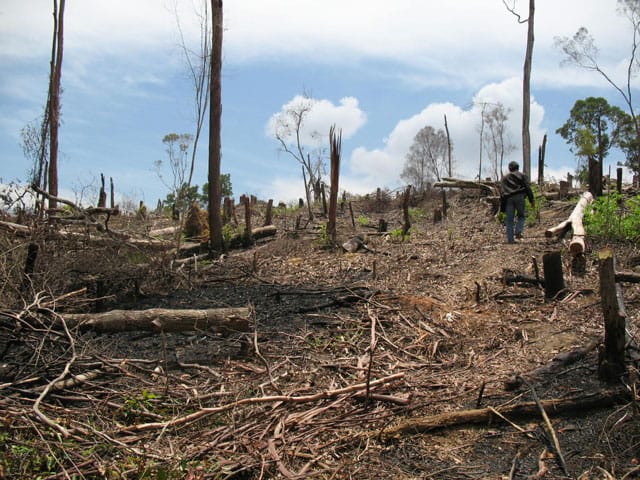 Background.
Various environmental governance problems in Indonesia have caused forest destruction (deforestation) to spread and continue. Almost every time the result of irresponsible environmental governance has created risks, threats and disruptions to the environmental balance and ultimately endangers human life in Indonesia.
To overcome this problem requires the cooperation of all components of Indonesian society, including the government, private sector and elements of civil society (CSO) to monitor environmental governance issues such as granting forest management permits, conversion to oil palm plantations, and mining, resource use. balanced and sustainable nature, etc.
Media as a component of civil society has a strategic and important role to support efforts to monitor good and sustainable environmental governance. However, so far this has not shown maximum and effective efforts.
The weakness of the media in presenting in-depth, accurate, quality and balanced information about environmental governance is caused by not many journalists and media organizations that have attention and understanding of this issue. The lack of professional journalistic technical skills and the position of the media who are often involved in various local conflicts of interest have made the lack of quality and independent reports on forest, mining and plantation management that can be accessed by the community.
Therefore, the capabilities and opportunities for journalists and the media need to be encouraged and enhanced in order to complement the synergy of working together with civil society in realizing good environmental governance. The Indonesian Network for Investigative Journalism (JARING) took the initiative to hold a fellowship for journalists, supported by The Asia Foundation in the SETAPAK program.
Activity Objectives
Increase the role of media and journalists, especially local journalists, in supporting the creation of an accountable, transparent and sustainable environmental governance.
The formation of collaboration between journalists and CSOs in supporting better environmental governance in the future.
The results of journalists' coverage can be used for advocacy by local CSOs.
Covering theme
Investigative Journalism on Environmental Issues to reduce deforestation in Indonesia (related to the problem of illegal logging, or the problem of forest conversion to oil palm land, or the problem of deforestation due to mining activities). Several themes to choose from:
Transparency through access to information and public accountability through joint monitoring
Improved policy making (rules / regulations, licensing, etc.)
Law enforcement (extractive industry-mining, forest and oil palm plantations)
Community-based forest management (Community Management Area / WKM and social forestry, one of which includes Customary Forests)
Final Result / Output
Participants will make a coverage of one big theme chosen. The results of the coverage will be published in each participant's media and / or on the JARING website.
Fellowship Terms
This journalist training and mentoring provides fellowships to 16 trainees who deserve and pass the selection. Fellowship in the form of mentor guidance and financial assistance to carry out investigative coverage of environmental problems related to deforestation issues in Indonesia.
The following are some of the requirements for fellowship participants:
Open to local print media journalists, national print media correspondents, and online media journalists in the following provinces: Aceh, Riau, West Sumatra, South Sumatra, West Kalimantan, East Kalimantan, North Kalimantan and Central Sulawesi.
Interested in environmental issues and has done coverage related to environmental issues in his area.
Minimum 3 years working experience as a journalist.
We encourage female journalists to participate in this program.
Willing to commit to take part in a fellowship and complete all assigned tasks, including financial reports and activities.
Interested journalists must make plans or proposals for coverage with the theme Reducing Deforestation in Indonesia. Preparation of proposals must involve data held by local CSOs. The proposal is submitted to the committee via e-mail info@jaring.id or post to the address: Jl. Utan Kayu No. 68H Jakarta, 13120, no later than May 2, 2016.
The coverage plan must contain at least:
background on environmental issues that you want to address that reflects the problems faced in your area.
explanation of why this issue is important for you to raise.
an overview of the list of sources who will be met for this coverage.
what data / documents are needed for this coverage.
coverage scope (area to be covered) and the estimated budget required for coverage.
work plan or coverage timeline.
Each coverage plan is submitted by one journalist. One participant can send several suggestions for coverage. Journalists' participation in this fellowship must be known and approved by the editor in chief or the head of the respective regional bureau and proven in writing. A letter of approval from the chief editor or head of the bureau as well as explaining his willingness to publish the results of the fellowship participant's coverage.
Each proposal will be selected based on whether the proposed angle is interesting, whether the initial documents / data are strong or not and whether or not the coverage will be completed within the available deadline. The mentor will review the proposed coverage budget and determine the agreed amount according to the needs and circumstances of each participant.
Activity Flow
Coverage proposals sent to JARING-PPMN will be selected by fellowship mentors. Sixteen proposals from journalists with the best coverage plans will be invited to attend the training in Jakarta.
A total of 16 selected fellowship participants will attend training in Jakarta / Bogor for 4 days. The training will introduce issues in environmental journalism specifically related to the problem of deforestation.
At the end of the training, each participant will present his report proposal which has been sharpened for re-selection. The committee will select a number of the best proposals for guidance / mentoring and coverage costs. Only selected participants will work on the coverage under the coordination of the committee and guided by a mentor. Mentoring is done face-to-face and via e-mail.
Mentor Fellowship
Mentors / trainers who are senior and experienced journalists will guide the training and will work effectively to select participants. The mentor will also work as the editor and coordinator of the coverage until the participant's joint reporting process is complete.
Schedule of activities
22 March 2 May 2016: Registration of participants
3. 4 May 2016: Judging / selection of selected participants
17. 20 May 2016: Training (participants come the day before & return the day after)
21 May. 12 August 2016: Coverage and mentoring
21 May. 12 August 2016: Loading the results of the coverage
July 27th. 28 July 2016: Program evaluation meeting in Jakarta
Closing and Information
Thus the terms of reference for this activity are prepared as a guide for the implementation of activities. The participant's biodata form, as well as the editorial chief / bureau chief approval letter can be downloaded here. thanks.