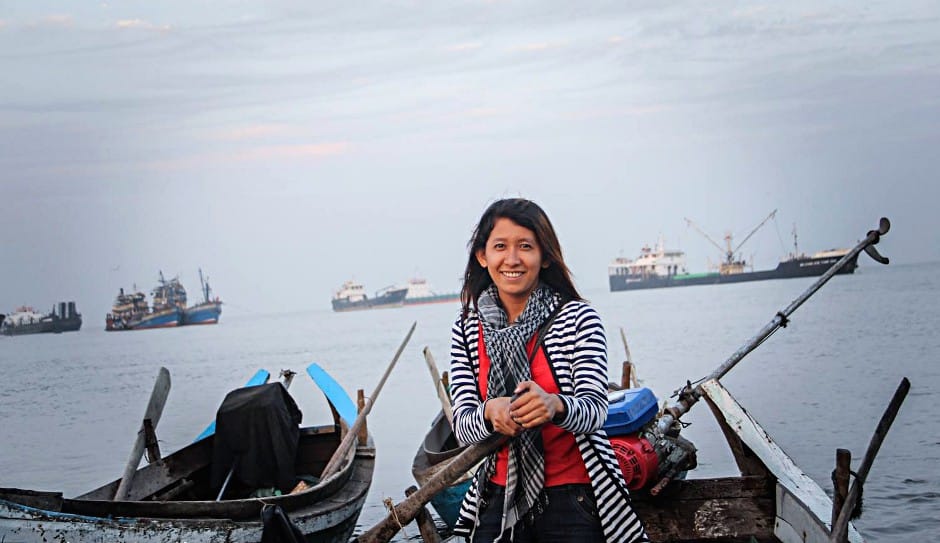 Esther Htusan was born and raised in Katchin State, the northern region of Myanmar which borders China and India. Prior to the 2010 Myanmar elections, Esther worked with civil society organizations to provide voter education in ethnic areas.
During that time, he also helped foreign journalists who entered ethnic areas after the quasi-government gave permission to enter Myanmar. He acts as a fixer, translator to producer. In 2013, the Associated Press (AP) then listed him as a correspondent.
In April 2016, Esther and her team of four women from AP won the Pulitzer for their coverage of the Southeast Asian fishing industry slavery investigation. This achievement made him the first journalist from Myanmar to win the Pulitzer. With AP, Esther also covered a wide range of issues including ethnic conflicts in Kachin, Shan and Rakhine, natural disasters, drug trafficking and extractive industries.
This achievement would not have been possible without the support of media organizations that created equal newsletters for women and men journalists in covering conflict sensitive or crisis areas. It was fortunate that Esther was in the media which believed her to travel to the conflict area and cover it.
"In our organization, not even once was I refused to cover an event or problem because I was a woman. That is why our work is productive, "he said.
Since starting to work as a permanent journalist, he has been able to cover conflict areas. Almost all of his proposals for coverage were well received and allowed. They guaranteed him the freedom to cover every news, event and angle he could think of.
However, the conditions are very different from the complaints of a number of women journalists working in the local media. Esther found that local media still tend to discriminate against female journalists. When a woman goes to a sensitive area, editors will say: "It's at your own risk because it's your choice to go there."
Just because they saw someone as a female journalist, the editors immediately refused without doing the important thing they should do: suggesting bringing safety equipment as they do to male journalists.
"Sometimes, just because of a female journalist they immediately say" no "without considering the process including safety measures. They should take into account the efforts and capacities of women journalists, especially what her skills can be seen from her career, "she said.
Adequate Safety Equipment
On a coverage trip to Sagaing North on Myanmar's border with India, Esther immediately called the office whenever she received a telephone signal. To whoever received his call, he told the situation in the field and asked the other editorial staff to convey the situation.
Esther had to use the telephone because email communication was not possible. When a regular telephone signal is not available, that's when he uses a satellite phone brought in from the office to provide information such as position, progress, what was done and places that are known not to be entered after arriving there.
"If there is a problem, we can use the phone to inform the office. There is always a backup plan from our office in case of emergency situations, "he said.
This mechanism has become a safety procedure that is always discussed and discussed by senior AP when visiting Myanmar. Journalists who do field coverage are advised to stay connected to the office and provide regular reports. They are also advised to inform the office if it is not possible to continue reporting.
In addition, when planning coverage in conflict areas, it is the main thing that is discussed and ascertained whether the office has sufficient safety equipment. Even if the safety equipment is sufficient, is the quality safe to use in conflict areas.
According to Esther, in the AP safety guidelines, every man and woman is treated equally. The seniors also warned not to cover news that could cost them their lives. This warning isn't just aimed at female journalists, it's the standard message for both sexes, male and female.
Sometimes, there are areas that cannot be covered because the editorial staff is not able to provide safety equipment on time.
"So, they (editors) do not allow going to those areas if they cannot be responsible for our safety if something happens during the coverage. This is not because of the issue of being a female journalist, "she concluded.
When a female journalist covers conflict areas, Esther believes that the maternal side that is usually attached to a woman will have an impact on the results of coverage that prioritizes the human side.
When a female journalist sees a child crying, she tends to dig for reasons that make her cry. Meanwhile, male journalists will only take pictures of crying children and focus on the visual impact.
"So, we will get very good coverage if women's humanitarian stories can be combined with male visuals," he said.
For this reason, Esther hopes that when a female journalist proposes coverage in crisis areas, consider her abilities and make the necessary preparations without any doubt, especially discrimination. This is because it is important to treat male and female journalists equally. (Deborah Blandina Sinambela / GIJN)
Source:
"Reporting While Female: A Talk with Pulitzer Winner Esther Htusan" by the Southeast Asian Press Alliance (SEAPA) published on the GIJN website, January 5, 2017.