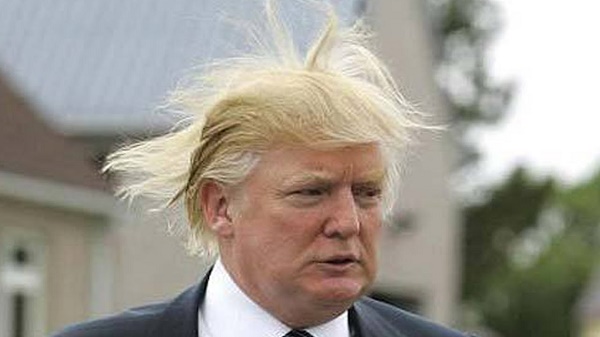 Gawker's feud with rich and influential people is not over. It was only a day after Peter Thiel revealed his identity as the person behind Hulk Hogan's charges against GawkerNick Denton's media outlet ran a lengthy investigative article about the mystery of Donald Trump's famous hair. Article titled "" Is Donald Trump's Hair a $60,000 Weave? A Gawker Investigation "was written by Gawker journalist Ashley Feinberg.
This article begins with the information of a person who claims to know very well what is behind the mystery of Trump's signature hair. The unnamed source came Gawker and offers a solution to a great mystery: Trump's hair is not real hair. The hair is planted and maintained for tens of thousands of dollars, and it comes from a man as mysterious as Trump.
The answer, according to the informant, is a little-known hair restoration treatment called "microcylinder intervention". And the therapy is only run by a hair care clinic known as Ivari International. Not only that, it turns out that Ivari's New York branch is located inside the Trump Tower, on a private floor reserved only for Trump's office.
Feinberg admitted that he could not confirm the relationship between Trump and Ivori. "Neither Trump nor Ivari responded to multiple requests for comment," Feinberg said. He didn't lose his mind. He then did in-depth research on Ivori's history, and Donald Trump's photographic hair notes. With this result, Feinberg dares to claim, "This could be the answer - perhaps the first sensible answer - to the Donald Trump hair riddle."
Trump did explain how he took care of his signature hair in a profile article in Rolling Stone magazine in 2011. Here's what he said:
OK, what I do is, wash it with Head and Shoulders. But, I didn't dry it. I let the hair dry on its own. It took about an hour. Then I read documents and so on.
… Then I combed my hair. Yes, I use a comb. … Am I combing forward? No, I'm not combing forward. I don't actually have a bad parting. When you think about it, it isn't bad either. I mean, I get a lot of credit for that style of comb. But this is not real comb style. Just combing back and forth. I comb the same way for years. Always the same, every time.
But Feinberg was critical. How does he think it is possible that human hair can be so comfortable in the same form?
As informed by the source, Feinberg then explained that Donald Trump took care of his hair at Edward Ivari's Ivari International. With an initial cost of US$ 60,000, plus fixed maintenance costs, Trump can continue to maintain his distinctive comb style. In that article, Feinberg wrote in an ignorant language. He also complemented his presentation with various theories about hair, various archival photos and information from brochures about Ivari International's services, as well as lawsuits that had been filed against Ivari.
This seemingly trivial article was judged by senior journalists to have fulfilled the element of investigation. According to Gawker, Feinberg's investigative work was praised Times, Wall Street Journal, and The Atlantic; and at least three Pulitzer Prize winners.
Even David Simon, the award-winning reporter who is now a screenwriter and often criticizes Gawker, gave his praise. He argued that if the US media investigated the Bush administration's claims about Saddam Hussein's weapons of mass destruction with the same energy, the Iraq War might be averted.
Being sued again
However, Feinberg's persistent efforts to dig into the origins of Trump's hair turned out to make Edward Ivari's ears hot. He sent a lawyer named Charles J. Harder to send Gawker a legal threat. Harder is not a foreign name Gawker. This lawyer was also the one who succeeded in bringing down Gawker in the trial against Hulk Hogan over the sex tape. This means that Harder is the lawyer who was paid by Peter Thiel. Is Peter Thiel also behind the charges this time? Not yet proven.
Harder claims that Feinberg's story is "false and slanderous", violates Ivari's privacy, deliberately provokes emotional distress, and causes "painful interference" to Ivari's business relationships. Harder counted 19 different slanderous statements - oddly enough, all of the statements he quoted were already in the official lawsuits that had been filed against Ivari.
Harder is also demanding Gawker retracted the news, expressed a public apology. He asked for all physical and electronic documents, material and data he had Gawker related to the story, and importantly, to reveal who the sources were Gawker.
This demand became a new chapter of contention Gawker with the people who are the target of the news. According to Nick Statt of The Verge, this feud is even stranger than fiction.
"Being sued for posting someone's sex tape on the internet is a justifiable claim. Of course not possible to sue for reporting someone's hair. If these kinds of demands start to become weapons - thanks to figures like Thiel and Harder - the gaps in the First Amendment won't end with Hogan or the wig and they don't stop with Gawker, "Statt wrote. (Ida Rosdalina)
Sources:
1. "Is Donald Trump's Hair a $60,000 Weave? A Gawker Investigation "published in Gawker, 24 May 2016
2. "Reporting on Donald Trump's hair might get you" published on Theverge.com, June 14, 2016.