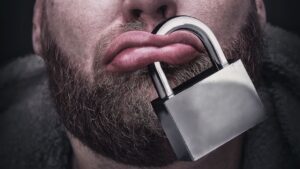 The Twitter accounts of the Indonesian People's Faction (FRI) and Clean Indonesia (BI) could not be accessed after reviewing the report entitled Omnibus Law; The Code of Oligarchy Law on 18 October 2020. Both accounts were suddenly locked. A notification appears on the screen explaining that some features of the account are restricted because they are suspected of being controlled by a robot (bot). A bot account on Twitter is a software managed account (software) so it can do tweet, retweet, mention, like automatically.
The person in charge of the FRI account @FractionArdi (not his real name) admitted that he was asked by Twitter to verify his account via a feature call me. "When pressed repeatedly there were no incoming calls to the phone number, so the verification failed," he told Jaring.id on Friday, October 23, 2020. He added, both accounts could be active again after Safenet (Southeast Asia Freedom of Expression Network) communicate directly with Twitter representatives in Indonesia. Even so, Twitter has never explained the reasons for locking the account.
According to Ardi, Twitter account locking is not the first time this has happened. On October 10, the first account created by FRI, namely @Fraction  and @CleanFootball suddenly locked after campaigning for the hashtags #MosiTidakPcaya and #CabutOmnibusLaw. The account is considered to violate Twitter's rules.
"Account suspended, Twitter suspends accounts which violate the Twitter Rules,"Explained Twitter.
In the rules and policies of Twitter, there are at least 15 contents that are prohibited to be distributed through this platform. Among other things, disseminating information related to violence, terrorism, sexual exploitation, insults, copyrights and personal information. Of the dozens of these prohibitions, Ardi assured that not one of them had been violated by the account @Fraction. According to him, the account, which was only created in September 2020, only informs civil society criticism of the Ciptakerja Law, as well as distributes demonstration video clips from various regions.
Ardi also refused if he was deemed to have sent insane messages or spamming. @Fraction recorded only uploading 14 tweets with 4 of them pinning the hashtags #MosiTidakPbelaya and #CabutOmnibusLaw. Temporary Account @CleanFootball uploaded 14 tweets with 7 of them embedding the hashtags #MosiTidakPbelaya, #CabutOmnibusLaw and #KitabHukumOligarki.
"Guess spamming not significant. In the first case our tweets did not reach five but the account was immediately locked. The extent to which it is said is indicated spamming? " he said.
The founder of Drone Emprit, Ismail Fahmi, explained that deletion by Twitter is possible if the account is indicated to be controlled by a robot. This identification is carried out by the system on account activity and reports submitted by a group of people. This last facility, according to him, is often used to suppress accounts.
"When there is a report within a certain period and wide coverage, usually the account will be locked," he said when contacted on Sunday, November 22, 2020.
Ismail suspects that the government is also doing the same thing to delete accounts that are indicated to spread terrorism, radicalism, gambling, pornography or contrary to government decisions. Rather than going through official channels, reporting in a crowd manner is considered to be processed faster by Twitter.
Referring to Safenet's record, there were at least 83 digital attacks on critical groups, from journalists, activists and academics during September 2019-October 2020. These attacks took the form of content removal, hacking, intimidation, lawsuits spreading hoaxes, and they were deemed to cause confusion.
According to the Director of Safenet, Damar Juniarto, since the discussion and ratification of the Creation Law, the number of reports of digital attacks has increased to 31 cases. This report coincides with the issuance of instruction Number: STR / 645 / X / PAM.3.2. / 2020 by the Indonesian Police Chief, Idham Aziz. The National Police Chief ordered his staff to conduct cyber patrols on social media, as well as cast counter-narratives on issues that discredited the government.
"The silencing of Twitter accounts of critics of the Job Creation Law cannot be separated from the form of suppression of expressions in the digital realm," Damar told net.id on Friday, October 23, 2020.
In Safenet's note, digital scrutiny does not only occur on the Twitter platform. In June 2020, the video sharing site Youtube removed the broadcast entitled "Tackling Religion and Homophobia." The content broadcast by the Journalists Union for Diversity (Cool) ceases at 48 minutes and is no longer accessible to the public. From the results of communication with Google, Safenet got the reason that there was an error in Youtube's artificial intelligence (AI) system when processing public reports.
The recent culling of social media accounts, according to Damar, has violated the victim's right to disseminate information. This right is guaranteed by Article 28F of the 1945 Constitution (UUD) and Article 19 of the General Declaration of Human Rights to seek, receive and disseminate information through any media. Unfortunately, there is no firm legal action against cases of violence in the digital realm, even though they have been reported to the Police.
According to Airlangga University constitutional law teacher Herlambang Wiratman, this is what makes digital attacks on critical groups repeated. He highlighted cases of threats and hacking of sources' accounts and discussion committee Constitutional Law Society (CSL) Faculty of Law, Gadjah Mada University. Since it was reported in June 2020, this report has had no significant progress. "The process of law enforcement cannot be trusted enough because of impunity," he said on October 21, 2020.
So is the digital attack on public policy activist and researcher Ravio Patra. Since March 2020, Ravio has submitted various reports, including to the Indonesian Ombudsman, Polda Metro Jaya, the Human Rights Commission (Komnas HAM), Kompolnas and the Witness and Victim Protection Agency (LPSK). From all reports, Ravio only accepted the pretrial verdict which rejected Ravio's request. "It is different if it happens to government support groups, the legal process is easier and faster to process," said Herlambang.
Until this news was published, we have been trying to confirm the handling of a number of cases of digital attacks to Polda Metro Jaya. However, the telephone lines, as well as the list of questions we raised via Whatsapp, were unanswered.
Meanwhile, the spokesman for the Ministry of Communication and Informatics, Dedi Permadi, emphasized that the government protects citizens' rights to obtain and disseminate information. It's just that, in his opinion, the citizens' freedom must be used properly. Society cannot spread or promote forbidden content, such as pornography or terrorism. This is in accordance with the Electronic Information and Transaction Law and Government Regulation Number 71 of 2019 concerning the Implementation of Electronic Systems and Transactions. In the PP there is also a clause that can impose sanctions on application companies that allow their content to violate laws in Indonesia.
Therefore, the government has collaborated with digital platforms to monitor the circulation of negative content. Kominfo denies asking digital platform companies to suppress the accounts of critics of government policies. "Kominfo has never proposed closing accounts critical of the government," he said on Friday, November 20, 2020.
So far, Dedi explained, Kominfo uses a mechanism that has been agreed by the government and social media platforms related to the reduction of negative accounts or posts. Without mentioning the agreement in question, Dedi revealed that not all government reports were followed up by social media platforms. He said, Twitter and other platforms have policies to re-verify reports.
"There is already an SOP and a system that connects submission of Kominfo to the related platform," said Dedi via Whatsaap message.
Jaring.id received an explanation from Twitter via email on Friday, October 23, 2020. In his statement, Twitter stated that account restrictions could occur if the system detected a violation of regulations related to security, privacy, authenticity, law, and third party advertisements in videos. Twitter will limit accounts that aggressively like or retweet content that violates Twitter's rules. Meanwhile, a permanent suspension is carried out if the violation is repeated.
"A restricted account is not the same as a suspended account. An account that is limited or suspended is not always because it is reported by other users, "said Twitter's explanation received by Jaring.id. (Deborah Blandina Sinambela)