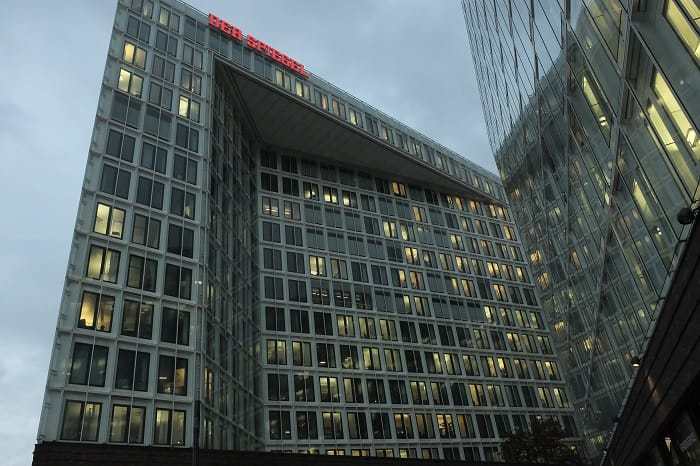 In times of public trust in journalist growing back, the latest journalism scandal has surfaced in Der Spiegel. A tragedy in an era of technological disruption.
Office Der Spiegel standing tall in HafenCity, Hamburg. With a height of 61 meters, this building by Danish architect Henning Larsen was immediately visible as soon as we left Central Station on December 3, 2018. Larsen is the architect who also designed the Copenhagen Opera House, the national opera house in Denmark.
That day, Jaring.id together with three other Indonesian journalists (The Jakarta Post, Tempo, and Suara.com) purposely visited Der Spiegel as a series of program visits to mass media offices in Germany facilitated by the German Commission for UNESCO.
About five minutes walk from Central Station, across waterfront who became one landmark Hamburg, we arrived at the office Der Spiegel. This 30,000-square-meter office consists of 13 floors with modern architecture with white steel-framed windows and a glass facade. The architect, according to information Der Spiegel, want to describe the network, transparency, and communication, as if that is the essence Der Spiegel that must be understood by the public.
On the 1st floor of the building, a sentence stuck to the wall, made of embossed letters, immediately caught our attention. "Sagen, was ist." Say, what is it. Under that sentence, the autograph belongs to Rudolf Augstein.
Augstein is the founder Der Spiegel. He died on November 7, 2002, two days after celebrating his 79th birthday.
Der Spiegel was founded in 1946 as an investigative magazine published weekly. The focus of the news is related to the abuse of power and the misuse of the public interest. In 1961, Augstein and a number of journalists Der Spiegel dealing with German Defense Minister Franz Josef Strauss because of this Der Spiegel reported bribery scandal in construction of military facilities. Because of this news, Der Spiegel accused of spreading state secrets. As a result, Augstein and a number of journalists Der Spiegel arrested and detained for 103 days.
The arrest caught public attention. Thousands of people took to the streets to protest the detention. The issue of press freedom has risen to the surface. This scandal then ended with Strauss resignation from office and release of journalists Der Spiegel.
"The circulation of Der Spiegel magazine at that time reached one million," said the journalist Der Spiegel, Jurgen Dahkamp, who met us on the 10th floor of the office Der Spiegel, Monday afternoon 3 December 2018. Der Spiegel since then it has been recognized as Germany's leading investigative weekly magazine.
However, since the digital era, it was thin Der Spiegel degenerate. "Today, our circulation is only around 700,000," said Dahkamp. The circulation is still relatively large when compared to the circulation of print media in Indonesia.
Deal with the decline in circulation and maintain sustainability Der Spiegel, since 2011, the media company has released Spiegel Online. Although Der Spiegel has had its own website since 1995, however Spiegel Online worked on seriously since 2011 as a separate part of the magazine Der Spiegel. Journalists working at the Der Spiegel newsroom and Spiegel Online differentiated. "There are 150 journalists who work for Spiegel Online, "Said the journalist Spiegel Online, Nicolai Kwasniewski.
An average of fifty news stories are produced per day. The public can access the news that is released Spiegel Online for free. But specifically for in-depth reporting (in-depth news), the public has to pay for it by becoming online customers. By becoming paid subscribers, the public can access in-depth news releases Spiegel Online at once some news in-depth and investigations that were released Der Spiegel.
In the digital era, income is earned Spiegel Online outperform the advertising profits obtained by Der Spiegel. Profits earned Spiegel OnlineDahkamp and Kwasniewski admit that they support sustainability Der Spiegel. Spiegel Online also seriously working on their social media as an effort to strengthen the Spiegel brand.
From the quality aspect, Kwasniewski tried to convince that Spiegel Online also keep trying to maintain the quality of news, not just chasing broadcast speed. "Good journalism it is important, whatever the form / medium, "said Kwasniewski.
Spiegel Online it even has its own investigation team consisting of 5 journalists. Meanwhile, the investigation team at the magazine Der Spiegel, according to Dahkamp, consisted of 4 journalists. In order to ensure the quality of the news, Spiegel it even has 70 people fact checker almost all of whom are journalists.
The Religious Scandal
On the day of our meeting with Dahkamp and Kwasniewski, a journalist Der Spiegel, Claas Relotius, received a prestigious award Deustcher Reporterpreis 2018 in Berlin for the best reportage category. Deutscher Reporterpreis is an annual award event given to the best journalists in Germany.
Relotius is one of the German journalists who regularly receives the award. He has received the award in 2013, 2015 and 2016. In addition to the award subscription Deutscher Reporterpreis, the 33-year-old journalist was also selected as CNN's version of the "Journalist of the Year" in 2014. He also won European Press Prize in 2017. European Press Prize is an award for journalists in 47 countries in Europe which has been held since 2012.
But who would have thought 16 days after the announcement of the award, Spiegel issued a report claiming that Relotius had withdrawn from Der Spiegel. He was shown to "fabricate stories and create protagonists" in at least 14 of the 60 articles he published on Der Spiegel and Spiegel Online since joining the media in 2011 as freelancers. He was recently recruited as a journalist Spiegel since 2017. Relotius submitted his resignation on Monday 17 December 2018 after admitting that he made up stories and conducted interviews that never happened to a number of articles he wrote.
The Fraud by Relotius, according to the German Journalists Union DJU, is the second largest journalism scandal in Germany after Adolf Hitler's diary scandal created by Magazine journalists Stern in 1983. Hitler's diary scandal created a weekly magazine circulation Stern, which is also based in Hamburg, fell dramatically from 1.8 million to 1.2 million.
"Learning from the scandal (Hitler's diary), we added fact checker in the editorial team from 1 person to 8-10 people, "said the Magazine's Managing Editor Stern, Cornelia Fuchs, when found Jaring.id in his office, Wednesday, December 5 2018.
But in the case of Relothy, existence fact checker Spiegel apparently not quite effective. In fact, Juan Moreno, a fellow journalist who became a fellow journalist, caught Relotius' Fraud co-author (co-author) in one of the articles of Religious. Moreno gathered evidence to confirm his suspicions.
Editor Der Spiegel initially defended Relotius and accused Moreno of slander. But as more and more evidence was discovered of Relotius' deception, Özlem Gezer, deputy head of the magazine's "Gesellschaft" (society) and direct superior to Relotius, told Reloti that he no longer believed it.
The next day, Relotius resigned and acknowledged a number of frauds he had committed, calling them his attempts to avoid failure. After the scandal broke, Relotius later returned four awards Deutscher Reporterpreis which he had received and CNN withdrew the "Journalist of the Year" award given to Relotius in 2014.
The Religious Scandal reminds the public of similar journalism scandals that have occurred in many places, including Janet Cooke of The Washington Post, Jayson Blair from The New York Times, Christopher Newton from The Associated Press, Stephen Glass from The New Republic, and Jack Kelley from USA Today.
They are known as reliable journalists and have managed to build a reputation as respected journalists for having won a number of prestigious awards in the world of journalism. Unfortunately, their scams made the entire reputation crumble.
Hurts Public Trust
The Religious Scandal, according to the Chairman of the Independent Journalists Alliance (AJI) Abdul Manan, become an alarm for all media, including media in Indonesia. "What happened Der Spiegel this is a dark stain in the history of journalism and it will take time to restore public confidence. Not only to Der Spiegel, but also journalism in general, "said Manan to Jaring.id, Friday 21 December 2018.
Yet in the report 2018 Edelman Trust Barometer It can be seen that the level of public trust in journalists has started to increase in the last year along with the decline in the level of public trust in social media.
It is feared that journalism scandals such as the Relotius case will again erode public trust in journalists. Despite the survey results Edelman Trust Barometer in 28 countries shows that the level of public trust in the media in Indonesia is still quite high, namely around 68 percent, second only to China, it is not impossible that this level of trust will decline. Germany itself is in 15th place, with only 42 percent of the public's trust in the media.
According to Manan, one of the contributions to the emergence of this scandal was due to Relotius' too big personal obsession to make the best work and the fear of failing in the tight competition in the media world.
Because it is still important to save

curiosity on journalistic products. Healthy ecosystems occur when the public, resource persons, and journalists remain skeptical of the facts they read, "- Bagja Hidayat, Managing Editor of Magazine Investigations Tempo –
A similar sentiment was expressed by the Investigating Editor of the Magazine Tempo, Bagja Hidayat. According to him, the root of the Relotius scandal was greed. "Relotius clearly designed all his hoaxes neatly until the team's research was fact-checking Der Spiegel did not sniff out the evil intentions, except for Juan Moreno, "he said. Bagja sees Relotius as a victim of ambition, and possibly the result of intense competition from journalists to produce great stories in their careers.
Meanwhile, Manan assessed that competition and competition in the media world were inevitable. "From the media side, what can be done is to improve the early detection mechanism of the possibility of cases like this," he explained. There is also a reporting mechanism from inside or outside the media to detect early on if such symptoms are present.
Bagja saw what was being done Der Spiegel it is in accordance with its portion by investigating internal errors and announcing it to the public and then apologizing. "So that readers continue to believe that they uphold journalism values. Because we know Spiegel carry out the check process before publication. Their system, and maybe any system, cannot reach the intentions of the journalists, "said Bagja.
The Relotius case, according to Bagja, provides lessons to journalists and the public, that journalism still has weaknesses. "Because it is still important to save curiosity on journalistic products. A healthy ecosystem occurs when the public, resource persons and journalists remain skeptical of the facts they read, "said Bagja. (Fransisca Ria Susanti)