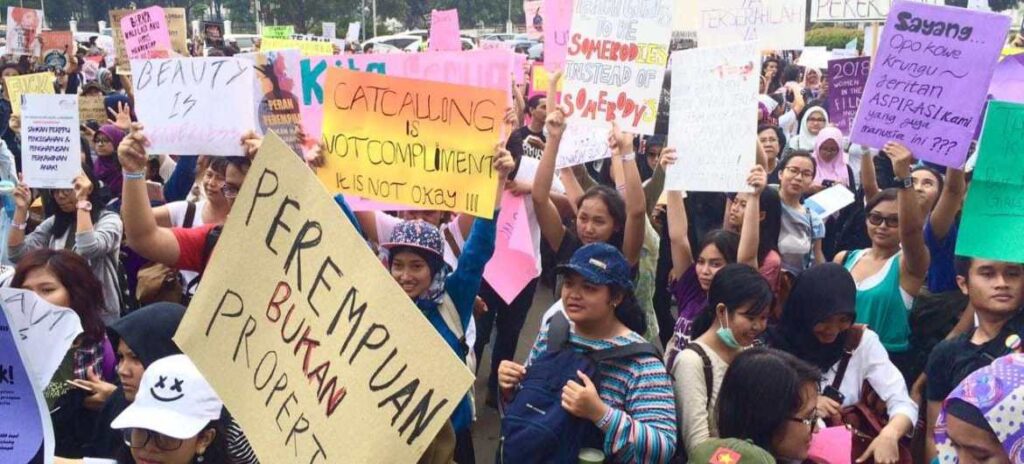 Nearly 70 percent of female workers in Jabodetabek have never exercised their menstrual leave rights.
JARING.id—Dessy Nathalia has worked for more than ten years in a private company in Jakarta. During her period, she often felt pain and cramps in the lower abdomen, pain that made it difficult for her to work.
Dessy forced herself. If he has to be absent because of menstrual pain, he is worried he will be considered unproductive.
In medicine, the pain Dessy is experiencing is known as dysmenorrhea. In some cases, dysmenorrhea makes it difficult for women to concentrate and work.
The JARING data team distributed an online survey to female workers in Jabodetabek on April 4-20. One of the questions in the survey was, "When menstruating, do you experience menstrual pain?".
Of the 275 female workers who filled out the survey, only 8 did not feel pain or dysmenorrhea when menstruating. Meanwhile, 51% of respondents stated that they always felt pain every time they had menstruation. About 45.5% others also feel pain, it's just not every month. Dessy is one of the 45.5%.
Since 2003, menstrual leave has actually been regulated in Indonesia. According to Law No. 13/2003 concerning Ketenagakerjaan, companies must give the right to leave on the first and second day when the female workers menstruate. That leave was outside of annual leave, of course.
However, not many women take advantage of their menstrual leave rights. Three out of four female workers who always experience menstrual pain every month have never used their menstrual leave rights.
There were many reasons for this, one of which was that the company never submitted it because the company asked for a certificate from a doctor.
"Because the company asked to include a sickness certificate from a doctor, even though this is not something that should go to a doctor because almost every period is felt on the first day," said one private employee in Jakarta.
There are also those like Dessy, who are reluctant to apply for menstrual leave because they think about productivity, which is also a demand for every company. Some women workers are reluctant to apply for menstrual leave because it will reduce their annual leave.
"It is not allowed, if you take leave during your period, your annual leave will be deducted," said one BUMN employee in Jakarta.
Another reason that often arises is that there is no socialization from the office where she works, so women workers do not know whether the company allows menstrual leave or not. As many as 80 percent of the respondents stated that they had never received socialization from their place of work.
Of the total 275 female workers who filled out the survey, 68.6 percent had never used menstrual leave. Meanwhile, of the 31, 4 percent who have taken the right to menstrual leave only do it occasionally. Only 17 people said they took menstrual leave every month.
The survey that was held by JARING was not able to represent all the conditions of female workers in Indonesia. But at least it illustrates that there are still many female workers who cannot use their menstrual leave rights for a number of reasons. One of the reasons is the company ban
Not cutting off annual leave
From a survey conducted by the JARING Team, there were a number of companies that reduced annual leave when female employees applied for menstrual leave. In fact, it actually violates the provisions of the law.
Single Gender and Human Rights activist Pawestri assessed that menstrual leave is the right of female employees that is recognized by law. How the terms and use are in a collective agreement or included in company rules. Employees' rights should have been conveyed from the start. It's been an obligation from human resource socialize it.
"I think it can be sued and questioned if the company doesn't want to provide it," said Tunggal when contacted Monday, April 30 2018.
Article 93 paragraph 2 of the UUK stipulates that employers are required to pay wages for female workers who take menstrual leave. Point b is written: employers are obliged to pay wages if a female worker / laborer is sick on the first and second day of her menstrual period so that she cannot do work.
Need a Doctor's Letter?
The Manpower Law does not actually regulate the procedure for applying for menstrual leave, whether it requires a doctor's letter or not. Article 81 paragraph 2 states that the implementation of the provisions for menstrual leave is regulated in work agreements, company regulations, or collective working agreements.
It does not violate the law if the company then includes a "required doctor's certificate" in the company regulation. However, for women, it is quite difficult. A woman who is experiencing menstrual pain is forced to visit a doctor just to ask for a certificate, while she needs to rest.
"If female workers have menstrual pain, yes, they have menstrual cramps, do not need a doctor's statement and it is experienced by almost all women," said Tunggal.
If there is an effort to make it difficult for women workers to get menstrual leave, it can be considered as an attempt by the company to not give women workers rights. As has happened so far, women workers are most often deprived of their rights, such as reproductive rights and unequal wages.
"If a company blocks it, I think it is one of violence and discrimination against women," said Tunggal.
Tunggal hopes that the government must be more proactive and have more attitude towards companies that do not fulfill women's rights. Companies that run a business by giving their employees rights should be able to be a positive promotion for the sustainability of the company.
"This is not a complicated matter, it only fulfills women's rights as regulated by law. Not that the employees happy higher productivity? Then what to expect from employees who are sick and suffering from cramps, "he said. (Wan Ulfa Nur Zuhra / Debora Blandina Sinambela)