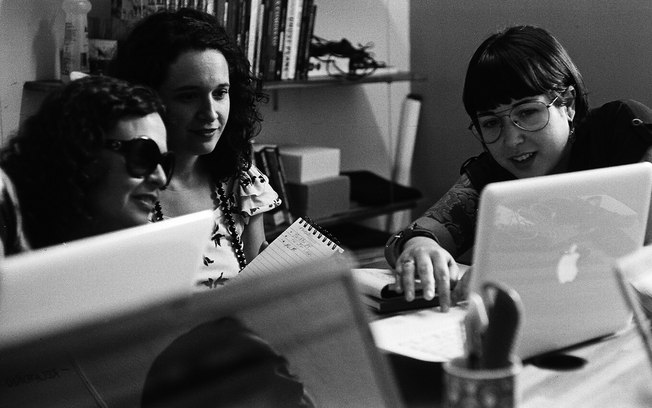 By Daria Sukharchuk
In Brazil, several women journalists set up an investigative journalistic news agency which is respected for its in-depth and quality news. The office was named Agência Pública. Co-founder Natalia Viana shares her views on what it is like to work with a predominantly female investigative team in Brazil.
Agência Pública was founded in 2011 by three Brazilian journalists, with the aim of conducting investigations independently. It is funded by donations and grants, and its reports are published under a Creative Commons license.
Luiza Bodenmueller, who has worked for Pública, said the office has always taken the victim's side, an approach that departs from its focus on the public interest. But what sets them apart from most newsrooms is that more than half of the staff are women. The ratio of girls to boys is 3: 2.
Co-founder Natalia Viana spoke about the advantages and challenges of the agency's approach to investigative journalism.
Viana began her journalistic career as a reporter for a major Brazilian left-wing magazine named Caros Amigos. He then completed his master's in London, and worked as a freelance journalist. He has always enjoyed working on long and in-depth investigations, and published three books on human rights issues in Brazil.
When the Wikileaks scandal broke, Viana and the newly founded Agência Pública teamed up with Wikileaks to bring the documents to Brazil, and coordinate their publication with the Brazilian media.
Their work with documents and their past experiences helped the Pública team recognize that there is a high need for investigative journalism to manage issues surrounding human rights in Brazil.
According to Viana, the gender composition of the Pública team is a big advantage, and it helps the news agency to find different points of view in the stories they cover. In some cases, it could help them talk to people a male reporter couldn't approach.
Pública's feminine identity was never intended, said Viana. It happened more by accident, when she realized that the colleagues she worked with to found Pública were all women.
Pública's feminine identity was a hindrance at first - at first, they were called the "investigative journalism news agency". But their gender influences the topics they choose to cover. Viana and her colleagues believe that women see society and its problems differently, taking an interest in the stories differently than their male counterparts.
Illegal abortion, which Pública covers at length, is one such example. Viana believes a male journalist will not be able to talk to women who have illegal abortions, because they are not open to men, as they are open to women.
"The women know they have broken the law, but in our culture it's easier for them to talk to women, because they anticipate a certain level of understanding, a level of solidarity."
"I believe that women can empathize better with the people they interview," she said. A macho culture can encourage men to look down on women, and women journalists can use it to their advantage, as Agência Pública did in 2015, when the team was covering political dissent in Angola.
They interviewed young women who were fighting the regime - and surprisingly no journalist had approached them before.
Being a woman can make investigative reporting more dangerous - going to places like Mozambique, or the central Amazon can be dangerous for anyone, and even more so for women.
But on the other hand, it can also be a big advantage. For example, while Pública was investigating the detention of political dissidents in Angola, local officials, who would not allow journalists to film in Angola, had to stop the Pública journalists filming, but not censor them at all. According to Viana, partly motivated by the fact that they are women.
Women's issues and feminist identity have never been the focus of Pública 'work. However, according to Viana, the news agency is still led by women, although they now accept men as staff as well, most of the employees are women. Viana is not surprised that women are more likely to be involved in the work of this news agency - "I think women tend to be more open to innovation, more adventurous," she says.
Winner of Multiple Awards
Both the men and women in Pública have produced award-winning reports since their launch. Viana added that although this news agency is dominated by women, the fact that male journalists have an important role cannot be denied.
Spending years working with Brazilian media, Viana believes the culture around her is changing, and there is a demand for more feminist news as society's core values have changed.
When women start to speak up, they show different perspectives on problems facing society, and which men cannot see. The parental leave policy is a good example - in Brazil, men get only four days of parental leave, while women get 120 days off from work. Does anyone wonder why mothers stay at home with children, and not fathers?
Viana believes one of the reasons Brazilians talk more about the issue is the change in the way the media cover it.
Of course, men still occupy the majority of managerial positions in the media, and that affects their work. Viana mentioned the magazine Veja famous as one example. When publishing the profile of Marcela Temer, Brazil's new first lady, they focused their writing specifically on her beauty, her love of home and her quiet demeanor.
"This is a stereotypical view of men towards women. I am sure that in this case all decisions were made by men, even if the journalists assigned were women, "said Viana.
Viana does not call herself a feminist. "My feminist friends may be angry about this," she laughs but she enjoys working with her female colleagues, and argues that as women, they have a better understanding of the team because they have similar experiences, and a better understanding of the issues they raise - such as gender discrimination or violence. Agência Pública's feminist identity is a natural product of their work. (*)
Daria Sukharchuk is a freelance journalist from Moscow, based in Brazil. He writes on human rights and migration in the capacity of a freelance journalist.
Source: Journalism.co.uk