On her thin beach cloth, Claudia lay waiting for her husband who was surfing on a German beach, Badung Regency, Bali. The Canadian woman has been on the Island of the God for almost 7 months.
The return that was originally scheduled for a month ago had to be delayed due to unavailability of flight schedules to the destination country. Instead of worrying, the couple, who now lives in the Ungasan area, South Kuta, admitted they were lucky.
"I am happy to be trapped in Bali," said Claudia to Jaring.id while enjoying the white sandy beach on Friday morning, 3 July 2020.
Claudia is one of the thousands of foreign nationals who still live in Bali. Apart from the unavailability of flights between countries, there are also foreigners who chose to stay in Bali during the pandemic. The reason is, they do not want to undergo a strict quarantine period in their country. Moreover, Indonesia provides a residence permit extension facility.
"If I go back to Canada, I'll just be stuck in my house. I prefer to be here (Bali), "he said.
Although a number of beaches and tourist areas in Bali have been visited since last month, the Governor of Bali, Wayan Koster emphasized that the tourist area began to open on Thursday, July 9. However, only people who are already in Bali can access tourist locations.
Meanwhile, domestic tourists from outside Bali can only visit on 31 July. The door for visits to foreign tourists according to the plan will be given starting September 11. Koster reminded people to comply with health protocols, such as maintaining physical distance and always wearing masks in public places.
"We started the first phase to coincide with Thursday Wrespati Umanis Sinta. The good days we have chosen together. All of this will be evaluated at every stage and we hope that everything goes well according to plan, "said Koster when releasing dozens of ancient car drivers from the Bali Governor's office on July 9, 2020.
***
To Jaring.id, Wayan Koster admitted that he did not have much choice but to reopen the community's economic space. This is because the tourism sector in Bali has been choking on the pandemic for too long. Moreover, until now no one can confirm when the corona pandemic will end.
"If we let it create new social problems and create vulnerabilities in it," said Koster.
While the health protocol in all Bali tourism sites is running, Koster guarantees that it will boost mass examinations, both through contact tracing of positive cases, and through the policy of free Covid-19 certificates for travelers. This PDI-P politician also claims that health facilities in Bali are still adequate to anticipate the explosion of the Covid-19 case.
"Well prepared. We have many health facilities, "he said.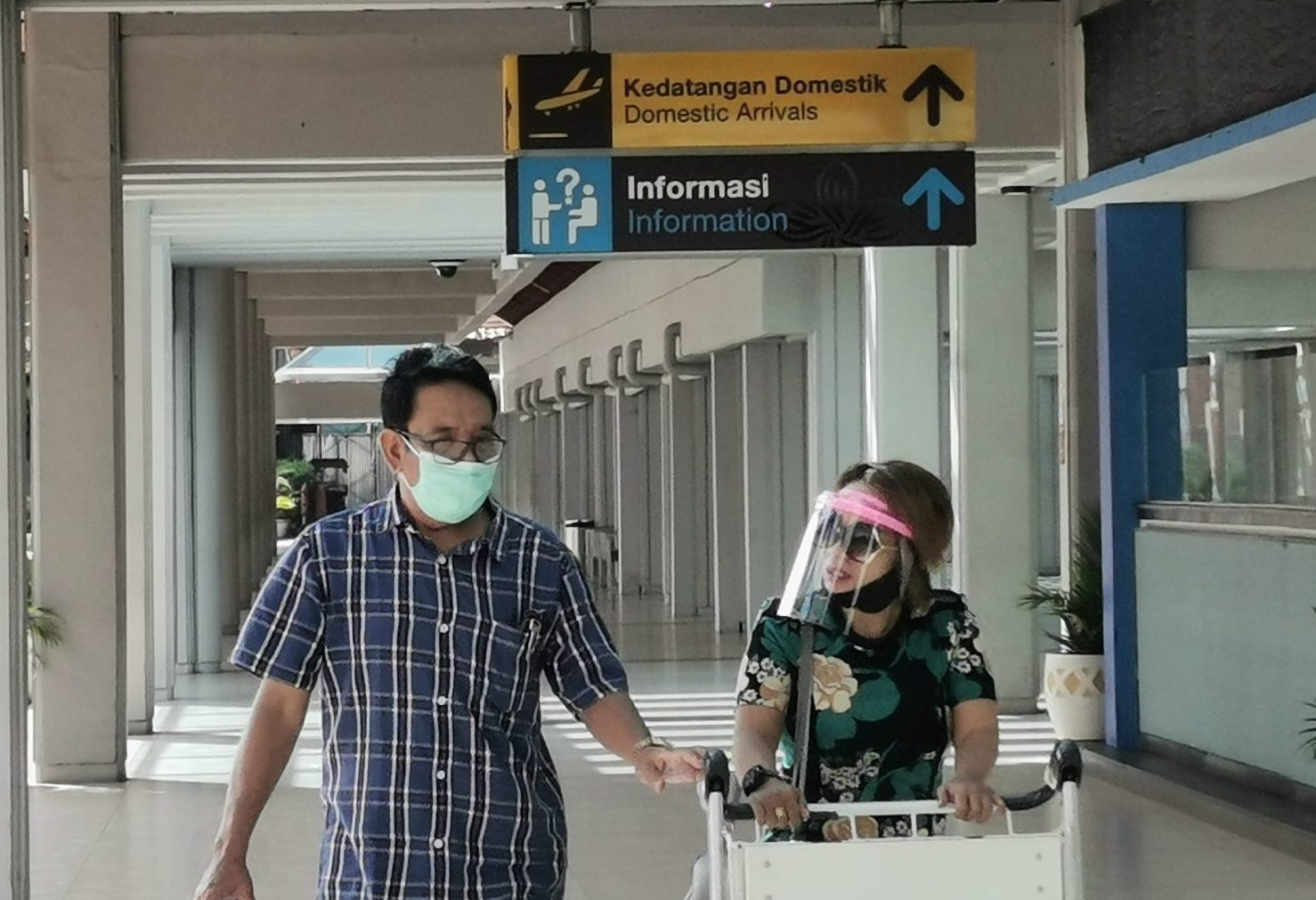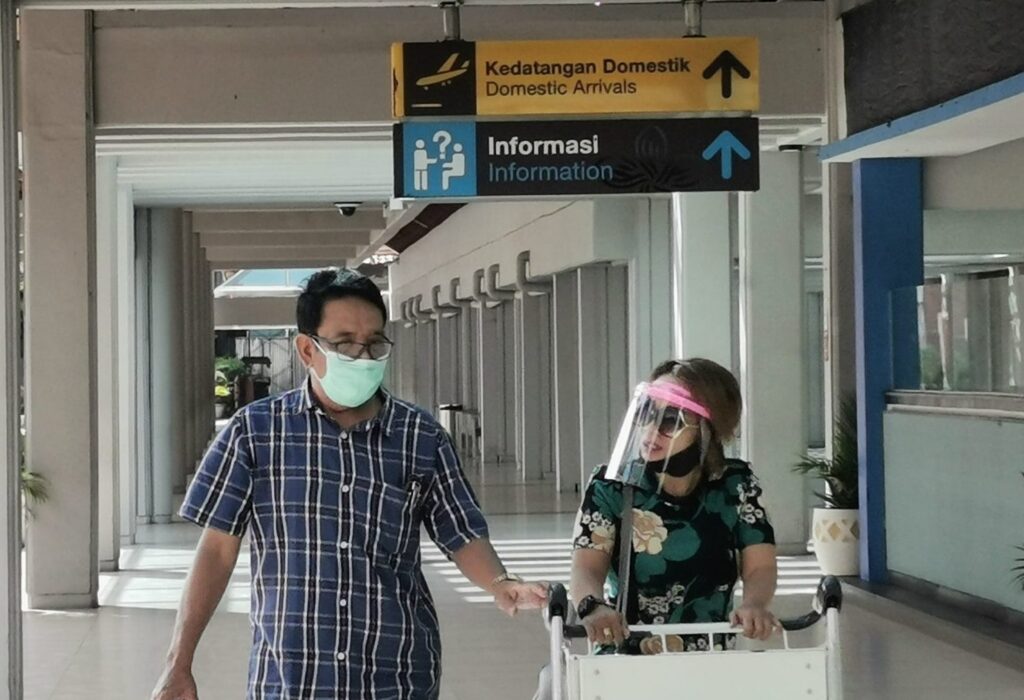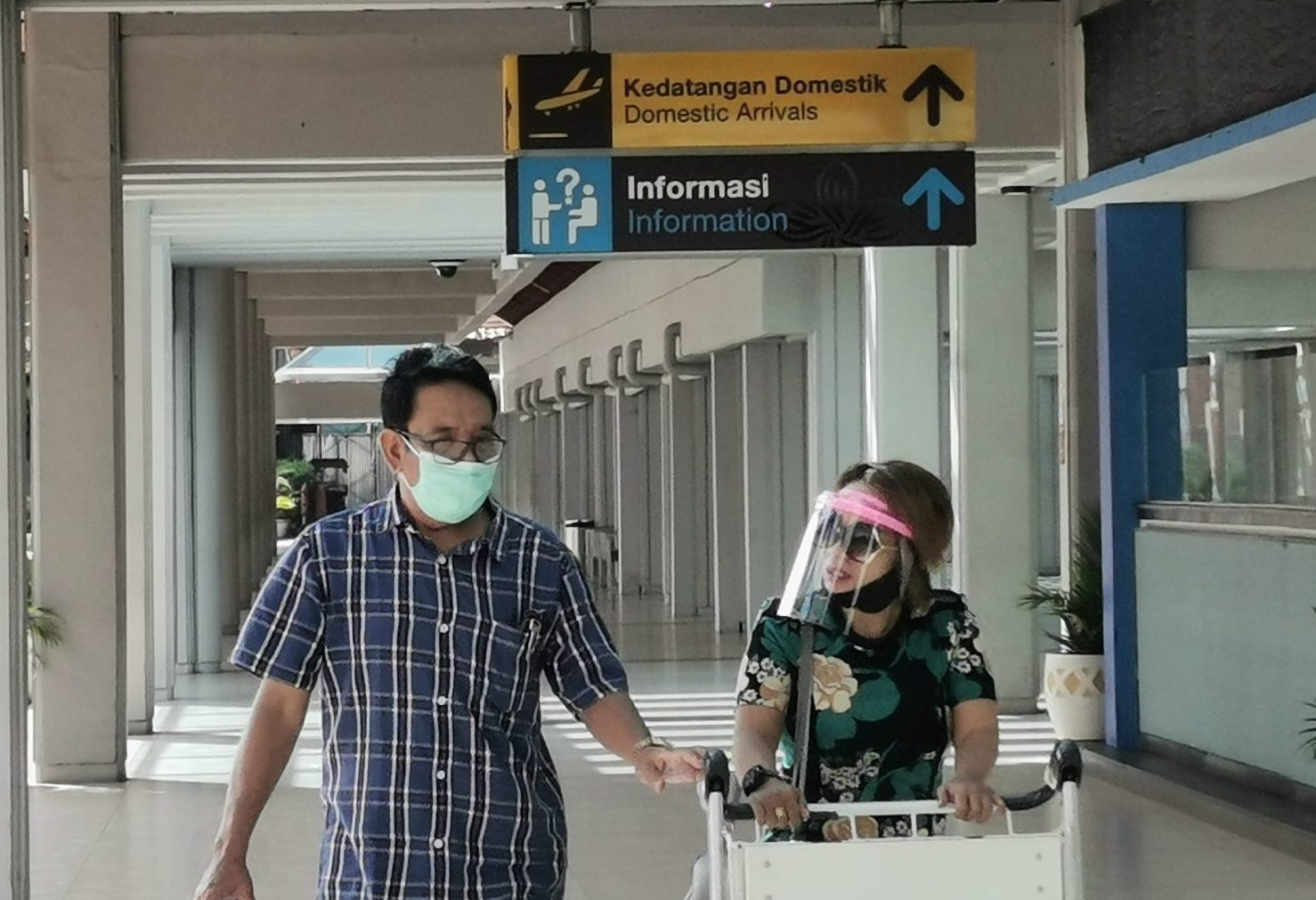 Since May 28, Bali has tightened its entrance by mandating testing of mucus samples (swab) for all air travelers and rapid test to land travelers. However, starting on July 5, the policy was changed to only require initial medical screening for all passengers, both air and ground.
The easing of trips to tourist areas was greeted enthusiastically by the community. However, based on Jaring.id's observations, some of them still did not comply with health protocols on the first weekend.
***
For Wayan Asri, health protocols cannot be ignored. This Denpasar resident visited Kuta Beach with his family on Saturday, July 11, 2020.
"Finally we can go to the beach again. Very happy. I miss the beach, "said a resident who lives in Denpasar.
The decision to open all tourist areas in Bali was preceded by praying together at Pura Besakih - the largest temple complex in Bali on Sunday, July 5. The ceremonial pemahayu of the universe is useful for asking for safety ahead of the start of the new era of life, thus Koster made a substitute term for the general term, new normality. Attended by more than a thousand people, holding the ceremony sadly ignored protocol physical distancing. Most of the public, including the officials present did not keep their distance and instead draped a mask on their chin.
Even though until Wednesday, July 21, 2020, there were 2781 cases of Covid-19 in Bali. Of the total cases, 2058 patients recovered while 44 people were declared dead. Covid-19 patients who show symptoms are treated at 14 referral hospitals in the Bali region.
Meanwhile, those who are asymptomatic or often referred to as people without symptoms (OTG) are quarantined at a number of government facilities and hotels, including the Public Health Training Agency (Bapelkesmas), Wisma Bima, Hotel Ibis, Grand Mega Hotel, and BPK Pering.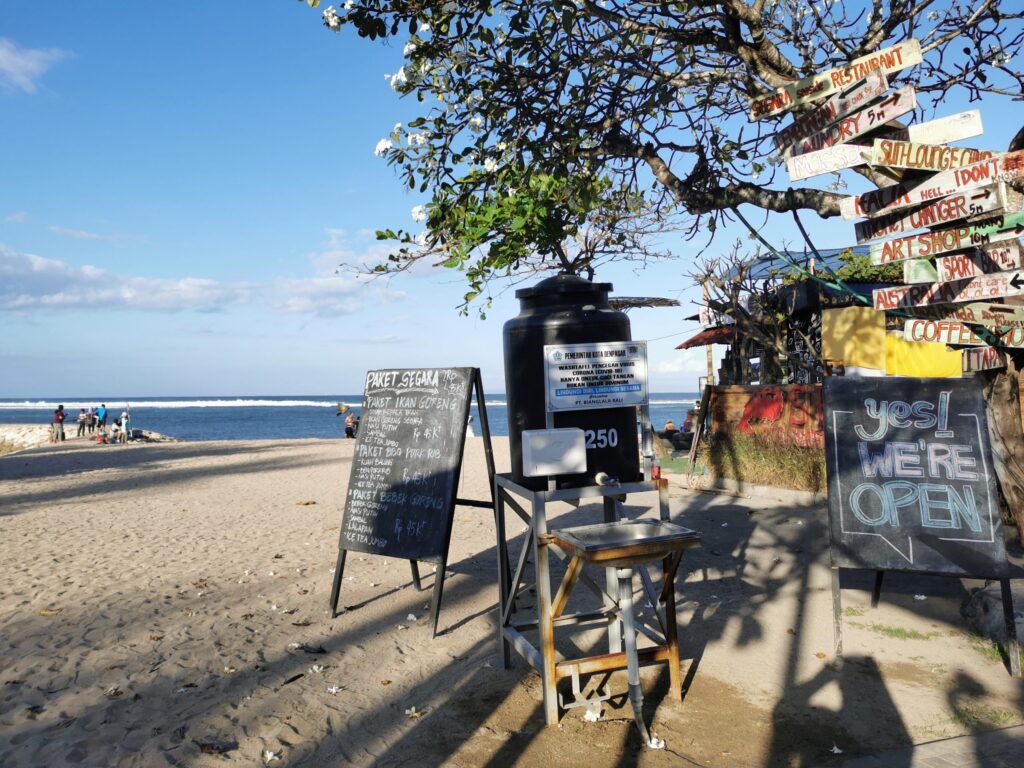 Director of PTN Udayana University Hospital, Dewa Putu Gede Purwa Samatra stated that the spike in Covid-19 cases was dominated by local transmissions. Currently, according to him, referral hospitals are almost starting to have excess patients.
"The increase in cases has occurred in the last few weeks. Since there is a new normal (term), "said Dewa Putu Gede Purwa Samatra, Director of the Unud PTN Hospital, a hospital belonging to Udayana University.
However, Purwa does not want to speculate on the cause of the increase in Covid-19 cases in Bali.
"It could be increasing because the testing is already massive, tracing more. So more people are caught, "he said.
As of Wednesday, July 8, there were a total of 498 COVID-19 isolation rooms in 14 referral hospitals across Bali. Of that amount, nearly 80 percent have been filled. Overcapacity led several hospitals to start preparing new isolation rooms. According to Dewa, dozens of health workers were also reported to have been infected with the corona virus, which caused a number of health services to be closed.
***
Last weekend, a senior doctor who was also the Director of Puri Raharja Hospital, I Nyoman Sutedja, died from Covid-19. He is the first health worker to die from a corona infection in Bali. The Emergency Room (IGD) at a private hospital in Denpasar was closed for several days. Several health centers in Bali were also closed because health workers were also infected.
Oka Negara, a doctor in Denpasar, Bali, admitted that he was worried about the Covid-19 case in Bali which was not accompanied by increased public awareness. He considered that the public was less aware of the dangers of the corona virus. In fact, he was surprised that few people associated this health disaster with a conspiracy.
"My feelings are really mixed. Between anxiety, irritation, disappointment, sadness, and pity. Especially misgivings. Because we have not resolved the problem of transmission, but the community is impatient to return to normal life which ultimately ignores health protocols, "said Oka Negara who practices at a private clinic in Denpasar to net.id on July 6, 2020.
Meanwhile, epidemiologist DN Wirawan believes that Bali has not met the requirements for the relaxation according to the recommendations of the World Health Organization (WHO). Among other things, being able to control transmitters, the health system is able to detect, test, isolate, trace the contact of all positive cases, and can also minimize the risk of outbreaks, especially in health facilities and regarding public education. He also mentioned that the proportion of the population who underwent a PCR test (polymerase chain reaction) should be 1 in 1000 residents per week.
"With a population of 4.6 million in Bali, there should be 4,600 checks per week, or around 760 per day. Bali is only half of it.
Indonesia, including Bali, is still far below this target, "he said.
Wirawan hopes that the local government will track and test more samples. Moreover, Bali has not yet reached the peak of the epidemic.
"From several studies, about 40 percent of people infected with the SAR-CoV-2 virus were found to be asymptomatic or without symptoms. So it is logical that they only found out positive when they were tested. If not tested, of course not known. That's why if the testing is carried out on a massive scale, more and more will be known, "said Wirawan to net.id on July 12, 2020.
Until July 7, the Bali Province Covid-19 Handling Acceleration Task Force (GTPP) had conducted a rapid test of 161,526 people. Rapid test implemented based on contact tracing (contact tracing) of Covid-19 distribution clusters such as traditional markets, villages and banjars. While the swab test was carried out on 34,974 specimens.
Wirawan explained that WHO recommends that each country do tracing with PCR testing of about 25 people per one positive case found. Meanwhile in Bali, only 14 people were tracing each case.
"I see Bali and Indonesia as yet unable to achieve such measurable targets benchmarks (WHO), "he added.
That is because, according to him, Bali needs to discipline society more closely. Without strict sanctions, he is worried that the spread of infection in Bali will become more widespread.
"Health protocols are not enough. It needs to be guarded and there are sanctions for violators. So, it is necessary to make a legal umbrella and it must be clear how and where to pay the fine, "said Wirawan while referring to a number of countries that also impose sanctions in the form of fines to violators. (Ni Komang Erviani)